ROUNDUP: Sultans win play-in at Vista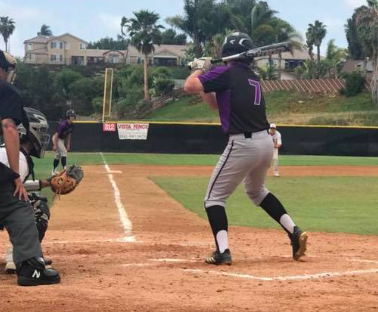 Santana freshman Tyler Glowacki at the plate on Tuesday.
2018 EAST COUNTY PREP BASEBALL
EastCountySports.com staff report
VISTA – The Santana Sultans may be seeded last in the San Diego CIF Division I playoffs, but they proved once again they could play with teams that are rated above them… and on the road, no less.
The Sultans knocked off the Vista Panthers, 7-4, in a play-in game on Tuesday to advance to the first round of the double-elimination championship bracket.
Santana (8-19) will travel to face fourth-seeded Madison on Wednesday.
Senior BRANDON GLOWACKI hit a solo home run to left-centerfield in the fifth inning to put Santana ahead, 5-4.
"I really feel that our team played well with clutch hits and a solid defense," Glowacki said. "I got to give it to my team, they hit the ball really well while I was able to contribute by hitting a solo homer. I'm excited."
Sultan senior LANDON WOOD continued his phenomenal play late in the season with a two-out, two-run double to extend the lead to 7-4.
Wood also earned the win with 3 1/3 innings of scoreless relief that wasn't without its tumultuous moments.
Santana catcher JAKE SERGENT had his biggest hit of the season when he cranked a two-run home run to left-center in front of the scoreboard in the top of the second inning for the first runs of the game.
"Our team kinda got off to a slow start in the first inning but after the first inning I felt that we made a few minor adjustments at the plate and really took the momentum of the game to our side," Sergent said. "Coach (RIGO) LEDEZMA just said that we need to keep this thing rolling and come out to the field ready to play and grind out some more wins."
Sergent also had a double and a single.
Vista tied the game in the bottom of the second at 2-all as Jake Ketner had ab RBI sacrifice bunt that scored Dave Ayala for the first run, and Adam Call had an RBI single to centerfield, which scored Troy Grossman.
but the Sultans regain the lead with two runs in the third, capped by a one-out sacrifice fly by freshman TYLER GLOWACKI, which drove in junior BEN HART (double).
The Panthers evened the count at 4-apiece in the last of the fourth on bases-loaded RBI walks by Andre Schweizer and John Nunez.
Hart started the game for the Sultans, lasting 3 2/3 innings.
The Panthers finished 16-14.
"We left 13 guys on base and couldn't get a clutch hit today," Vista head coach Ricky Imperiali said. "Chase Ramirez battled well on the mound as he got a couple of pitches up against Santana as they have good hitters which hit the ball very well."
Ben Aguilera took the loss on the mound for the Panthers.
"After we gave up the home run we battled but quite didn't get the big hits that we needed to," Imperiali said.
 – David A. Willauer contributed to this report
KEARNY 3, MONTE VISTA 2 – Monarch senior left-hander IVAN PLAZOLA dominated the Komets for four innings, but the visitors broke through for three runs in the fifth inning to streak to the San Diego CIF Division IV play-in victory Tuesday afternoon.
Plazola struck out 14 over six innings and did it with the bat, as well, stroking a run-scoring double on a liner to right in the first inning for a 1-0 lead, scoring senior IVAN GONZALEZ (walk).
"Ivan pitched his heart out today," Monte Vista head coach CRAIG NEU said. "You should never lose a game when you give up two hits.
"You don't replace a guy like Ivan Plazola. He will go down as one of the best players to ever play in our program."
Junior JON GULLEY followed Plazola's hit with a double to right, plating Plazola for a 2-0 lead.
The game was tied at 2-all when Kearny's Devin Fragoso singled, scoring the decisive run in the top of the fifth, propelling the Komets to the upset.
"We made a few mistakes in the fifth inning and Kearny took advantage of them," Neu said. "In a tight ballgame, little mistakes are always the difference between winning and losing."
Freshman ANDY CANEDO threw a scoreless seventh for Monte Vista, striking out two.
Another Monarch freshman, ERNIE ARAMBULA, had a pair of his in hits first playoff appearance.
"We have a young nucleus," Neu said. "We will have a strong ball club next season.
For seven Monarchs, including four-year starter DIEGO GONZALEZ, the ride ends a run of back-to-back winning seasons, a first for the Monarchs in the 2000s.
"Our senior class was very special to me," Neu said. "These kids came into the program with me four years ago when I was the JV coach. I watched these boys turn into men. Their leadership, work ethic, and attitude helped rebuild the program."
SAGE CREEK 3, EL CAPITAN 2 – The El Capitan Vaqueros led 2-1 after 5 1/2 innings of their San Diego CIF Division II play-in game against the host Bobcats, but were denied by Sage Creek's two runs in the bottom of the sixth.
El Capitan senior SHAYNE CUNNINGHAM singled home AUSTIN BELL (double) in the top of the second inning, giving the Vaqueros a 1-0 lead. The Bobcats evened things at 1-all in the bottom of the third.
El Capitan senior BLAKE PEYTON went six innings, allowing four hits and three unearned runs while striking out nine.
In the bottom of the third inning, Sage Creek tied the game at 1-apiece when Scott Anderson singled, driving in a run.
The Vaqueros' JAKE COKER walked and scored the go-ahead run in the top of the sixth inning.
Stephen Klenske earned the win for Sage Creek, going six innings.
Anderson threw one inning for the save.
RAMONA 6, VALHALLA 2 – The Valley League-champion Bulldogs stopped the 14-game winning streak of the Grossmont Valley League champion Norsemen in a San Diego CIF Division II play-in game at the Bulldogs' field.
Ramona won its seventh-straight, scoring three runs in the bottom of the fifth after the Norsemen had rallied to tie the game at 2-apiece in the top of the inning.
In the first inning, Ramona's Derek Diamond tripled home the game's first run.
Diamond went the distance on the mound, as well, striking out ten.
Sophomore KYLE CASPER had two hits for Valhalla.
Juniors JONAH ST. CLAIR and CAMERON ZAMUDIO scored the Valhalla runs.
Valhalla finished 18-12.
TRI-CITY CHRISTIAN 10, EL CAJON VALLEY 0 – The Braves earned a bid to the postseason based on their success against other Division V opponents, but the Eagles soared past the East County visitors in the play-in game in Vista.
"Not the result I expected," El Cajon Valley head coach CLIFTON THOMAS said. "I had a really good feeling going into today's game, but things just went south quickly. Tri-City played a well-rounded game today, and that is why they were able to take this one from us.
Three Eagles pitchers combined on the shutout, as TCC jumped out to an 8-0 lead after three innings.
They capitalized in key situations and we didn't that's pretty much what this game came down to," Thomas said. "We left ten runners on base in the game, and that's what the difference was."
Zach Reitmeyer was the winning pitcher for Tri-City Christian. He went four innings, allowing no runs on one hit, striking out five and walking one.
El Cajon Valley got hits from seniors JESUS FAVELA and PAULO MICHEL.
"Jesus Favela and Paulo Michel are guys we are really going to miss moving forward," Thomas said. "They were everyday guys that were a big part of everything we have done the last couple of years. I wish we could have extended their senior season.I hope they can take what they've learned over the last couple of years and take it with them in whatever they decide to do moving forward."
"I hope they can take what they've learned over the last couple of years and take it with them in whatever they decide to do moving forward."
El Cajon Valley junior AARON RODRIGUEZ, and sophomores CHRISTIAN VASQUEZ and MARIO JACOBS, also added tallies in the hit column in the playoff game.
"I am very proud of my boys and what they were able to accomplish this year," Thomas said. "They were a great group of guys, that worked and grinded hard all year to get to this point. I'm sad to see it come to an end, but I'm excited that we have a lot of the guys returning, and will be looking forward to coming back stronger next year."
Junior ROBERT VERDUGO pitched four innings for El Cajon Valley
"I was happy to play with the team this year but it does suck because we're losing two seniors," Verdugo said. "I'm happy with our team's performance but we know we could've done better.
Verdugo, who led the pitching staff with three of the team's five wins, leads what will be a veteran, playoff-tested roster in 2019.
"Looking forward to next season I'm going to workout and stay in shape and work on my velocity and control," Verdugo said. "Next year should be good as a senior. I'm looking forward to being a vocal leader and help the younger guys.
Earlier in the day, the San Diego Padres honored Thomas as their Coach of the Week.
"Coach Cliff is a very inspiring person and is great a coach," Verdugo said. "He's helped elevate my game a lot."
Congratulations to this week's Padres Coach of the Week honoree, Clifton Thomas from El Cajon Valley High School! 👏

Tune in to Inside San Diego Sports following tonight's postgame show to learn more about Clifton and his contributions to the San Diego community. pic.twitter.com/YMq1MirVj5

— San Diego Padres (@Padres) May 22, 2018