2018 EAST COUNTY FEARLESS FORECASTER – Week 1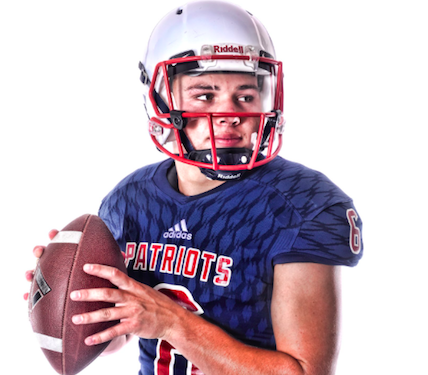 CHRISTIAN HIGH SENIOR QUARTERBACK OWEN EASLEY / TOPDAWG NETWORK
2018 EAST COUNTY PREP FOOTBALL
FEARLESS FORECASTER
By Ramon Scott
EastCountySports.com
The Helix Highlanders may have been voted the county's No. 1 ranked team heading into the 2018 varsity football season but that doesn't mean the defending San Diego CIF Open Division champions are everybody's choice to be the most elite team standing at the end of the season.
Coming off a state bowl game championship appearance last December, the Highlanders ranked near the state's Top 25 rankings heading into their opening game against state 12th-ranked Cajon High, of San Bernardino, on the road tonight.
The game features Cowboys' four-star quarterback Jayden Daniels, receiver Darren Jones and  linebacker Jonathan Perkins, along with Helix's San Diego State-bound senior Michael Shawcroft, the East County's top returning defensive player. 
All-East County first team running back Elelyon Noa also returns for the Scotties. The back scored two touchdowns in a 35-0 scrimmage win over host Mira Mesa last Saturday at the SDNFL Kickoff Classic.
This is going to be a high-caliber contest which can be seen on the NFHS NETWORK, there is a subscription fee… CAJON, 35-28.
STEELE CANYON at CARLSBAD – The Cougars, which won a state bowl game championship last season, as well as, the section's Division II title, was tabbed as the county's 10th-ranked team by the area panel.
The Cougars, who have moved up to Division I, open at No. 12 Carlsbad in a sure toss-up tonight. 
Steele Canyon has possibly the best 1-2 running back combo in the East County with senior Kenneth Watson and explosive sophomore newcomer Wes Neely.
The Lancers have superstar Asa Turner and D1 O-Line prospect Carlos Harris… STEELE CANYON, 21-14.
POWAY at GRANITE HILLS – The Eagles were inside of the top 20 in the preseason poll following their shift back into the Grossmont Hills League after winning the Hills title last year.
New Eagle QB Cris Ostreng is an experienced varsity player.
Eagles middle linebacker Noah Espinoza and sophomore safety Ethen Bishop were first-team All-GVL choices last season. Granite is very experienced defensively.
The Eagles host Poway on Friday night. The Titans return eight starters from last year's 3-8 team. GRANITE HILLS, 35-21.
MAR VISTA at MONTE VISTA – The Monarchs were tabbed inside the top 25 after winning the section D4 championship last year and making a state bowl game championship appearance of their own behind San Diego State-bound superstar Jahmon McClendon, the East County's top returning offensive player.
The Monarchs, which also boast Montana State-bound linebacker Blake Schmidt meet Mar Vista at home on Friday night. Monte Vista will roll. MONTE VISTA, 42-14.
BISHOP'S at GROSSMONT – Grossmont Foothillers might have the most explosive offense in the East County behind junior quarterback Jamie Odom, who passed for nearly 2,000 yards last season –  and a trio of receivers – Thomas Mangum, Desmond Carter and Zak Farris  – who combined for 82 receptions and 16 touchdowns.
They also could be the East's most overlooked team.
And Grossmont touts a strong set of linebackers, including senior Alex Golojuch and junior Chris Alba.
The Foothillers host Bishop's on Friday in a game sure to feature plenty of offense. Coach Joel Allen's club is led by QB Tyler Buchner. Bishop's has lost just two games over the last two years. GROSSMONT, 38-24.
CHRISTIAN at EL CAPITAN – Two East County clubs face in other in Lakeside when Christian High drives up the 8 to El Capitan.
Christian's Alex Gonzalez is one of the area's speediest playmakers and senior Owen Easley is looking like a natural leading the Patriots offense, and defense the Pats are led by Bryce Riepl.
The Vaqueros promise passing behind a healthy Wick Hauser. Yaphet Yokley is the speedster that can score from anywhere. Coach Ron Burner hints at an up-and-coming player out of the backfield. CHRISTIAN, 24-23.
MOUNTAIN EMPIRE at SANTANA – The Sultans won The Battle at the Shores passing league behind new quarterback Nathan Temple and have a rising defensive star in Cameron Lariccia.
The Sultans host Mountain Empire, from Pine Valley, in the opener.
The RedHawks feature two-way stars Dallas Prince and Cameron Will, brother of the late MEHS football star, James Will. QB Gabriel Hydorn is experienced.
This is a great test for the RedHawks to open up with but the Sultans should stand the test. SANTANA, 35-21.
FRANCIS PARKER at EL CAJON VALLEY – The El Cajon Valley Braves, under new head coach Nick Osborn, host the other local contest on Friday night, as Francis Parker visits.
Osborn, a former All-Mountain West second-team defensive star at SDSU, is no new-comer to the Braves' campus, however, serving as a math teacher, as well as, helping coach ECVS' resurgent boys' soccer program.
Ryan Sanborn is the Lancers' star, and Parker is rated just a bit higher that ECV, but… EL CAJON VALLEY, 18-17.
MOUNT MIGUEL at MORSE – The Mount Miguel Matadors may have made the biggest news during the offseason with the hiring of former Helix and Taft High coach Troy Starr.
Mount Miguel defensive star Manu Maosi will get full opportunity to show his skills when the team travels to face a Morse squad that looked impressive in a scrimmage last Saturday against El Capitan.
"We're going to build this team, but in a few years, you're really going to see a solid program," Starr said.
The Matadors system will grow under sophomore quarterback J.D. Laverdiere, but have veterans this year, including Larry Yzaguirre.
For now, its UCLA-bound running back Shamar Martin and… MORSE, 26-24.
WEST HILLS at SOUTHWEST (El Centro) – West Hills is led by senior dual-threat quarterback Jordin Young.
The Pack will have a long trek out to El Centro to take on the Southwest Eagles in the opener. 
Nathan Jones and Jake Maheu return and faced this team last year, but that Eagles team had a superstar player that lit up the scoreboard in Santee on that night.
This is a tough order still for the Pack, SOUTHWEST, 27-24.
VALHALLA at UNIVERSITY CITY – Valhalla, now under long-time assistant coach Mike Kastan, will open the season on the road against a veteran University City squad. 
Austin Scribner and J.T. Washam are a pair of linemen leading the way for Kegan Baker. Valhalla senior receiver Kiare Worthy is the man when they go to the air.
The Centurions have Gunnar Gray, Casey Granfors, Elonie Rico and Marcel Patterson, so they are looking to follow up last year's strong season. UC, 27-14.