Cougars mount rally in final minutes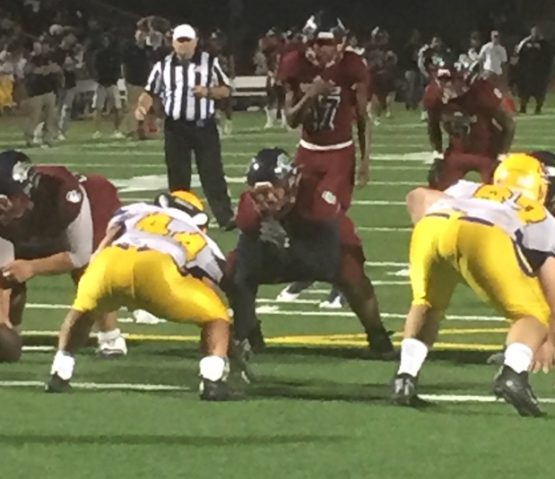 NATHAN BARNETT in the fourth quarter Friday night.
2018 EAST COUNTY PREP FOOTBALL
STEELE CANYON 14, BRAWLEY 13
EastCountySports.com staff report
SPRING VALLEY – The Brawley Wildcats had the Steele Canyon Cougars in a sort of kitty-corner on Friday night.
The visitors from the Imperial Valley had come to return the favor after losing to the eventual state division champs last season.
Backed against the wall, the Cougars, behind quarterback NATHAN BARNETT, clawed their way past the 'Cats to avoid an 0-2 start.
Steele Canyon was held scoreless for most of the game, but with six minutes left, the offense got it together. And in a hurry.
Barnett had a 40-yard rushing touchdown and a short TD burst with just over a minute remaining to lift the Cougars to a 14-13 non-league victory.
"We knew we had to get into the end zone," Barnett said of calling his own number late. "I told him, I wanted to get the ball."
After Barnett's first score, Steele Canyon's VILIAMU MORSE recovered a fumble at the Wildcat 43 with 4:43 remaining, giving the Cougs a quick second chance.
"Defense played well but man they are tough, that veer is tough," Steele Canyon head coach SCOTT LONGERBONE said. "We are a good team that makes too many mistakes, if we can clean it up we could be good."
Steele Canyon mostly got in its own way early, turning the ball over three times. Brawley's Jonathan Gonzalez had an interception, as well.
Fortunately, Morse and CAMERON EWERT were able to keep Brawley's offense mostly at bay.
"We had three turnovers, which is not good," Longerbone said. "Brawley has some of the toughest kids I have coached against, they do what they do as well as anyone in San Diego. They just know how to grind you and play gear defense."
Brawley started the game with a lengthy scoring drive capped by a 5-yard run by star Casey Kline. The Wildcats' Michael Moreno had 9-yard touchdown run to make it 13-0 in the third quarter. But the TDs were hard-earned.
"It feels great to put in the work and get a 'W'," said Steele Canyon senior linebacker BILLY TELLOUS.
The Cougars have next week then face Bonita Vista, which is much improved.
"We are gonna focus on us this week," Longerbone said.