Olympians give Watkins first coaching win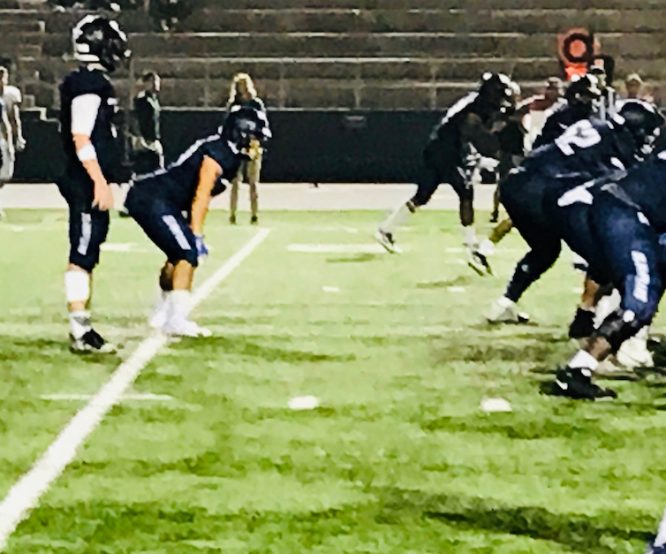 2018 COMMUNITY COLLEGE FOOTBALL
SAN DIEGO MESA 27, GOLDEN WEST 21
EastCountySports.com staff report
SAN DIEGO – The Mesa College Olympians stunned visiting Golden West College, 27-21, on Saturday evening, giving new head coach GARY WATKINS his first victory in just his second game.
Dominic McManus (Ramona High) caught three touchdown passes in the first half from freshman quarterback Jake Dunninway, as Mesa led 21-7 at halftime.
Dunninway, getting the start with sophomore Trey Cox sidelined, threw for 224 yards on the evening.
"The boys responded with a higher level of focus last week in practice," Watkins said. "We still have a lot of things to clean up but its nice to be able to clean up mistakes after a win."
Sophomore Tyler Tutt had an 11-yard rushing score for the Olympians, which proved to be decisive.
Milan Grice, a freshman from Rancho Bernardo High, rushed for 71 yards on the ground for San Diego Mesa.
Golden West led 7-0 in the first quarter just 1:47 into the contest, but McManus caught TD passes of 6, 36 and 9 yards.
McManus finished with eight receptions for 97 yards, while teammate Antoine Ware had four receptions for 85 yards. Matt Cain added five receptions for Mesa.
"McManus had a solid night," Watkins said.
Sophomore Hugh Anthony (Mar Vista) and Isaiah Sayles combined for 17 tackles for the Olympians, including 4 1/2 sacks.
"Hugh and Isaiah were in the backfield all night causing havoc both against the run and the pass," Watkins said. "The secondary did an amazing job holding their passing game in check."
Watkins noted the play of defensive backs Hunter Allen, Anthony Barksdale, D.J. Dotson, Damurier Palmer and Darriel Weathers, who returned an interception 55 yards.
Mesa will play at L.A. Pierce, under its new head coach Carlos Woods, next Saturday at 6 p.m.
"With Coach Woods being the new head coach, there isn't any prior knowledge to rely on," Watkins said. "We will be in bright and early tomorrow morning to begin prepping for next week's games."
---
Golden West vs. San Diego Mesa at San Diego, CA
9/8/2018 at 6:00 PM

Golden West




21

San Diego Mesa




27
SCORING
1
2
3
4
FINAL
Golden West (0-2)
7
0
0
14
21
San Diego Mesa (1-1)
7
14
0
6
27
San Diego, CA |
PRD
TIME
SCORING SUMMARY
GOLDEN WEST – SAN DIEGO MESA
1
13:13
Golden West – Wulfe Retzlaff 2 yd run. (Kenny Fisher kick is good).
Drive: 6 plays, 39 yards in 1:47.
7 – 0
1
02:53
San Diego Mesa – Dominic McManus 6 yd pass from Jake Dunninway. (Justin Kaplan kick is good).
Drive: 10 plays, 82 yards in 3:22.
7 – 7
2
12:21
San Diego Mesa – Dominic McManus 36 yd pass from Jake Dunninway. (Justin Kaplan kick is good).
Drive: 5 plays, 106 yards in 1:32.
7 – 14
2
00:20
San Diego Mesa – Dominic McManus 9 yd pass from Jake Dunninway. (Justin Kaplan kick is good).
Drive: 11 plays, 58 yards in .
7 – 21
4
13:02
Golden West – Ben Ratzlaff 16 yd pass from Nathaniel Espinoza. (Kenny Fisher kick is good).
Drive: 9 plays, 45 yards in 4:33.
14 – 21
4
08:51
San Diego Mesa – Tyler Tutt 11 yd run. (2pt conversion pass by Justin Kaplan failed).
Drive: 2 plays, 16 yards in 4:08.
14 – 27
4
04:58
Golden West – Nathaniel Espinoza 9 yd run. (Kenny Fisher kick is good).
Drive: 10 plays, 77 yards in 3:45.
21 – 27
GOLDEN WEST
STATISTICS
SAN DIEGO MESA
19
FIRST DOWNS
19
6
11
2
Passing
Rushing
Penalty
11
6
2
41% (7 of 17)
THIRD DOWN EFFICIENCY
25% (4 of 16)
50% (1 of 2)
FOURTH DOWN EFFICIENCY
100% (1 of 1)
276
TOTAL OFFENSE
294
70
3.9
Total Offensive Plays
Average gain per play
70
4.2
130
NET YARDS PASSING
224
15-37
3.5
5-35
2
Completions-Attempts
Net yards per pass play
Sacked: Number-Yards
Had intercepted
21-39
5.7
3-26
0
146
NET YARDS RUSHING
70
33
4.4
Rushing Attempts
Average gain per rush
31
2.3
6-247
PUNTS: Number-Yards
8-281
41.2
Average
35.1
47
TOTAL RETURN YARDS
98
2-5
3-42
0 0
Punt Returns: Number-Yards
Kickoff Returns: Number-Yards
Interception Returns: Number-Yards
2-13
2-30
2-55
10-84
PENALTIES: Number-Yards
10-86
3-3
FUMBLES: Number-Lost
1-0
3-26
SACKS: Number-Yards
5-35
0 0
INTERCEPTIONS: Number-Yards
2-55
31:01
TIME OF POSSESSION
28:59
Golden West

San Diego Mesa

| PASSING | C-A | YDS | LG | TD | INT |
| --- | --- | --- | --- | --- | --- |
| Jake Dunninway | 21-39 | 224 | 39 | 3 | 0 |

| RUSHING | ATT | YDS | AVG | LG | TD |
| --- | --- | --- | --- | --- | --- |
| Milan Grice | 16 | 71 | 4.4 | 25 | 0 |
| Tyler Tutt | 2 | 16 | 8.0 | 11 | 1 |
| Jose Sanchez | 2 | 8 | 4.0 | 4 | 0 |
| Rashaun Brown | 1 | -1 | -1.0 | 0 | 0 |
| Team | 2 | -4 | -2.0 | 0 | 0 |
| Jake Dunninway | 8 | -20 | -2.5 | 9 | 0 |

| RECEIVING | NO | YDS | AVG | LG | TD |
| --- | --- | --- | --- | --- | --- |
| Dominic McManus | 8 | 97 | 12.1 | 36 | 3 |
| Antwoine Ware | 4 | 85 | 21.3 | 39 | 0 |
| Matt Cain | 5 | 26 | 5.2 | 13 | 0 |
| Austin Rumbo | 1 | 7 | 7.0 | 7 | 0 |
| Milan Grice | 2 | 6 | 3.0 | 7 | 0 |
| Alex Lemon | 1 | 3 | 3.0 | 3 | 0 |

| PUNTING | NO | YDS | AVG | LG | TB | IN 20 |
| --- | --- | --- | --- | --- | --- | --- |
| Kenny Fisher | 6 | 247 | 41.2 | 46 | 0 | 4 |

| PUNTING | NO | YDS | AVG | LG | TB | IN 20 |
| --- | --- | --- | --- | --- | --- | --- |
| Anthony Barksdale | 8 | 281 | 35.1 | 45 | 0 | 2 |

| KICKOFFS | NO | YDS | AVG | TB | OB |
| --- | --- | --- | --- | --- | --- |
| Justin Kaplan | 5 | 245 | 49.0 | 1 | 1 |

| KICKOFF RETURNS | NO | YDS | AVG | LG | TD |
| --- | --- | --- | --- | --- | --- |
| Juwain Ropper | 1 | 22 | 22.0 | 22 | 0 |
| Darius Maxwell | 1 | 15 | 15.0 | 15 | 0 |
| Isaiah Ghity | 1 | 5 | 5.0 | 5 | 0 |

| KICKOFF RETURNS | NO | YDS | AVG | LG | TD |
| --- | --- | --- | --- | --- | --- |
| Rashaun Brown | 1 | 24 | 24.0 | 24 | 0 |
| Brendan Torrance | 1 | 6 | 6.0 | 6 | 0 |

| PUNT RETURNS | NO | YDS | AVG | LG | TD |
| --- | --- | --- | --- | --- | --- |
| David Atencio | 1 | 5 | 5.0 | 5 | 0 |
| Darius Maxwell | 1 | 0 | 0.0 | 0 | 0 |

| PUNT RETURNS | NO | YDS | AVG | LG | TD |
| --- | --- | --- | --- | --- | --- |
| Rashaun Brown | 2 | 13 | 6.5 | 8 | 0 |

| INTERCEPTION RETURNS | NO | YDS | AVG | LG | TD |
| --- | --- | --- | --- | --- | --- |

| INTERCEPTION RETURNS | NO | YDS | AVG | LG | TD |
| --- | --- | --- | --- | --- | --- |
| Darriel Weathers | 1 | 55 | 55.0 | 55 | 0 |
| Hugh Anthony | 1 | 0 | 0.0 | 0 | 0 |

| FUMBLES | NO | LOST |
| --- | --- | --- |
| Jake Dunninway | 1 | 0 |
DEFENSIVE STATISTICS
#
GOLDEN WEST
SOLO
AST
TOTAL
SACKS-YDS
TFL-YDS
FF
FR-YDS
INT-YDS
BRUP
BLKS
QBH
33
Wulfe Retzlaff
2
4
6
1 – 6
1 – 6
–
–
1
2
Austin Kramer
3
2
5
–
0.5 – 1
–
–
3
5
David Aldapa
3
1
4
–
1 – 1
–
–
20
Ryan Rains
2
2
4
–
–
–
–
45
V.J. Malo
2
2
4
–
2 – 5
–
–
3
6
Jacosse Ford
3
0
3
–
1 – 6
–
–
1
37
James Baldwin
2
1
3
–
1 – 3
–
–
1
44
Chris Figueredo
2
1
3
–
–
–
–
90
Kevin Memminger
2
1
3
1 – 11
1.5 – 11
1
–
–
3
Jason Fuga
0
2
2
–
–
–
–
1
9
Justin Parker
2
0
2
–
–
–
–
22
Carloss Crawford
2
0
2
–
1 – 1
–
–
32
Keion Craig
0
2
2
–
–
–
–
48
JJ Barajas
1
1
2
–
–
–
–
53
Jacob Handley
2
0
2
–
–
–
–
58
Roman Niumata
1
1
2
–
–
–
–
98
Steven Cruz
1
1
2
1 – 9
1 – 9
–
–
2
TM
Team
2
0
2
–
–
–
–
4
Miles McCord
0
1
1
–
–
–
–
13
Austin Cooper
0
1
1
–
–
–
–
21
Sean Branch
0
1
1
–
–
–
–
23
Syrus Collins
1
0
1
–
–
–
–
2
43
Paka Cacoulidis
1
0
1
–
1 – 3
–
–
1
57
Ethan Johnston
0
1
1
–
–
–
–
68
Genesis Ofagalilo
1
0
1
–
–
–
–
95
Myron Aiava
0
1
1
–
–
–
–
96
Phillip Cook
1
0
1
–
1 – 11
–
–
TOTALS
36
26
62
3 – 26
12 – 57
1
0-0
–
8
7
#
SAN DIEGO MESA
SOLO
AST
TOTAL
SACKS-YDS
TFL-YDS
FF
FR-YDS
INT-YDS
BRUP
BLKS
QBH
99
Hugh Anthony
4
6
10
2.5 – 15
4.5 – 20
–
1-0
2
Isaiah Sayles
1
6
7
2 – 14
2 – 14
–
–
1
13
Anthony Barksdale
6
0
6
–
–
–
–
3
21
Hunter Allen
4
2
6
–
–
1
–
–
30
Havani Makihele
4
2
6
–
–
–
–
58
Devin Sanders
4
1
5
0.5 – 6
2.5 – 13
–
–
1
6
Reginald Prince
2
2
4
–
–
–
–
22
Darriel Weathers
1
2
3
–
1 – 1
–
1-55
28
D.J. Dotson
3
0
3
–
–
–
–
1
23
Damurier Palmer
1
1
2
–
–
–
–
2
TM
Team
2
0
2
–
–
2
–
–
17
Joel Bracomontes
1
0
1
–
–
–
–
20
Brendan Torrance
0
1
1
–
–
1-6
–
1
54
Isaiah Mitchell
0
1
1
–
–
–
–
12
Alex Lemon
–
–
–
–
1
7
Jake Dunninway
–
–
1-0
–
2D
Isaiah Williams
–
–
1-0
–
1
1D
Dejon Smith
–
–
1-0
–
TOTALS
33
24
57
5 – 35
10 – 48
3
4-6
2-55
7
4
OTHER INFORMATION
Location: San Diego, CA
Attendance: 0
Weather: Clear, Sunny
Temperature: 75 degree
Wind: 8mph