Vaqueros, Pack play for Burner Trophy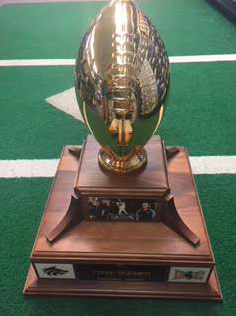 2018 EAST COUNTY PREP FOOTBALL
By Dave Dickens
EastCountySports.com
LAKESIDE (9-16-2018) – On Friday, Sept. 21, the First Annual Tony Burner Memorial Football Game will commence on the West Hills High football field at 7 p.m.
This is a friendly rivalry that West Hills High and El Capitan High have created over the years that has reached a new peak, created by two of the east county's finest, head coach Casey Ash, of the West Hills High Wolf Pack, and head coach
Ron Burner, of the El Capitan High Vaqueros.
Coach Ash and Coach Burner met while they were both coaching at West Hills. Athletic Director Donald Rutledge was there, as well, and Tony Burner was playing quarterback.
Burner was coaching at West Hills from 1996-to-2001, along side former head coach Steve Sutton, and current head coach of the Wolf Pack, Casey Ash, who at the time was a defensive backs coach. Quite the all-star cast. Burner's son, Tony, was the quarterback from 1997-to-2000. Tony also played baseball , as Ron also became the head coach.
Tony later joined Ron in 2007 as his quarterback's coach as well as an offensive coordinator for the junior varsity at El Capitan High. Tony was to take over as offensive coordinator for the Vaqueros in 2017, before he passed away.
In 2001, Ron Burner left West Hills to pursue a baseball coaching at with Steve Perdue at Valhalla High School.
Don Rutledge, Casey Ash, Steve Sutton, and Ron Burner all stayed in touch and became good friends.
"When I took over as varsity head football coach in 2005, Steve Sutton was still head coach at West Hills, as well as, Casey was coaching the defense, so it just evolved into a rivalry," said Burner.
"In 2005, we were playing West Hills and we were headed for the end zone to possibly win the game and they picked us off, to win the game. Steve Sutton left that summer and relocated to coach at Valhalla, there was like a two-year period where Casey did some other things and left West Hills, yet the rivalry we started remained.
"A few years ago we went with a UCLA versus USC-type thing where no matter who was home or away, we wore our all-yellow and West Hills wore all black."
Coach Ash and Coach Burner continued to contemplate a name and some type of trophy would be awarded to the winner.
After all, Grossmont and Helix have the coveted musket that has remained at Helix for some time now.
The two Santee teams, West Hills and Santana, have the Jack Dale Cup, and the Jamacha Helmet is awarded to the winner of the Steele Canyon and Valhalla rivalry game.
It was discussed, the possibility of something related to the 67 and the 52, but they really didn't connect the two schools.
"We did have a longstanding thing with Santana called the Golden Whip, but that fizzled out after 2012 we stopped playing them," said Burner. "When Tony passed away my stepdaughter, Jen, went to Casey and got Tony's jersey for me.
"Six months into last season, I started the Tony Burner Scholarship Fund, wanted to continue Tony's legacy. I sat down with our principal and discussed the usual fundraising and such, explaining to her that I wanted to award the Tony Burner Scholarship Fund, one to a West Hills student and one to an El Capitan student."
Ron decided to meet with the current Athletic Director at West Hills, Rutledge, to discuss the possibility of some type of Tony Burner Memorial Cup to commence the winner of the West Hills-El Cap rivalry game played every year.
Rutledge brought it to Casey's attention. He agreed it was a great idea.
Ron has been in contact with Rob Treadwell at Al's Sport Shop, who has graciously designed and donated The Tony Burner Memorial Trophy.
Casey and Ron discussed whether or not the trophy should commemorate the years past or officially be unveiled this season. The trophy will be unveiled and awarded this Friday at El Capitan to the victor of West Hills versus El Capitan game. The award will be presented by Rutledge.
Ron wants everyone to know how important the Tony Burner Scholarship Fund is and was a huge passion of Tony Burner.
"The Scholarship is our way of giving back," said Burner.