Coach gives Cougars lesson in victory
Updated: September 22, 2018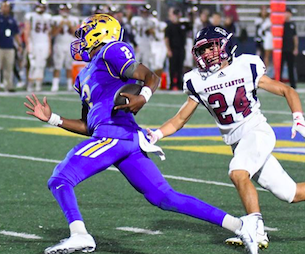 Steele Canyon's Luis Alvarado chases Noah Tumblin of Mira Mesa. / photo @wahoofishone
2018 EAST COUNTY PREP FOOTBALL
STEELE CANYON 52, MIRA MESA 35
EastCountySports.com staff report
MIRA MESA – A few offensive linemen and some other Steele Canyon starters got to stand on the sidelines to start the Cougars' important non-league at undefeated Mira Mesa on Friday night.
After some of the players were late for a couple of pre-game meetings during the day and were benched at the beginning of the game, those guys aren't likely to let KENNETH WATSON and the rest of their teammates down again this season.
The players paid their penalty and then made sure to pave the way for Watson and the rest of the Steele Canyon backs, as the Cougars manhandled the Marauders for the third-straight time dating back to last season, 52-35.
Watson rushed for over 225 yards, including three touchdowns, and Steele Canyon had nearly 600 yards of total offense.
"Kenneth had a monster game," Steele Canyon head coach SCOTT LONGERBONE said. "Our run game was on fire tonight. Our run game is legit, man."
The Marauders struck first and struck quickly and senior quarterback Noah Tumblin threw a deep pass that Albert Lemon tapped away from his defender, turing the bomb into a 67-yard score.
Steele Canyon's CHRIS CARTER pulled in a 35-yard pass on the next series to set up quarterback NATHAN BARNETT for a 1-yard touchdown run as the game was tied at the end of the first quarter.
Watson scored his first touchdown of the game with 1:46 to go in the second quarter on a 2-yard run, giving Steele Canyon a 14-7 lead.
Tumblin threw another long touchdown pass to Lemon the left down left left hash to tie game on a 43-yard connection with 8:42 left in the second.
After Watson rushed for a first down with Mira Mesa players all over him trying to take him down, Barnett found CHANCE JOHNSON for a wide-open completion, as Johnson raced 63 yards for a score to take a 21-14 lead just 22 seconds later.
Barnett scored another touchdown on a 44-yard keeper after a defensive stop.
He then connected with Carter again for a 9-yard score and a three-touchdown lead. The Marauders countered with a rushing touchdown before halftime to go into the locker room down two scores to the visitors.
Lemon was said to be injured late in the first half and didn't return.
Watson had a 29-yard touchdown run in the second half not even two minutes in to up the Steele lead to 42-21.
"(Watson) looked back to where he was during our playoff run last season, bouncing off initial contact, then taking two or three guys trying to bring him down," Longerbone said. "And when he gets into the open field, look out."
Watson closed out the scoring with an 80-yard jaunt with 79 seconds left after Longerbone was forced to put his starting unit back in the game after the Maraduers had cut the lead to 10 with a minute-and-a-half left in the game.
"I let (Watson) know I proud I was of him," Longerbone said. "We have a lot of good backs but he is gjust one of those guys where we got into one of those situations where you just keep giving him the ball."
Bennett had over 250 yards of total offense and accounted for four touchdowns – two by air and two on the ground. He completed two of his passes to Watson for 53 yards.
"Nathan is getting more and more comforabtle with the passing game," Longerbone said. "They are working hard to get the timing going in practice all week and it's starting to pay off. The chemstry is building."
Sophomore WES NEELY rushed for 70 yards for Steele, while JONATHON KENNEY kicked a 31-yard field goal.
ERNIE JUAREZ led the Steele Canyon defense with eight tackles, including a sack. IAN MILLER also registered a sack for Steele.
Sophomore COLTON GUERRERO had seven total tackles for the Cougars.
Tumblin, meahwhile, finished with 300 yards passing and over 400 yards of total offense.
"They're a good team," Longerbone said. "They've got some guys, so this was a really really good team win."
Longerbone also said that earlier in the day, he locked up a Week 2 meeting with Rick Jackson's Madison Warhawks next season.
"There is something to be said when you can go up against good football coaches and good programs," Longerbone said.
Next week, Steele Canyon (4-1) hosts undefeated Granite Hills (5-0).
"I think next week will show a lot," Longerbone added. "I think they're good, but I don't think they've played a team as good as us."