McClendon passes local rushing records
Updated: September 29, 2018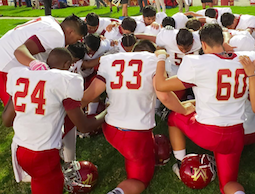 Monte Vista following its win over Chula Vista on Friday. / photo by Larry Montalbano
2018 EAST COUNTY PREP FOOTBALL
By Nick Pellegrino
Special to East County Sports.com

CHULA VISTA (9-29-2018) – Following yet another standout rushing performance, Monte Vista High senior running back JAHMON MCCLENDON continues to climb the all-time CIF rushing charts.
During the Monarchs' 28-6 pasting of Chula Vista, McClendon broke both the Grossmont Conference and East County career rushing records.
In his 2016 sophomore season, McClendon rushed for 1,566 yards. Along with a CIF San Diego Section leading 2,492 last year, plus his 1,372 so far this campaign, McClendon's career total would stand at 5,420 yards, good for seventh all-time in the section record book.
The total bests the conference mark by legendary Helix back REGGIE BUSH (4,925 in 2000-02) and the East County standard held by Christian's LAWRENCE  WALKER (5,112 in 2004-07), one of only seven backs in CIFSDS history to surpass the 5,000-yard plateau. McClendon is No. 8.
With TD runs of 43, 74 and 5 yards against the Spartans, the durable, UCLA-bound senior moved into seventh place on the section list,
The target is now squarely on overtaking Tyler Gaffney of Cathedral Catholic, who collected 5,547 yards from 2006-08, and another Dons standout, Demetrius Sumler, the predecessor to Gaffney, who gained 5,650 yards from 2002-05. That would place him fourth on the list.
McClendon will look to add to his totals in next week's Grossmont Valley League opener for the Monarchs on the road against cross-town rival Mount Miguel.
Bush is one of four backs from San Diego County – along with Rashan Salaam (La Jolla Country Day/Colorado), Ricky Williams (Patrick Henry/Texas) and Marcus Allen (Lincoln/USC) – to capture college's Heisman Trophy.
In both teams' final non-league contest of the season, McClendon's three scores on the ground came on just 18 rushes. One week earlier, he collected a season-high 365 yards.
Should Monte Vista (5-1 overall) extend its season into the playoffs by two games, McClendon just hit the midway point to the season, meaning he is in line to challenge for placement on the state's all-time rushing ranks.
In addition, he flew past two great Monte Vista back from the past – IAN MILLER (4,124 IN 1993) and DARRELL MACK (4,083 in 2003-04) – for the school record.
McClendon – the "new Mack" – cashed in his first two scoring bursts in the first quarter for a 14-0 lead, then his short dive made it 21-6 by the intermission, as both the offensive and defensive lines were able to subdue Chula Vista (2-4).
The other Monte Vista TD seemed poised for McClendon.
Instead, senior quarterback Kenny Stevens faked a handoff to his backfield standout, raced around to the outside and sprinted 36 yards along the sideline in the final minute of the third period.
The defense then took over to complete the second-half shutout.
BRYANT ADAMS recorded a pair of sacks, while JEVON BROOKS had an interception and recovered a fumble.