Sterling, Comets shine at Grossmont
Updated: September 29, 2018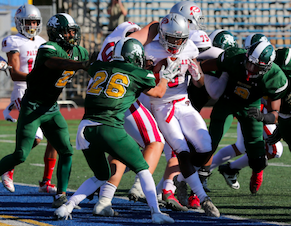 Palomar College running back Shevell Sterling scores against Grossmont College. / photo by Hugh Cox
2018 EAST COUNTY PREP FOOTBALL
PALOMAR 35, GROSSMONT 24
By Tom Saxe
Special from Palomar Sports Information
EL CAJON (9-29-2018) – 2017 All-CIF San Diego Section running back Shevell Sterling made his homecoming journey to his old Grossmont High School field a memorable one on Saturday afternoon when he scored two tough-yardage rushing touchdowns, helping lead the way as his visiting Palomar team held off Grossmont College 35-24 in a non-conference football game.
Sterling's performance was topped off by consecutive runs of 6, 4, 4 and 3 yards for his second TD of the day, which put the game away with 2 minutes, 31 seconds to play.
Sterling, along with quarterback Connor Curry, who came off the bench to complete 14-of-18 pass attempts for 173 yards and two touchdown passes of 15 yards to Johnny Armentrout and 6 yards to Zach Morel, trumped a huge afternoon by the Griffins' Ethan Albertson, a freshman out of Mt. Carmel High, as the Comets advanced to 3-2 on the season.
Albertson kicked field goals of 54 and 50 yards to lift Grossmont to a 6-0 lead after the first quarter, then added a 30-yarder for good measure to give the Griffins their final lead of the day at 24-21 with 11:50 remaining in the game.
On Sterling's first touchdown, Curry hit tight end William Gonzalez on an 11-yard completion, followed by a 16-yard completion to Devin Nilson. Sterling then fought his way to the 1-yard line and scored from there.
"I feel at home here," said Sterling, whose 1-yard TD and a PAT kick by Mark Meader gave Palomar its first lead of the game 7-6 with 2:58 remaining in the first half.
"I was comfortable here. This is an amazing feeling," Sterling added. "And I have to give the line credit for the way they blocked for us."
Palomar's other points came on 1-yard run by DeVion Sneed and five PAT's by Meader. Sneed's TD was set up by a kickoff return by Lamar Rabobteu to the Grossmont 34-yard line and a 30-yard completion from Curry to Johnny Arzola.
Curry was coming off an injury to his non-throwing hand in last week's near-upset of state No. 2-ranked Ventura last week on the road. He couldn't practice early in the week but was ready to go when he was called on Saturday.
"We do a good job of staying together as a team, and the line did a good job. You've got to give them credit."  Curry said. And the coaches set us up for success. I've got to thank God for this opportunity. Last week, Shea (Morales) really stepped up (as National Division Offensive Co-Player of the Week in Southern California). Shea is a real leader. It looked like I wasn't going to be able to play this week, but you've got to always be ready. The best thing is that we help each other out and support each other."
Grossmont's touchdowns came on a 3-yard run by Kobi Eure and a 69-yard pass play from Brady Abt what was followed by a two-point conversion pass to Robert Romero.
"You have to give Grossmont credit," Palomar coach Joe Early said. "They've had an awful season (0-5), but have never stopped battling through a lot of adversity. I've got to give our team credit too. We found a way to win in the end."
Each team intercepted a pass in the end zone. For the Comets, Jihad Hightower picked off a pass with one hand at the end of the first half. For the Griffins, Darian Sutherland's pick in the end zone came off a pass that bounced off Morel, the intended receiver, late in the fourth quarter.
The Griffins' Darian Williams and the Comets' Orio Diaz also had interceptions.
Palomar's Giovanni Herrera recorded nine tackles (six solo) including 0.5 sacks and two tackles for loss for eight yards. Chris Calhoun added eight tackles (five Solo and 2.5 tackles for loss.\Isiah Kalepa-Tuisee recorded a sack for 11 yards.
Chris Murray recovered a fumble by a Palomar teammate after he hauled in a pass.
"Unfortunately, they won the turnoverbattle," Grossmont College offensive lineman JAY WILLIAMS said. "There was some back-and-forth, but we couldn't quite keep up. We still had a chance to win. We played until the last second."
Grossmont's Chris McDonaugh contributed a 13-yard sack.
Both punters also stood out. The Comets' Jacob Stepanek deposited a 49-yard punt that pinned the Griffins' at their 1-yard line, the third time he has done that to an opposing team this season. He also deposited a 53-yard punt that was downed at the Grossmont 7 – although for the second week in a row a missed blocking assignment resulted in a blocked punt, this time by the Griffins' Kyler Perrault.
For Grossmont, Albertson, despite not feeling well, pinned Palomar at its 15-yard line with a 50-yard punt, as part of his stellar afternoon.
---
Palomar vs. Grossmont at Grossmont High Schoo
9/29/2018 at 3:00 PM

Palomar




35

Grossmont




24
SCORING
1
 2
 3
 4
 FINAL
Palomar (3-2)
 0
 7
 14
 14
 35
Grossmont (0-5)
 6
 0
 15
 3
 24
Grossmont High Schoo |
PRD
TIME
SCORING SUMMARY
PALOMAR – GROSSMONT
1
05:36
Grossmont – Ethan Albertson 54 yd field goal.
Drive: 11 plays, 59 yards in 4:46.
0 – 3
1
03:19
Grossmont – Ethan Albertson 50 yd field goal.
Drive: 3 plays, 1 yards in 2:17.
0 – 6
2
02:58
Palomar – Shevell Sterling 1 yd run. (Mark Meader kick is good).
Drive: 9 plays, 45 yards in 5:00.
7 – 6
3
10:20
Grossmont – Kobi Eure 3 yd run. (Ethan Albertson kick is good).
Drive: 13 plays, 60 yards in 4:55.
7 – 13
3
06:58
Palomar – Johnny Armentrout 15 yd pass from Connor Curry. (Mark Meader kick is good).
Drive: 7 plays, 34 yards in 3:07.
14 – 13
3
05:38
Grossmont – Jacob Rozar 69 yd pass from Brady Abt. (2pt conversion pass by Robert Romero is good).
Drive: 3 plays, 75 yards in 1:30.
14 – 21
3
03:47
Palomar – DeVion Sneed 1 yd run. (Mark Meader kick is good).
Drive: 5 plays, 35 yards in 1:41.
21 – 21
4
14:12
Grossmont – Ethan Albertson 30 yd field goal.
Drive: 10 plays, 62 yards in 4:35.
21 – 24
4
11:50
Palomar – Zach Morel 6 yd pass from Connor Curry. (Mark Meader kick is good).
Drive: 6 plays, 65 yards in 2:29.
28 – 24
4
02:31
Palomar – Shevell Sterling 3 yd run. (Mark Meader kick is good).
Drive: 4 plays, 17 yards in 2:14.
35 – 24
PALOMAR
STATISTICS
GROSSMONT
22
FIRST DOWNS
15
13
9
0
Passing
Rushing
Penalty
3
8
4
54% (7 of 13)
THIRD DOWN EFFICIENCY
37% (7 of 19)
50% (1 of 2)
FOURTH DOWN EFFICIENCY
0% (0 of 2)
306
TOTAL OFFENSE
283
69
4.4
Total Offensive Plays
Average gain per play
66
4.3
210
NET YARDS PASSING
171
20-28
7.5
1-13
2
Completions-Attempts
Net yards per pass play
Sacked: Number-Yards
Had intercepted
16-38
4.5
2-22
2
96
NET YARDS RUSHING
112
41
2.3
Rushing Attempts
Average gain per rush
28
4.0
4-137
PUNTS: Number-Yards
4-158
34.3
Average
39.5
163
TOTAL RETURN YARDS
65
2-53
2-110
2-0
Punt Returns: Number-Yards
Kickoff Returns: Number-Yards
Interception Returns: Number-Yards
1-4
2-43
2-18
10-75
PENALTIES: Number-Yards
6-50
3-0
FUMBLES: Number-Lost
0-0
2-22
SACKS: Number-Yards
1-13
2-0
INTERCEPTIONS: Number-Yards
2-18
31:40
TIME OF POSSESSION
26:55
Palomar

Grossmont

| PASSING | C-A | YDS | LG | TD | INT |
| --- | --- | --- | --- | --- | --- |
| Connor Curry | 14-18 | 173 | 30 | 2 | 1 |
| Shea Morales | 6-10 | 37 | 12 | 0 | 1 |

| RUSHING | ATT | YDS | AVG | LG | TD |
| --- | --- | --- | --- | --- | --- |
| Shevell Sterling | 15 | 53 | 3.5 | 15 | 2 |
| DeVion Sneed | 14 | 38 | 2.7 | 9 | 1 |
| Jacob Stepanek | 1 | 23 | 23.0 | 23 | 0 |
| Connor Curry | 6 | 13 | 2.2 | 12 | 0 |
| Devin Nilson | 1 | -2 | -2.0 | 0 | 0 |
| Shea Morales | 4 | -29 | -7.3 | 1 | 0 |

| RECEIVING | NO | YDS | AVG | LG | TD |
| --- | --- | --- | --- | --- | --- |
| Johnny Arzola | 4 | 55 | 13.8 | 30 | 0 |
| William Gonzalez | 4 | 53 | 13.3 | 21 | 0 |
| Devin Nilson | 4 | 44 | 11.0 | 16 | 0 |
| Zach Morel | 3 | 30 | 10.0 | 12 | 1 |
| Johnny Armentrout | 1 | 15 | 15.0 | 15 | 1 |
| Shevell Sterling | 1 | 8 | 8.0 | 8 | 0 |
| Logan Gamble | 1 | 5 | 5.0 | 5 | 0 |
| Malachi Russell | 1 | 4 | 4.0 | 4 | 0 |
| DeVion Sneed | 1 | -4 | -4.0 | 0 | 0 |

| PUNTING | NO | YDS | AVG | LG | TB | IN 20 |
| --- | --- | --- | --- | --- | --- | --- |
| Jacob Stepanek | 4 | 137 | 34.3 | 53 | 0 | 2 |

| KICKOFFS | NO | YDS | AVG | TB | OB |
| --- | --- | --- | --- | --- | --- |
| Mark Meader | 5 | 305 | 61.0 | 3 | 0 |
| Jacob Stepanek | 2 | 140 | 70.0 | 2 | 0 |

| KICKOFF RETURNS | NO | YDS | AVG | LG | TD |
| --- | --- | --- | --- | --- | --- |
| Lamar Raboteau | 2 | 110 | 55.0 | 64 | 0 |

| PUNT RETURNS | NO | YDS | AVG | LG | TD |
| --- | --- | --- | --- | --- | --- |
| Devin Nilson | 1 | 38 | 38.0 | 38 | 0 |
| Johnny Arzola | 1 | 15 | 15.0 | 15 | 0 |

| INTERCEPTION RETURNS | NO | YDS | AVG | LG | TD |
| --- | --- | --- | --- | --- | --- |
| Jihad Hightower | 1 | 0 | 0.0 | 0 | 0 |
| Orion Diaz | 1 | 0 | 0.0 | 0 | 0 |

| FUMBLES | NO | LOST |
| --- | --- | --- |
| Shea Morales | 1 | 0 |
| Connor Curry | 1 | 0 |
| Johnny Arzola | 1 | 0 |
DEFENSIVE STATISTICS
#
PALOMAR
SOLO
AST
TOTAL
SACKS-YDS
TFL-YDS
FF
FR-YDS
INT-YDS
BRUP
BLKS
QBH
33
Giovanni Herrera
6
3
9
0.5 – 6
2 – 8
–
–
43
Chris Calhoun
5
3
8
–
2.5 – 4
–
–
45
Spencer Kaoanga
4
1
5
–
–
–
–
1
Jay Craft
4
0
4
–
–
–
–
1
29
Josh Bernard
4
0
4
–
–
–
–
1
21
Louie Flores
2
0
2
–
–
–
–
1
9
Jihad Hightower
1
0
1
–
–
–
1-0
34
Quinton Gaudet
1
0
1
–
–
–
–
38
Quest Smith
1
0
1
–
–
–
–
40
Tyrone Hickson
1
0
1
–
–
–
–
42
Kaaina Lewis
1
0
1
–
–
–
–
49
Orion Diaz
1
0
1
–
–
–
1-0
90
Isaiah Kaleopa-Tuisee
1
0
1
1 – 11
1 – 11
–
–
93
Martin Bonacci
0
1
1
0.5 – 5
0.5 – 5
–
–
94
Nick So'oto
1
0
1
–
–
–
–
98
Mason Simeta
1
0
1
–
–
–
–
TOTALS
34
8
42
2 – 22
6 – 28
0-0
2-0
3
#
GROSSMONT
SOLO
AST
TOTAL
SACKS-YDS
TFL-YDS
FF
FR-YDS
INT-YDS
BRUP
BLKS
QBH
9
Darian Williams
4
1
5
–
–
–
1-0
43
Blake Jarrell
5
0
5
–
2 – 3
–
–
45
Anthony Sola
4
1
5
–
1.5 – 4
–
–
1
19
Kyle Caliver
2
2
4
–
1 – 1
–
–
29
Brennan Goring
4
0
4
–
–
–
–
34
Dylan Helmholtz
3
1
4
–
0.5 – 0
–
–
41
Chris McDonough
3
1
4
1 – 13
1 – 13
–
–
52
Kyree Woods
3
1
4
–
–
–
–
5
Max Schwenke
1
2
3
–
–
–
–
32
Brandon Philo
3
0
3
–
–
–
–
44
Bryson Collins
3
0
3
–
–
–
–
91
Maze Masoe
3
0
3
–
1 – 4
–
–
2
Preston Piltoff
1
1
2
–
1 – 2
–
–
23
Andrew Lira
2
0
2
–
–
–
–
1
54
Anthony Jordan
2
0
2
–
–
–
–
14
Treaquan Jenkins
1
0
1
–
–
–
–
31
Hakeem Martin
1
0
1
–
–
–
–
26
Derek Sutherland
–
–
–
1-18
21
Kyler Perrault
–
–
–
–
1
TOTALS
45
10
55
1 – 13
8 – 27
0-0
2-18
2
1
OTHER INFORMATION
Location: Grossmont High Schoo
Attendance: 250