Griffins sweep Jags in PCAC-South opener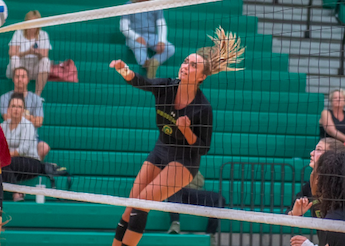 2018 GROSSMONT COLLEGE WOMEN'S VOLLEYBALL
By Dave Dickens
EastCountySports.com
EL CAJON (10-3-2018) – It is official, league play is here.
A nonleague season similar to an old-school MASH unit saw so many talented student-athletes unable to compete and add their expertise, and may have prevented an undefeated early season for the Grossmont College women's volleyball team.
However, with the culture and the system head coach Jamie Ivers has put in place in her 13th season, the shuffled lineups have been up to the task, coming into their first league clash at 11-2, and facing the winless Southwestern College Jaguars.
League play and the rivalry always states that the Griffins and Jaguars will battle regardless of the sport, always have and always will be great rivals.
"We have sustained more injuries in one season than I have had in my entire 13 years here," Ivers said. "JULIA HOLDEN is the latest casualty but should return to the lineup very soon. Julia is a tough kid and a huge part of our lineup."
Grossmont was dominant out of the gate in the first set alone.
Grossmont went 3-0 to win the match, 25-6, 25-8, and 25-11.
The Griffin defense was on fire, allowing only 25 total points in the match.
FRANCESCA SAMMARTANO, SHANEY LIPSCOMB, JORDAN WARD, and CHEYANNE JOHNSON stood out defensively.
Grossmont's JEN ORBITA had a fabulous evening with seven aces serving, two assists and five blocks.
"Jen has consistently done her part defensively and in serve receive," Ivers said. "Tonight she took a huge role in our offense, cranking out seven of our 23 aces."
Two other notable standouts on the evening were Lipscomb, with her own contribution off four aces, 11-of-17 kills, one block, and three digs.
KYLEE SNYDER added her input with once ace, four kills, a huge 10 assists and one dig.
Up next for the Griffins (12-2, 1-0 PCACS), as they will pack up the bus and head to the Imperial Valley, will be IVC (7-8, 0-1 PCACS). IVC is coming off a 3-1 loss to San Diego City (10-5, 1-0 PCACS).
The Griffins face off at IVC at 5 p.m.