Scots return home, see usual result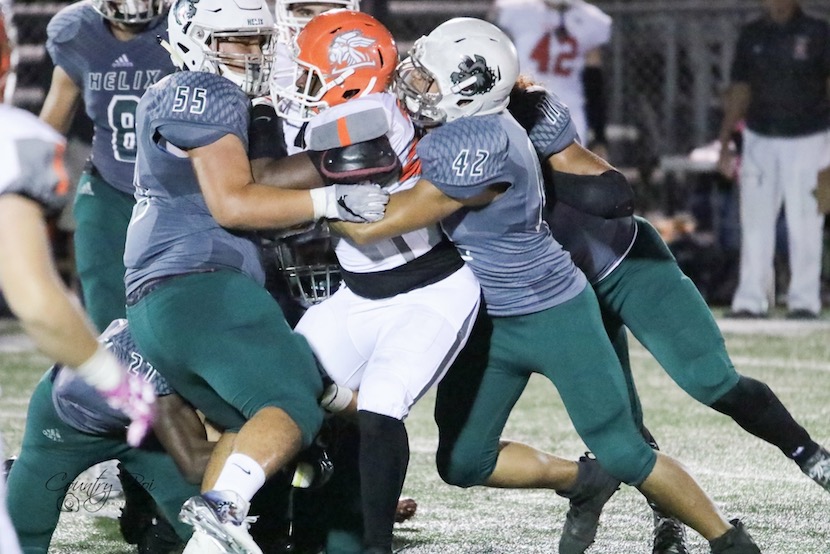 Helix stands up a Valhalla runner on Friday night. / photo by Antonio McIntyre
2018 EAST COUNTY PREP FOOTBALL
HELIX 56, VALHALLA 6
EastCountySports.com staff report
LA MESA (10-6-2018) – Highlanders from several generations returned home on Friday night and the former Helix students got the expected result on Homecoming in a 56-6 victory over the Valhalla Norsemen at Arnaiz Field at Benton-Hart Stadium.
The Highlanders raced to a 49-0 halftime lead, as the Scotties captured their 10th-straight meeting against Valhalla.
The triumph keeps the No. 3-ranked Highlanders (4-3 overall, 2-0 Grossmont Hills League) in a first-place deadlock with Granite Hills. The winless Norsemen fell to 0-7 (0-2 GHL).
The 56 points equals the second-most by Helix in the series, equaling the 2004 mark. The largest one-sided triumph came two seasons earlier, 68-12.
In the first quarter, Helix junior KAMRYN BROWN scored on a 59-yard passing play from senior quarterback DANIEL AMON.
Then, Helix sophomore JADEN BROWN picked up a loose ball after a misconnection on a backward pass that bounded on the turf and ended up as a 12-yard fumble return for a score.
Junior running back ELELYON "FATTO" NOA had a 58-yard touchdown run for Helix's third score.
In the second quarter, Amon and Brown connected on a 53-yard touchdown pass.
Helix senior CHRIS RIVERA had a touchdown reception, as well.
Helix junior XAVIER HAMLETT had a 70-yard interception return for a score. It was his second pick-six in as many weeks.
Helix junior JOHN CARROLL added to his pick total, as well, with an interception and subsequent 26-yard touchdown return.
Helix freshman CHRIS WASHINGTON gave the returning alumni a look at the future with a 93-yard kickoff return for a touchdown.
Valhalla's ELIJAHWAN PHILIPS bowled into the end zone at the right pylon for a touchdown. Norsemen sophomore quarterback LUKE PILLSBURY also found a regular connection with KEGAN BAKER.
Senior KIARE WORTHY had another big kickoff return in the contest, racing 60 yards to the right sideline before getting taken down. He is making long returns part of his weekly routine.
Helix will host Grossmont next week, while Valhalla will host Steele Canyon.