RedHawks visit for win, H-word next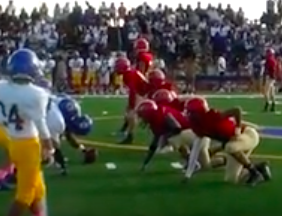 MOUNTAIN EMPIRE's defense lines up against O'Farrell on Friday.
2018 EAST COUNTY PREP FOOTBALL
MOUNTAIN EMPIRE

51,

O'FARRELL

 0
By Roxy Burns
Special to East County Sports
SKYLINE (10-6-2018) – Following two tough losses, the Mountain Empire Redhawks traveled to O'Farrell to try to get back on the right track.
After the ME defense held O'Farrell to a three-and-out on their first drive, the RedHawks' offense took over the ball and Gabe Hydorn threw a 44-yard bomb to Marquis Davis on the first offensive play for a score and it continued like that for the rest of the afternoon for a 51-0 victory.
The defense had seven sacks led by Nathan Rose with two. They also held O'Farrell to minus-25 yards rushing and 23 yards passing.
Mountain Empire blocked a field goal and scored, recovered two fumbles and only allowed one first down. Charlie Sallee blocked a field goal attempt and Dallas Prince scooped-and-scored a 62-yard TD for the team's third score of the game.
The offense rushed for 98 yds on 19 attempts with four touchdowns. Gabe Hydorn was 4-for-6 for 66 yards with a 9-yard TD to Rose, as well as the opening score to Davis.
The contest utilized a running clock in the second half.
The RedHawks (4-3) entertain arch-rival Holtville in a battle between the top two teams (according to the CIF-San Diego Section power index) in the league. The contest will also serve as Homecoming out Campo way, with a season-high crowd expected in East County's backcountry.
Holtville is currently ranked No. 3 in D5 according to MaxPreps.
In the second quarter, the RedHawks registered a third-down quarterback sack. However, on the ensuing punt, the snap sailed over the head of the punter, who quickly raced towards his own goal-line to (illegally) soccer-kick the ball out of the end zone for a safety.
Seniors Kevin Smith and Esteban Castillo also rushed for touchdowns.
The shutout was the fourth of the season for the Mountain Empire defense. That equals the second-most in school history (1975 and 2000), just one shy of the school mark of five blankings, held by the 1971 "Redskins" – as they were known at the time.
Senior Cameron Will paced the "D" with 10 tackles, six of them solo.
For O'Farrell (0-6), located less than a mile west of Morse High School, Ventice Coleman also recorded a blocked kick by stuffing a punt attempt.