Eagles awarded win, await Highlanders
Updated: October 13, 2018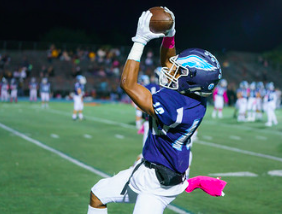 RICHARD "JUNI" HARRIS goes up for a catch on Friday night. / Scott Barnhill - CSPro photo
2018 EAST COUNTY PREP FOOTBALL
GRANITE HILLS 28, EL CAPITAN 14
By Jim Lindgren
Special to EastCountySports.com
EL CAJON – "Neither snow nor rain nor heat nor gloom of night stays these couriers from the swift completion of their appointed rounds."
But lightning does.
The unofficial motto of the U.S. Postal Service says nothing about electric bolts from the sky, but those magnificent strikes sure put a swift completion of the appointed game between El Capitan and Granite Hills on Friday night.
At halftime, the Eagles had a 28-14 advantage over visiting El Capitan and then repeated lightning strikes forced officials to cancel the rest of the game.
Or postpone it?
Fans had already been instructed to seek shelter, and most had left by the time the game was called about 30 minutes after the first lightning strike was seen at about 8:20 p.m. Every few minutes later, another strike delayed the potential restart by a mandatory 30 minutes, according to CIF San Diego Section rules.
The rain was not torrential, but it was persistent.
When it appeared the lightning and rain would not cease, safety became the No. 1 priority.
Many (or most) games around the county were affected by the rare October curse from Mother Nature, and this situation is the first mass-cancellation of in-progress games the section has experienced in its 58-year history.
Games have been negated by raging fires in 2003 and 2007, but those were predetermined cancels.
A state playoff game at Coronado was delayed by lightning for about 80 minutes in 2015, but it eventually was restarted, and Coronado prevailed 14-0 over Los Angeles Belmont.
This October Sky puts a huge damper or mystery on the playoff pairings, which are contingent on computer and power rankings.
Do the partial games on Friday count as wins or losses? Do you try to restart the games on Saturday or Monday? CIF rules prohibit playing games on Sunday, but exceptions can be made.
Many of the best players have college recruiting trips over the weekend, and many student-athletes are slated for college-entrance exams on Saturday morning.
Games can be resumed on Monday, but those schools also play another game on Friday.
It's complicated, but the playoff power rankings are essentially determined by wins and losses against the quality of the opponent.
CIF officials reportedly are leaving those decisions to the conference officials, but every decision affects several teams in the playoff scheme.
In the case of undefeated Granite Hills, the Eagles' playoff positioning and potential home games (Read: money-makers) are affected by several outcomes throughout the county that might be ruled as "no contest".
"Each situation has a different scenario," Granite Hills coach Kellan Cobbs said. "Who knows how it's going to play out."
Cobbs and El Capitan coach Ron Burner discussed several options, and it has yet to be determined what might happen with the outcome, although the coaches came to an agreement pending any ruling from CIF.
"We decided on no contest," Burner said. "No time to reschedule. It was a good game going on for sure. Hard fought on both sides.
"They are a very good team with an outstanding defense. I thought we had a good game plan on both sides of the ball. It was very physical, to say the least."
By the time Sunday rolled around, Grossmont Conference officials and both programs agreed that the Eagles were the winner of the game.
The Eagles, ahead by two touchdowns, were to receive the second-half kickoff.
In the half-game that was played, Granite Hills appeared to be taking control of the contest over El Capitan. The Eagles' start was slow, but the second quarter displayed why they are considered one of the best teams in the section.
El Capitan got on the scoreboard first with an 88-yard interception return by Austin Barker nine minutes into the contest, which began under very pleasant conditions worthy of shorts and a Hawaii shirt.
"We kind of put ourselves in a hole with that Pick 6," Cobbs said. "That was a bad one. (Ostreng) drilled him. It's like he didn't even see him, and we missed some tackles on the return."
The Eagles then got rolling in the second quarter with Cristopher Ostreng capping a 5-play, 67-yard drive with a 7-yard touchdown run to tie things at 7-7.
After a three-and-out possession by El Capitan, Granite Hills took the lead "for good" on a 69-yard sprint by Keyvon Martin.
Juni Harris then recovered an onside kick for the Eagles and scored five plays later on a 3-yard run. That made it 21-7 Granite Hills, but the Vaqueros were not done.
One play later, junior quarterback Wick Hauser hit Yaphet Yokley on a 76-yard touchdown pass to make it 21-14.
After a three-and-out by Granite Hills forced a punt, the Eagles' Jayten Vanlandingham intercepted a pass and returned it 26 yards to the 48-yard line.
Eight plays later, Martin had his second TD of the night on a 4-yard sweep with 0:30 to play before halftime.
Never a team to quit, El Cap moved the ball to the 23-yard line after a Yokley reeled off a 26-yard pickup on a hook-and-ladder play with 0:04 to play.
As the light rain turned torrential, a 40-yard field goal attempt by Marlon Pineda was a bit short.
Shortly after the teams departed for halftime, the first lightning strike was seen. Continued strikes forced officials to cancel the game about 30 minutes later.
"I would have liked to have finished the game because we were doing some positive things after that slow start," Cobbs said. "But I understand the situation and the safety issue involved."
In the half that was played, Ostreng was 7-of-17 passing for 113 yards, plus he ran six times for 39 yards and a touchdown. Martin gained 107 yards on six carries, including his 69-yard TD.
Hauser was 11-of-20 passing for 180 yards and a TD for El Capitan. Yokley caught four balls for 121 yards.
Whatever the outcome of this game, the real Litmus test for Granite Hills will come next week when the Eagles (7-0, 2-0) play host to No. 3 Helix in what likely will decide the Grossmont Hills League.
"Wish we could finish the game but it is what it is," Cobbs said. "We are on to Helix and we have our hands full."
El Capitan (2-5, 0-2) is still battling for a Division III playoff berth and plays host to Valhalla next Friday.