Matadors get complete game versus Braves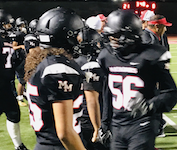 Mount Miguel players on Friday night.
2018 EAST COUNTY PREP FOOTBALL
MOUNT MIGUEL 41, EL CAJON VALLEY 0 (F)
By Dave Dickens 
EastCountySports.com
SPRING VALLEY (10-12-2018) After a spectacular first half of play against the Grossmont Valley League-leading Monte Vista Monarchs last week, the host Mount Miguel Matadors continued their spectacular play execution.
Mount Miguel head coach TROY STARR has the Matador veterans at the top of their game, buying into the system and into the culture change.
The trickle-down effect has worked beautifully as the veterans have taken the youngsters under their wings and the result is improved focus and development, and a Valley League victory.
Coach Starr and the defensive coordinator for El Cajon coached together at Helix, and they both put together a game plan to out-do the other and their coaching tendencies.
Mount Miguel had many positives in their arsenal to assist in putting up a possible second win especially since the Matadors had already defeated Santana two weeks ago, 46-14, then had a 14-14 tie in the first half against the Monarchs, and only lost due to in part mostly because of costly penalties, and had a 400-plus yards passing game against Grossmont Hills League foe Valhalla.
Mount Miguel (2-5, 1-1 GVL), coming into this contest, was a must-win to continue to compete for a possible league title and a decent playoff seeding.
Mount Miguel also had a big Homecoming crowd on hand, and a fired up Matador squad.
Across the field, an El Cajon Valley Braves team (0-8, 0-1 GVL), a team low in numbers, but hungry for a win, especially in league and to show all the fans and the Matadors they are equally capable of achieving a win.
If you perked up your ears on the Brave sideline you will her a fired up, vocal, can-do attitude.
Echoes of "we can do this" and "we got this" could be heard and displaying it all season on the field that they will fight until the clock shows zero.
Head coach Nick Osborn and Starr have both humbled themselves by taking on the El Cajon Valley and Mount Miguel football squads.
Both of these clubs will be closer to the top of the league come next year.
"We showed a lot of passion when we were hanging with (Mount Miguel) early in the game," Osborn said. "We had some pretty good offensive production building off of last week. DEMARIUS (HYDE) stepped up after last week."
Mount Miguel wasted no time on their first possession, as predicted before the game began, the Matadors went to the air often.
The first of many to come, wide receiver MIKEY AVANT hauled in a 30-yard strike from the gunslinging sophomore JACOB LAVERDIERE. Kicker CHRIS HERNANDEZ's point after was good, leaving the score 7-0 Mount Miguel with 11:06 left in the first quarter.
After a defensive stand against the Braves, it was time for big No. 5 "JD" Laverdiere to air it out yet again.
Laverdiere found wide receiver DOMINIC MORALES for a 54-yard touchdown and Hernandez's point-after was good, 14-0 Matadors with 11:25 left in the second quarter.
Quarterback ATLANTAS EIDEIUS, for the Braves, tried a couple of runs, however, was successful quite a few
times connecting with wide receiver CLARENCE JOHNSON.
"Our O-line has really stepped it up in the last couple of weeks," Osborn said. "We've made some changes in our pass protection and Atlantas actually has time to feel comfortable and make some reads.
"Atlantas has come alive the last few weeks in that position of leadership and it has carried over to his play."
Johnson had said earlier in the week he would have his hands full defending the Matador receiving corps and "JD".
He was definitely not mistaken.
The Matador defense joined in as well with a pick for 65 yards, and also a big sack for a loss in the second quarter by Junior MIKE MEDINA with 7:31 left.
Mount Miguel put another big drive together with an ending result being a 35-yard pass from Laverdiere to JAKE MALLARD. Another Hernandez point-after was successful, 21-0 Mount Miguel with 5:35 left in the second quarter.
Three minutes later, after a few attempts, the offensive line created the opening for running back LARRY YZAGUIRRE, bursting up the middle for a 1-yard touchdown with 2:00 left before the half. Hernandez missed the point after, 27-0 Matadors.
The lighting and rain predicted across San Diego County came a bit early.
The last great play of the half was a 48-yard strike from the Braves' Eideius to Johnson.
As the Homecoming festivities concluded, the rain came harder and the thunder sounded closer with each lightning strike off in the distance.
A majority of the fans remained as the Matadors were having an evening to remember.
Six minutes into the third quarter, Matador Mallard picked off an Eideius pass for a 57-yard pick-six. Hernandez's kick was successful, 34-0 Mount Miguel.
The Matadors would score one last time on a 16-yard pass from Laverdiere to wide receiver ERIK GRAHAM. A successful Hernandez extra point made it 41-0 with little time left in the third quarter.
Neither team would score in the fourth as the rain continued, however, the lightning danger wasn't in Spring Valley as it was in the rest of the county. The Matadors completed their game, 41-0, victorious over the Braves.
Laverdiere threw for 215 yards and four touchdowns.
"We were able to make big plays in the passing game," said Starr. "Jacob Laverdiere is just a tough kid that has all the intangibles, great kid. If we can protect J.D., we can be in any game, just need to protect him."
The Matadors (3-5, 2-1 GVL) will travel to West Hills to take on the red-hot Wolf Pack ( 7-1, 2-0 GVL).
This is a must win for Mount Miguel.
El Cajon Valley (0-9, 0-2 GVL) will remain on the road as they face a tough task, as well, at Monte Vista (7-1,
2-0 GVL). The Braves could play spoiler in this contest. Both games are on Friday, Oct. 19 at 7 p.m.