Eagles earn their share with title performance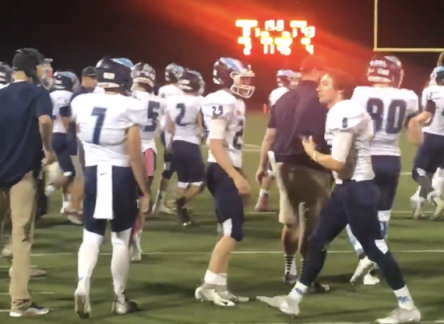 Granite Hills watches the final seconds tick off the clock on Friday night.
2018 EAST COUNTY PREP FOOTBALL
GRANITE HILLS 43, VALHALLA 0
EastCountySports.com staff report
EL CAJON – The Granite Hills High football team went out and took care of business on Friday night then waited for the result out of La Mesa.
The Eagles finished up an awesome season with a business-like 43-0 win over longtime rival Valhalla on Friday.
But at Granite Hills these days, the Eagles are about championships. And the program earned its fourth-straight league title a little more than a half-hour later when Steele Canyon knocked off Helix to create a rare three-way tie atop the Grossmont Hills League.
While not totally out of the ordinary in other varsity sports locally, a tri-championship just doesn't happen in football in the Grossmont Conference, particularly since the split into two leagues.
And happily, for Granite, that was the end result, even though the Eagles had a lot of things to sort through in their game with the Norsemen.
A sure favorite against the hosts, Granite Hills wanted to ensure a top seed in the upcoming Division II playoffs while getting in some younger players, either for experience or out of necessity on Friday night, and still respecting their winless rival.
"The kids came out and did what they were supposed to do," Granite Hills coach KELLEN COBBS said. "We had to have a couple of other kids step and make some plays and they did a good job tonight."
Not everyone had cleared the parking lot by the time news of the upset by the Cougars had hit their phones.
"We've been excited to be back in the stronger league," Cobbs said. "We feel like we were going in the right direction."
Hard to argue. After three-straight Grossmont Valley League banners, the Eagles' win over Steele will allow them to receive the championship patch.
Junior CODY WILSON rushed for the first touchdown of the game with a 6-yard score.
Senior quarterback CRIS OSTRENG passed to junior JACOB SETTERBERG for a score, then later, he hit CARLOS DELEON with a 44-yard touchdown.
Junior JAYTEN VANLANDINGHAM scored a touchdown on the ground.
Granite Hills sophomore quarterback JUSTUS MCCOMB entered the game in the second quarter and threw a pair of touchdown passes.
McComb, who led the Granite Hills junior varsity to a 9-1 record, threw a 58-yard bomb to JAMES JOHNSON, then later connected with Setterberg for a 31-yarder.
"He's a guy who has a bright future for us," Cobbs said. "I think he is a kid to look out for next year."
Senior free safety JOSH FLETCHER had an interception for Granite Hills. JUSTIN MCELLIGOTT kicked a 25-yard field goal.
Granite Hills led 43-0 at halftime.
"We had to come out and put up points," Cobbs said. "It's unfortunate but that is the situation we are in. But it worked out."
"We should have home field throughout the playoffs. Our home fans do a great job of supporting us."
Granite Hills, which will resume the postseason in two weeks, awaits the winner of an 8-9 matchup between Olympian and Ramona.
"Whoever is in front of us, we get a week to have everybody ready and at full-strength."
"