Griffins are tough match for Gauchos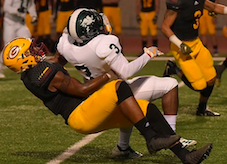 Grossmont JARIUS BURNETTE III is wrapped up by a Saddleback player on Saturday night.
2018 COMMUNITY COLLEGE FOOTBALL
SADDLEBACK 45, GROSSMONT 30
EastCountySports.com staff report
MISSION VIEJO – When Grossmont College's KYREE WOODS had a strip sack and fumble recovery for a touchdown in the second quarter on Saturday night, the Griffins may have reached a high-point in the season.
Coming off their only victory last week, Grossmont quickly bounced back from an early two-score deficit to tie the host Saddleback Gauchos at 14-all and the Griffs' confidence may have been as high as its been all year.
The Gauchos, seemingly hitting a bit of a bump on the road to their big game next week, eventually stemmed the tide and held off Grossmont for a 45-30 National Southern League win.
The Gauchos are 4-0 in the and will meet Riverside for the conference championship next week.
"After this game (Grossmont head coach MIKE JORDAN) was upset," Grossmont sophomore offensive lineman JAY WILLIAMS said. "He was like, 'we really could've beat this team.' "
Former Griffin and Valhalla Norseman Jerome Johnson scored two touchdowns for Saddleback (6-3, 4-0).
Grossmont battled back again in the second half after falling behind by two touchdowns once again at the half.
Grossmont freshman JARIUS BURNETTE had a 57-yard touchdown run for his second score of the game, then ETHAN ALBERTSON booted a 37-yard field goal to bring the Griffins to within 28-24.
Johnson's second rushing score of the game put the Gauchos back up by 11.
However, Grossmont sophomore FABIAS SHIPMAN III had a 19-yard touchdown run to close the lead to 35-30 with 11:45 left in the game.
The Griffins couldn't score any more from there.
"It all comes down to being able to finish," Williams said. "They were just fast
Burnette rushed for 136 yards on 20 carries for the Griffs. On one play, the back lost his helmet and was contacted hard by a Saddleback player. Burnette was shaken up but was able to continue.
MATTHEW LINTON had a team-high five receptions for 45 yards for Grossmont (1-8, 1-3).
Grossmont's BRYSON COLLINS had nine solo tackles, including three for loss and a sack, as well as, two pass breakups.
In addition to his defensive touchdown, Woods, a freshman out of Steele Canyon High, also had a sack.
The Griffins played well on special teams, recovering a pair of muffed punts, the first of which led the Albertson's field goal.
Former Mountain Empire defensive star BLAKE JARRELL, a freshman, recovered one of the three forced fumbles on the day by the Griffins on a punt early in the fourth at the Saddleback 28-yard line that set up Shipman's touchdown.
"We had a chance to win this game," Williams said. "We played pretty well, we were just a few plays from winning that thing. The offense had a few drops and we missed a field goal. "
---
SCORING
1
 2
 3
 4
 FINAL
Grossmont (1-8, 1-3)
 7
 7
 10
 6
 30
Saddleback (6-3, 4-0)
 14
 14
 0
 17
 45
Mission Viejo HS | Diablo Stadium
PRD
TIME
SCORING SUMMARY
GROSSMONT – SADDLEBACK
1
12:48
Saddleback – Johnson,Jerome 1 yd run. (2pt conversion rush by Patterson,R. failed).
Drive: 6 plays, 65 yards in 2:12.
0 – 6
1
11:26
Saddleback – Smith,Dejour 28 yd pass from Patterson,R.. (2pt conversion pass by Mailangi,Sefo is good).
Drive: 3 plays, 28 yards in 0:15.
0 – 14
1
07:51
Grossmont – Burnette,Jarius 1 yd run. (Albertson,Ethan kick is good).
Drive: 8 plays, 50 yards in 3:26.
7 – 14
2
02:45
Grossmont – Woods,Kyree 0 yd fumble recovery. (Albertson,Ethan kick is good).
14 – 14
2
01:35
Saddleback – Patterson,R. 29 yd run. (Freem,Matthew kick is good).
Drive: 4 plays, 45 yards in 0:59.
14 – 21
2
00:20
Saddleback – Derrico,Austin 26 yd pass from Patterson,R.. (Freem,Matthew kick is good).
Drive: 6 plays, 55 yards in 0:42.
14 – 28
3
09:43
Grossmont – Burnette,Jarius 57 yd run. (Albertson,Ethan kick is good).
Drive: 4 plays, 88 yards in 1:38.
21 – 28
3
02:37
Grossmont – Albertson,Ethan 39 yd field goal.
Drive: 6 plays, 23 yards in 2:34.
24 – 28
4
14:23
Saddleback – Johnson,Jerome 4 yd run. (Freem,Matthew kick is good).
Drive: 9 plays, 62 yards in 3:14.
24 – 35
4
11:45
Grossmont – Shipman III,F. 19 yd run. (2pt conversion pass by Abt,Brady failed).
Drive: 3 plays, 28 yards in 1:21.
30 – 35
4
05:21
Saddleback – Freem,Matthew 37 yd field goal.
Drive: 6 plays, 41 yards in 2:10.
30 – 38
4
01:21
Saddleback – Patterson,R. 1 yd run. (Freem,Matthew kick is good).
Drive: 2 plays, 11 yards in 0:14.
30 – 45
GROSSMONT
STATISTICS
SADDLEBACK
15
FIRST DOWNS
22
6
7
2
Passing
Rushing
Penalty
11
9
2
29% (6 of 21)
THIRD DOWN EFFICIENCY
33% (5 of 15)
50% (1 of 2)
FOURTH DOWN EFFICIENCY
0% (0 of 0)
175
NET YARDS PASSING
291
16-39
4.5
5-40
0
Completions-Attempts
Net yards per pass play
Sacked: Number-Yards
Had intercepted
27-46
6.3
2-15
0
130
NET YARDS RUSHING
154
40
3.3
Rushing Attempts
Average gain per rush
29
5.3
10-335
PUNTS: Number-Yards
7-263
33.5
Average
37.6
117
TOTAL RETURN YARDS
146
2-2
6-115
0 0
Punt Returns: Number-Yards
Kickoff Returns: Number-Yards
Interception Returns: Number-Yards
4-12
5-134
0 0
9-45
PENALTIES: Number-Yards
7-71
0-0
FUMBLES: Number-Lost
3-3
2-15
SACKS: Number-Yards
5-40
0 0
INTERCEPTIONS: Number-Yards
0 0
33:36
TIME OF POSSESSION
26:24
Grossmont

Saddleback

| INTERCEPTION RETURNS | NO | YDS | AVG | LG | TD |
| --- | --- | --- | --- | --- | --- |

| INTERCEPTION RETURNS | NO | YDS | AVG | LG | TD |
| --- | --- | --- | --- | --- | --- |
OTHER INFORMATION
Location: Mission Viejo HS
Stadium: Diablo Stadium
Attendance: 1105
Weather: warm
Temperature: 77
Wind: none
Referee: John Fallman
Umpire: Herb Moutra
Head Linesman: Chris Maher
Line Judge: Keith Sabo
Back Judge: Robin Hall
Field Judge: Kent Bukarau
Side Judge: Joe Greene
Scorekeeper: Jerry Hannula