Forecast calls for hot quarterfinal matchups
Updated: November 9, 2018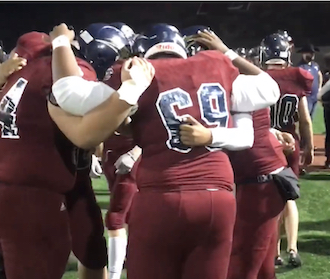 Steele Canyon prior to the kickoff last Friday night.
2018 EAST COUNTY FEARLESS FORECASTER
SAN DIEGO CIF QUARTERFINALS
By Ramon Scott
EastCountySports.com
LA MESA – The Grossmont Foothillers aren't ready to pull the plug on the 2018 football season just yet.
Last Friday, the Foothillers played like championship contenders early against host Madison, then came through like champs late in the clutch to knock off the Warhawks.
Now, Grossmont (4-7), basically the last seed in the San Diego CIF Division I playoffs, comes into its quarterfinal versus cross-town rival Helix (6-4), as confident as it has been since taking a 21-0 lead over San Marcos back on Aug. 24.
Grossmont built a 31-7 lead at the Madhouse, of all places, before trailing late.
Then, Foothiller junior quarterback JAIME ODOM threw a touchdown pass to junior receiver BRODY SHICKER, who made a diving catch in the end zone.
All of sudden, at that moment, none of those seven regular-season losses mattered. The Hillers had nearly made up for a disappointing season in nearly 48 minutes of work.
But the game wasn't over.
Madison was driving, but the stadium lights went out, causing a 20-minute delay.
Finally, the Warhawks went for a last-second field goal attempt, which was no good, and the Foothillers took a deep breath to put the life back into their season with a 44-42 upset win.
Odom's best rushing performance previously was 115 yards in a win over El Capitan last year.
In Friday's game, Odom rushed 28 times for 230 yards and three touchdowns. He also was 16-of-30 passing for 211 yards with 2 TD passes to Schicker.
The Highlanders have had the week to prepare, but Helix is steaming after finishing a disappointing regular season of its own. Helix ended up sharing the Grossmont Hills League championship.
Helix won the first meeting over Grossmont, 27-0, during the lightning storms, as the Scotties beat the Hillers for the 22nd-straight time.
Helix's JACOB RAY had an interception, DELSHAWN TRAYLOR would run in a touchdown, and ELIJAH LAING had two field goals.
The Highlanders then turned in one of the plays-of-the-year, you might remember, four Helix players touched the ball, resulting in a touchdown reception by KAMRYN BROWN.
Helix junior "FATTO" NOA had a touchdown run to make it 24-0 before the game was halted.
Grossmont's SKIP WALTOWER, who caught four passes last week, caught four passes in the first half against the Highlanders.
Grossmont last won in 1991 with head coach TOM KARLO at quarterback, but Helix's current win streak over the Foothillers includes CIF playoff wins in 2008 and 2002… HELIX, 42-14.
STEELE CANYON (9-2) at ST. AUGUSTINE (7-3) – Steele Canyon extended its playoff winning streak to seven games as the Cougars rushed for 491 rushing yards in the win over El Camino last Friday. 
Now, it's a thrill-or-go home 4-5 matchup with the St. Augustine Saints at Mesa College's Douglas Stadium.
Sophomore WESLEY NEELY III had 143 yards and a TD and senior KENNETH WATSON rushed for 139 yards and 2 TDs for the Cougars, who are riding a five-game win string overall. Senior QB NATHAN BARNETT rushed for three touchdowns.
Senior CHANCE JOHNSON led the Steele Canyon defense last week with 10 tackles.
The Saints are a serious challenge with receiver Sam Scaife, running back Byron Cardwell and quarterback Angelo Peraza. 
In fact, the computer rankings have these teams ranked eighth and ninth in the section, respectively, with St. Augustine having the edge.
The Saints lead the series 3-0.
The last meeting was in 2013, as the Saints won 20-12 at Mesa. Saints also won 27-21 in 2012 at Steele and 36-21 in a CIF game in 2007… STEELE CANYON, 27-24.
RAMONA (7-3) at GRANITE HILLS (9-1) – The Granite Hills Eagles are the top-seed in Division II coming into their quarterfinal game with the eighth-seeded Ramona Bulldogs at Valley Stadium on Friday night.
Granite Hills defeated Valhalla two weeks ago, which turned out to be a league championship-clinching victory. It was the fourth consecutive league championship for the Eagles.
Eagle quarterback CRIS OSTRENG passed to junior JACOB SETTERBERG for a score, then later, he hit senior CARLOS DELEON with a 44-yard touchdown. 
Junior CODY WILSON rushed for the first touchdown of the game with a 6-yard score and junior JAYTEN VANLANDINGHAM scored a touchdown on the ground.
Senior free safety JOSH FLETCHER had an interception against Valhalla. JUSTIN MCELLIGOTT kicked a 25-yard field goal.
Ramona was in the Division II championship game last season and has experienced personnel, including Sean McDonald, who had 174 and four touchdowns in the playoff opener, and Derek Diamond, who passed for two touchdowns.
The Eagles and Bulldogs, surprisingly, will be meeting for the first time… GRANITE HILLS, 31-17.
UNIVERSITY CITY (5-6) at CHRISTIAN (9-1) – The Eastern League champion Patriots are in a rematch with University City in the San Diego CIF Division III playoffs Friday night at El Cajon Valley High School.
The Patriots will use the Braves' stadium and facilities since Granite Hills' Valley Stadium will be in use by the Eagles on Friday night.
Should both teams advance in their respective divisions, the Patriots would host a semifinal at Priest Field, as well.
The Patriots are back on top as league champions after a one-year hiatus after they beat these Centurions on the road on the final night of the regular season. The Patriots had a bye after the 49-28 win in the season finale.
Christian High secured the No. 1 seed in Division III by a wide margin in the section's power rankings.
In fact, the Patriots finished the regular season in the top ten in the official computer ratings, which are used for playoff purposes.
Patriots' senior ALEX GONZALEZ gets into the end zone in so many ways.
Christian scored 35 points in the second half against UC two weeks ago, as Gonzo had a 33-yard interception return for a touchdown to add to his personal trophy case of scores, which includes receiving touchdowns, rushing scores and kickoff returns.
Senior quarterback OWEN EASLEY had three rushing touchdowns and threw a touchdown pass in the finale.
Christian's JUSTIN ROEHL had a 38-yard interception return for a touchdown to add to the pick parade against UC.
Last week in a first-round win over El Capitan, University City quarterback Gunnar Gray threw for 275 yards and four touchdowns while Centurions running back Jimmy Galindo rushed for 165 yards and three scores.
Both teams beat El Capitan. The Centurions won 47-30 last week, while the Patriots beat the Vaqueros, 41-6, in Week 1.
However, the Patriots won the league with a 4-0 mark while UC went 0-4… CHRISTIAN, 49-21.
SANTA FE CHRISTIAN (7-3) at MONTE VISTA (9-1) – The Grossmont Valley League champion Monte Vista Monarchs got their long-awaited league title with a dominating second quarter over worthy challenger West Hills two weeks ago.
The Monarchs ended up with the No. 3 seed in the Division III playoffs
Senior running back JAHMON MCCLENDON had a 99-yard touchdown run and finished with 378 yards and five touchdowns, as the Monarchs scored 28 of their 35 points in the second quarter.
Monte Vista's defense, including MANNY LEVI and JACK WALKER, helped deliver a shutout in the league championship game.
Santa Fe Christian always has a respectable unit, and this year is no different with a 7-3 mark.
The Eagles' Michael Linguadoca passed for two touchdowns, rushed for two touchdowns, intercepted two passes and returned a fumble 98 yards last week. He was named the Cal-Hi Sports SoCal defensive player of the week.
SFC won meetings in 2008-09, but this year, in a matchup against common foe Christian, the Monarchs' only loss was to the Patriots on a two-point conversion in double overtime, while the Patriots hammered the Eagles, 33-10… MONTE VISTA, 42-17.
SANTANA (6-5) at MAR VISTA (7-3) – The Santana Sultans were averaging just 21 points per game heading into the first round of the San Diego CIF Division IV playoffs.
But the fifth-seeded Sultans went out and set 14 school records in its 76-55 win over La Jolla Country Day.
The 131 combined points set a section record. 
Santana had 764 total yards and Country Day had 623 for a combined 1,387 yards.
The Sultans outscored the Torreys, 28-27, in the fourth quarter alone. Santana also was penalized 18 times for 180 yards.
Santana junior NATHAN TEMPLE, who missed seven games with a broken collarbone, was 24-of-30 passing for 532 yards and seven touchdowns.
Temple was named the Cal-Hi Sports SoCal offensive player of the week.
Receiver RANDY SMITH caught 13 passes for 335 yards and five touchdowns, including 84- and 62-yarders. 
CHAZ BAKER caught four balls for 103 yards and a 59-yard TD. BROOKS MOUTAW rushed 23 times for 148 yards and two touchdowns as the Sultans had 232 rushing yards.
Santana kicker Colton Snipes attempted two onside kicks and recovered both of them himself.
The teams already met in Week 6 with the Mariners winning, 27-13. The Mariners out-gained the Sultans by over 200 yards in Santee.
However, last season, it was the Sultans who knocked off the Mariners on their home turf, which is where the contest is on Friday night.
Santana led 10-0 late in the first half in the first meeting, but a 90-yard touchdown just 23 seconds into the third quarter gave Mar Vista the lead.
Following that game, Santana head coach TIM ESTES said the really wanted that game for playoff purposes and that the Sultans "might have to play at their place if it comes down to it in the playoffs."
Mar Vista is led by running back Hassan Spruill.
These teams first met in 1969 and the series is tied 5-5, but Santana leads 5-2 this century… SANTANA, 32-31.
MOUNTAIN EMPIRE (8-3) at HOLTVILLE (8-2) – The Mountain Empire RedHawks will face arch-rival Holtville in the San Diego CIF Division V quarterfinals Friday night at the Vikings' field.
Mountain Empire defeated Army-Navy Academy after the Manzanita League champions had to play a first-round game. It was the RedHawks' fifth-straight victory.
The RedHawks' ESTEBAN CASTILLO rushed for three touchdowns, including a 72-yarder that put Mountain Empire up by 14 midway through the fourth quarter.
Senior quarterback GABRIEL HYDORN rushed for a touchdown and JORGE GONZALEZ had a strip sack and fumble recovery.
Mountain Empire defeated Holtville in the regular season, in Holtville, 20-14, and because of the seedings, they'll have to do it again. 
In that earlier meeting, the RedHawks stunned the team from the desert with a touchdown pass from Hydorn to MARCUS SMITH with 25 seconds left in the biggest play of the season… MOUNTAIN EMPIRE, 22-21.
FOOTHILLS CHRISTIAN (8-2) vs. SAN DIEGO JEWISH ACADEMY (6-2) – The top-seeded Foothills Christian Knights is back to play for the San Diego Section eight-man championship on Saturday at 7 p.m. at Mission Bay High.
Two minutes into the game, FCHS' NICK GRANT blocked a punt and it fell right into the arms of HUNTER NICKELL, who ran it in for a short score and the Knights went on to gash the Borrego Springs Rams, 46-8, at Seau Field last Friday.
KEVIN HELFERS had a touchdown and two sacks for the Knights.
However, a rematch with arch-rival Calvin Christian, of Escondido, failed to materialize.
On Thursday. third-seeded San Diego Jewish Academy gained revenge from a 16-10 regular-season setback to eliminate the Crusaders, 36-30.
Now, the 2016 section champs under head coach Joe Mackey, already own a 53-14 victory over SDJA and have never lost to the Carmel Valley-based school (one mile south from Torrey Pines High) in seven meetings… FOOTHILLS CHRISTIAN, 47-28.