Griffins fail to earn stripes in opener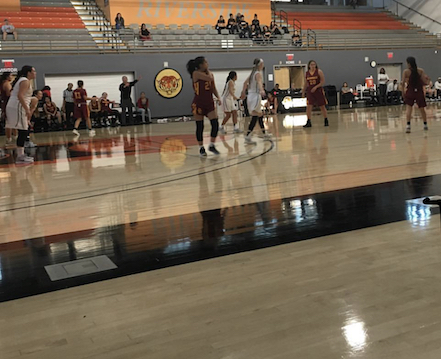 Grossmont in action on Friday at the Riverside Tournament.
2018 COMMUNITY COLLEGE WOMEN'S BASKETBALL
East County Sports staff report
RIVERSIDE (11-10-2018) – It was anything but an auspicious start to the Grossmont College women's basketball season.
After staying close for a half, Glendale College went on a 19-8 run in the third quarter, pulling away for a 74-44 triumph over the Griffins under their interim head coach Brionna Baker. The contest was part of the 5th annual Riverside College's "Earning Our Stripes" Tournament at historic Wheelock Gymnasium.
The Vaqueros (16-10 last season) overcame their slow first-half start by pulling most of their starters, as a trio of reserves scored in double figures. Penelopi Trieu and Esmeralda Perez a led the way with 12 points each.
For Grossmont (19-10), guard Chiara Mattern (Ramona) also shared a spot as game scoring leader with 12, while Leanna Watson (El Cajon Valley) added 10, as the pair accounted for half of the ballclub's scoring. Point guard Drew Mendoza (Mira Mesa) posted five assists.
Grossmont forward Satori Roberson (La Jolla) was tops with 12 rebounds, but the Griffins defense could only muster two steals to fall behind.
The Griffins continue tournament play Saturday (Nov. 10), meeting Santa Ana College, which fell to Cerritos, 68-65.
Elsewhere
San Diego City 66, Desert 45: Freshman point guard Alissa Wolfblack (Chula Vista) came off the bench to score a game-best 13 points, while Kiley Pope (Julian Charter) added 8 rebounds for the winning Knights (2-0) at the Pasadena City College Invitational. SDCC meets the tournament host Lancers on Saturday.
Antelope Valley whipped San Diego Mesa, 82-46, at the Mt. San Jacinto Tournament despite 22 points by freshman guard Samantha LeMay-Zambrano (Mission Bay). Forward Aaliyah Williams (Patrick Henry) added 16 rebounds for the Olympians (1-1).