Vaqueros tuck away tournament wins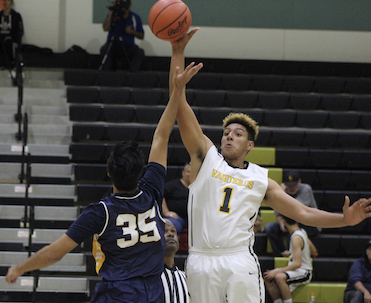 El Capitan's RANDY TUCKER on Saturday against Pruess UCSD.
2018 EAST COUNTY PREP BOYS BASKETBALL
EastCountySports.com staff report
CHULA VISTA – El Capitan established a home away from home over the weekend at Olympian High School.
El Capitan finished the Grossmont Thanksgiving Tournament by winning three-straight games after an 0-2 start to the campaign.
The Vaqueros beat the three opponents at the Eagles' gym, 232-173. The Olympian High site was a co-host of the event with the Foothillers.
El Capitan defeated Grossmont by seven, Fallbrook by 15 and, on Saturday, the Vaqueros school Preuss UCSD, 81-45.
The Vaqueros jumped out to a 21-7 lead and continued on for a 44-18 edge at halftime, as they looked strong for a second-straight game.
RANDY TUCKER, a 6-foot-5 senior, had 25 points, 14 rebounds and three assists for El Capitan.
"We're playing as a team, getting the boards and it's really put us in position to win these last three games," Tucker said.
JACOB PFITZNER, a junior who poured in 20 points a night earlier in the win over the Warriors, added 13 points, six assists, five steas and four rebounds against Preuss.
Junior HARRISON MORTON had 10 points and three rebounds, as the Vaqueros corraled 45 caroms in the contest.
The Vaqueros will face Pacific Ridge on Nov. 30 in Carlsbad at 7.
The Firebirds are coming off an 80-30 win over High Tech Chula Vista back on Nov. 17.
MONTE VISTA 67, STEELE CANYON 43 – At the Grossmont Tournament, the Monarchs won their second game of the season behind senior DEMARCUS MCKAN, who had 24 points, nine rebounds and five steals.
McKan has 10 points in the third quarter.
Monte Vista enior JAIDEN DAWN had 12 points, eight rebounds, and four assists. He had 10 of his points after halftime.
Senior DERRICK WILEY had 13 rebounds to go along with six points for the Monarchs.
The Monarchs' ISAIAH TAYLOR scored six of his 10 points in the fourth quarter and also had five steals.
"We had good bench play," Monte Vista coach MIKE TULLY said. "The kids played hard."
ORANGE GLEN 58, WEST HILLS 45 – The Wolf Pack led by one at halftime as KYLE DOBYNS had 11 of his 17 points in the first half.
Dobyns had seven points in the first quarter, as West Hills led 12-9 after eight minutes.
Dobyns also finished with seven rebounds.
The Patriots used an 18-6 advantage after intermission to take a double-digit lead after three.
The Wolf Pack's ASHTON AVESTRO had 10 points, including six in the fourth quarter.
West Hills senior starting point guard and team captain MICHAEL TOTAH suffered an injury to his shoulder and will have an MRI on Tuesday to determine if he has a torn rotator cuff.
The Wolf Pack starting five now includes three sophomores.
Later in the evening, the Wolf Pack played a team of former West Hills players in an annual scrimmage, which was won by the Wolf Pack varsity squad by 12.
Participating were former Wolf Pack players CAM BARRY, NATHAN BALL, BRANDON PETERSON, and MATT and PETER GILSON.
WESTVIEW 59, GROSSMONT 38 – The Wolverines improved to 5-0 by beating the host Foothillers at the Grossmont Tournament.
Included in the three wins for Westview are victories over the Hillers, Monte Vista and Steele Canyon by a combined 81 points.