Matadors start slow, Peterson heats up
Updated: November 28, 2018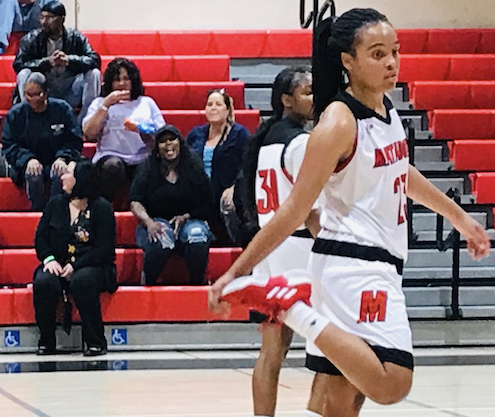 Mount Miguel sophomore Sylena Peterson prior to the tip on Tuesday night.
2018 EAST COUNTY PREP GIRLS BASKETBALL
MOUNT MIGUEL 82, OLYMPIAN 38
By Dave Dickens
EastCountySports.com
SPRING VALLEY (11-27-18) – Remove the fouls and erase the turnovers, this group of talented lady athletes look like the typical top talent that has been coached up by head coach Robbie Sandoval.
The Mount Miguel Matadors (2-0) have defeated two quality opponents on the young season, defeating Mission Hills, and Tuesday night, clobbering the Olympian Eagles, 82-38.
A fine way to start the 2018 campaign.
From beginning-to-end, the first eight minutes did not resemble the typical Robbie Sandoval brand of basketball, as the Matadors should have been up by at least 25 points, but were only up 25-16 heading into the second quarter.
We will not be discussing the officiating, or lack thereof. Horrendous comes to mind.
Twenty-three fouls in just the first quarter alone were atrocious, and that was just against the hosts.
Let us not forget, however, this was a very physical contest Tuesday evening at the Matadome.
Sophomore sensation SYLENA PETERSON was definitely the Lady Matador of the evening, as she definitely had the Midas touch most of the contest.
To end the half, Peterson had 33 points, and was successful shooting seven three-pointers pointers in the first half alone.
Peterson was in mid-season form for game two of this season.
One thing you can always depend on at this venue, the Matador fans are going to be loud and proud of their lady athletes.
Mount Miguel did start to pull away 49-22 at the half, playing some serious, physical defense, as they held the Olympians to just six points in the second quarter of play.
The Lady Matadors would continue their dominance in the second half, outscoring the visitors, 33-16, limiting the Eagles to only eights points in the third and fourth quarters.
It would be a running clock and more bench players on behalf of the l\Lady Matadors for the last eight minutes of play.
Mount Miguel cruised onto a 82-38 victory.
Most definitely the player of the game was Peterson, who finished with 45 total points.
TIAJA BENNETT put up 10 points, including 2-of-6 free throws.
The Lady Matadors will face the Morse Tigers (1-0) on Wednesday the 28 th at 5 p.m. at Morse High School.