Ellis brings Eagles back to old home
Updated: December 2, 2018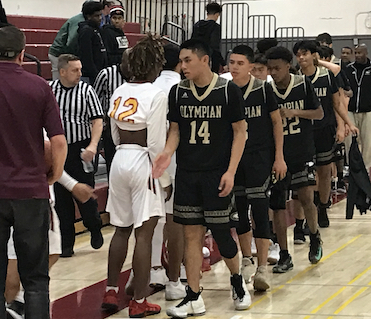 Olympian and Monte Vista following the game.
2018 EAST COUNTY PREP BOYS BASKETBALL
By Dave Dickens
EastCountySports.com
SPRING VALLEY (12-1-2018) – A trip down memory lane for two of the true veteran Monarchs on Saturday evening. They just happen to be head coaches of opposing teams, coach MARTY ELLIS of the visiting Olympian Eagles and the Monarch who stayed home, MIKE TULLY.
"It is always a pleasure to see Marty and compete against any team he is coaching, as we played together as Monarchs," Monte Vista head coach Tully said. "Our plan was to get the ball inside, as inside play is our strength.
"It worked when we did just that, other times we turned the ball over way too many times, and fell too far behind and never recovered."
Monte Vista also loves to press, which was and has become an effective tool, as well.
The Monarchs (2-4) are a chameleon type of team, as they show their different versions of greatness a lot of the time, and other times should have the Red Hot Chili Peppers' song "Give It Away" on repeat.
Saturday, the turnover battle was not overcome, however, the Monarchs show great mental toughness, played till the final buzzer, and show no signs of waving the white flag, no matter who the opponent is.
That is just the type of coach Tully is and has high expectations of every team that he coaches.
One of the brightest spots Saturday was the phenomenal play of senior DERRICK WILEY, who also had a spectacular season on the baseball diamond crushing baseballs last year, not to mention a spectacular night grabbing 15 rebounds and putting up 22 points, definitely worthy of the player of the game honors.
Monte Vista was down early, 22-10, in the first eight minutes of play, scored 13 to Olympian's 15 in the second quarter, down 37-23 at intermission.
The Monarchs had a great comeback attempt in the second half, scoring 33 to the Eagles' 39, to end up on the short end, losing 76-56.
DEMARCUS MCKAN also added 13 points on the evening for the Monarchs.
Monte Vista will take a breather for five days before they travel to face Maranatha Christian (0-2) at 7 p.m, on Friday, December 7.