Comets' Cooley cool in final moments
Updated: December 3, 2018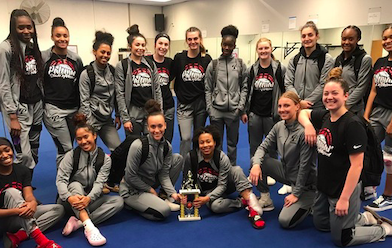 The Comets post-game after Sunday's win over East L.A.
2018 COMMUNITY COLLEGE WOMEN'S BASKETBALL
PALOMAR 74, EAST L.A. 73
By Nick Pellegrino
Special to East County Sports
CYPRESS (12-3-2018) – Palomar College freshman Imari Cooley has a job to do on the basketball court, but as a 5-foot-8 guard, blocking shots is not one of them… until the final moments of Saturday's (Dec. 2) against East Los Angeles.
After Cooley drained a go-ahead jump shot with 21 seconds remaining, the Huskies has three chances to steal a last-second victory, missing the first two shots, yet grabbing the offensive rebound each time.
However, shot No. 3 was rejected by Cooley, giving Palomar a dramatic 74-73 triumph to avenge an earlier, last-second loss to the school from Monterey Park. The win gave the Comets (9-2) third place at Cypress College' Lady Chargers Classic at Don Johnson Court.
Two weeks earlier, ELAC scored a go-ahead basket with seven seconds left in overtime, but the Comets could only release a 30-foot, 3-point shot in an attempt to win it, instead, suffering their first loss of the season after opening with six consecutive victories.
This time, the potential game-winning shot was anything but a prayer.
Mercedes Ortiz and Adriana Gonzalez both missed jump shots, but each time, the offensive rebound was grabbed by ique Godbolt. After the second board, she kicked the ball out to Ortiz, but her final shot with three seconds left was rejected by Cooley.
A product of Vista Murrieta  High, Cooley led the Broncos (25-3) to the CIF Southern Section Division I playoffs last season.
The ballgame was close throughout. Palomar led by five after one quarter, but ELAC (9-3) tied it by halftime, 39-all to set up the nail-biting finish.
Cooley finished with 11 points, but three players – Sara Ahmadpour (17 points), Julie Saelee (14) and Clarissa Taite (10) – came off the bench to also score in double figures.
For East L.A., Ortiz and Citlaly Davalos each scored 18 points, while Davalos also grabbed 17 boards.  Jaelynn Curley, Huskies' leading scorer, was held to 9 points but played just 22 minutes.
Comets next meet 3-time defending state champion Mt. San Antonio on Saturday (Dec, 8) at the Palomar Dome at 7 p.m. The Mounties have captured 10 state crowns since 2004.
Elsewhere

Allan Hancock 78, San Diego City 35
: The Knights suffered a long weekend at the Phillips 66 Classic, held at Cuesta College in San Luis Obispo, getting eliminated after two straight losses. They dropped the Friday's(Nov. 30) opener to American River College of Sacramento, 67-58, then were ousted by the Bulldogs of Allan Hancock of Santa Maria in Saturday's (Dec. 1) contest.
In Game 2 against the Bulldogs, Knights forward Elliott Nixon (Coronado) scored a team-best 15 points, while center Mariah Wonders (Lincoln) posted 8 rebounds. Both are sophomores.
However, 22 percent shooting (12-for-54) and 30 turnovers doomed San Diego City (3-5) to its fourth-straight setback.