Matadors stop Barons in high-ranked game
Updated: December 6, 2018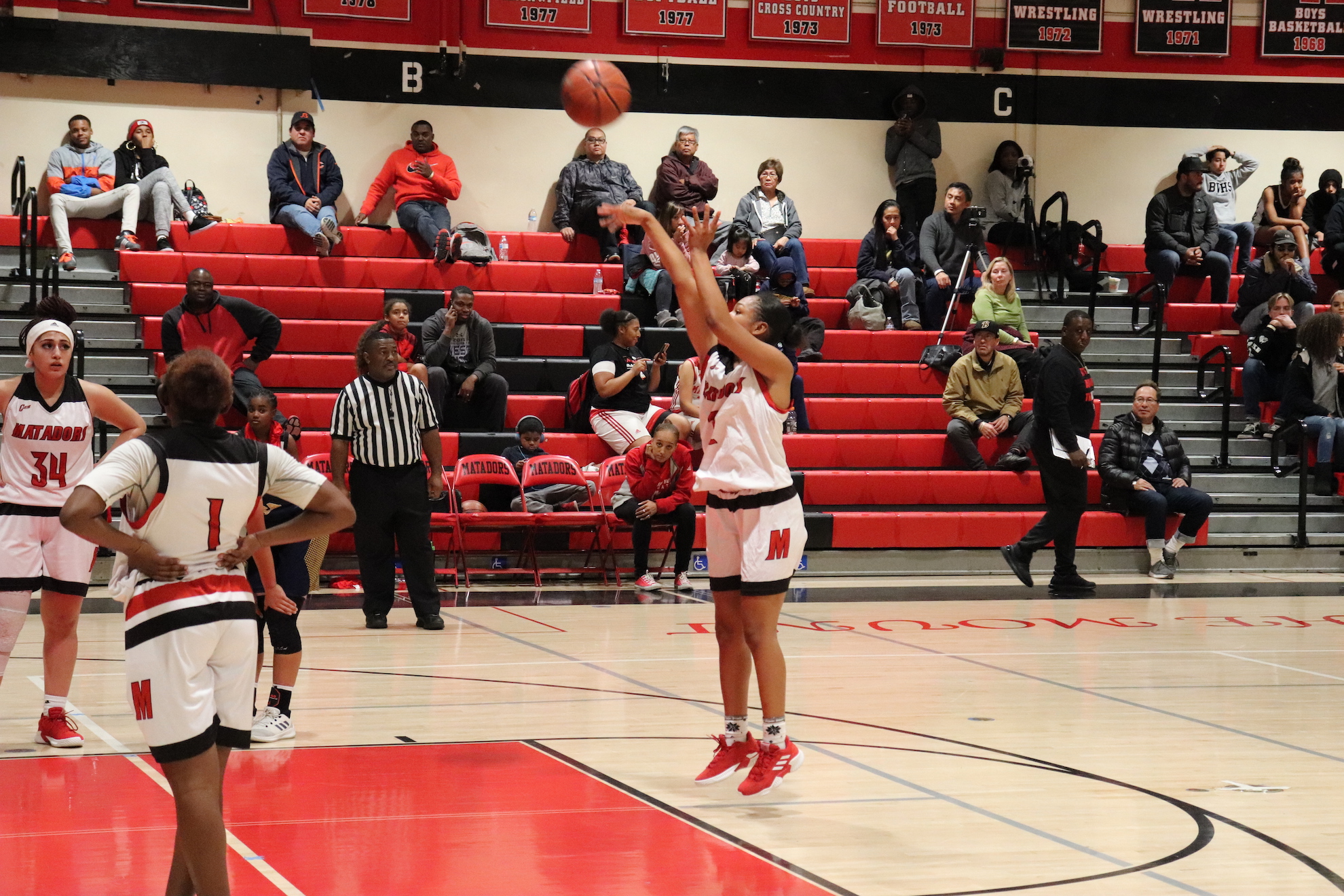 Mount Miguel at the free throw line on Wednesday night.
2018 EAST COUNTY PREP GIRLS BASKETBALL
MOUNT MIGUEL 45, BONITA VISTA 40
By John Duran
Special to EastCountySports.com
SPRING VALLEY – The fifth-ranked Mount Miguel Matadors improved to 6-1 after defeating the Bonita Vista Barons, 45-40, Wednesday night in Spring Valley.
The 11th-ranked Barons (4-3) saw their four-game win streak come to an end after almost pulling off the upset of the Matadors.
Mount Miguel's Tiaja Bennett earned player of the game for her play in the final minute of the game. With the game tied at 40, Bennett went to the line four times and made all of her free throws.
"She's been pretty consistent," Mount Miguel head coach Robbie Sandoval said. "She's probably our best free throw shooter so it was good that she went to the line and knocked down four clutch free throws. That was very clutch of her. I hope that it helps her confidence."
With less than 30 seconds to go, Bonita Vista was advancing the ball when Bennett, a senior, came up with a steal to all but seal the victory for Mount Miguel.
"When she was about to turn I knew she was going to lose it because she was trying to get to the basket and she was under pressure," Bennett described the play. "So I took it and passed it to Syleena so she could make her free throws."
On a night where the stingy Baron defense focused their attention on keeping the ball out of the hands of sophomore sensation Sylena Peterson, senior Citlalli Gurrola scored 22 points to lead the Matadors, including five three-pointers.
"I think it's just shooting with confidence," Gurrola said of why she was so successful. "I've been practicing my shots lately but mainly it's the confidence in my shot that's been helping me."
The Matadors will not get to enjoy this win for too long. They will play Del Norte on Thursday afternoon at 1 p.m. in front a packed gym of Avondale Elementary students and staff in a Spring Valley community event.
Gurrola is looking forward to entertaining the future Matadors that will be in attendance.
"Just to have fun in that game but obviously execute all our plays," Gurrola said. "This is still a serious game that we need to take. But mainly to just have fun, entertain the kids but also take care of business."