Patriots distance selves from Mavs
Updated: December 9, 2018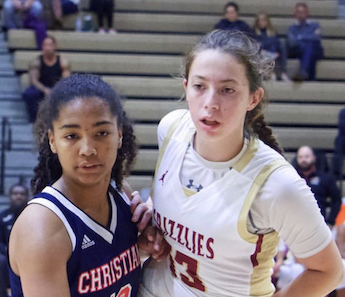 Christian High's AMAYA HOWARD battles for position on Saturday night. / photo by SD COUNTY HOOPS REPORT
2018 EAST COUNTY PREP GIRLS BASKETBALL
CHRISTIAN 67, LA COSTA CANYON 43
EastCountySports.com staff report
EL CAJON – Sometimes beating a ranked opponent can end up looking easier than it actually was.
The sixth-ranked Christian High Patriots defeated eighth-ranked La Costa Canyon, 67-43, in a Matador Classic game at Ryan Athletic Center on Saturday night.
Christian High led 17-9 at the end of the first quarter after getting out to a double-digit lead late in the period.
The Patriots led 27-14 midway through the second quarter and eventually built a 21-point lead late in the first half.
Christian extended the lead to 42-24 at halftime.
ALLIE CARREON led the Patriots with 20 points.
KRISTIN WILLIAMS had 15 points for Christian.
SIMONE JAMES finished with 12 points.
"An all-around outstanding game," Christian High head coach VICKIE CARRINGTON said. "Simone's athleticism is unbelievable. She's a tremendous talent and can be effective from anywhere on the court."
James added nine rebounds and four blocks.
"Even though my shots weren't falling like I wanted them to, I had to contribute more with rebounding and kicking it out to teammates for the score," James said. " Defense is very important to us and matchup up against a good team like La Costa Canyon makes us dig in."
Junior AMAYA HOWARD had seven points and three rebounds in one of top performances of the season.
"Amaya is firepower," Carrington said. "Her presence on the floor is huge because people have to guard her. She's a force to be reckoned with."
Carrington feels as if Howard's time to shine is soon to come.
"Even though my numbers are not at their peak, I have to keep working, getting my teammates involved and making them successful," Howard said.
"I think this game really showed how we can play as a team."
"We got awesome defense by JASMYN CRAWFORD," added the coach.