Jets, Knights win at Adelman Classic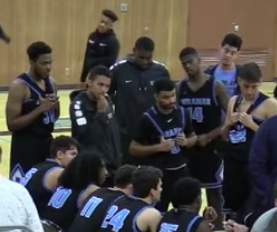 Miramar College during a time out late in the fourth quarter on Wednesday.
2019 COMMUNITY COLLEGE MEN'S BASKETBALL
By Nick Pellegrino
East County Sports staff writer
OCEANSIDE (1-3-2019) – Another Miramar College contest came down to the final seconds, and yet again, the Jets found a way to post a thrilling victory.
Down 76-72 with 2:15 remaining, Kobi Gatti capped a game-ending, 7-0 run by hitting a tie-breaking triple with 12 seconds left, lifting Miramar past Antelope Valley College, 79-76, in Wednesday's (Jan. 3) opener of the 3rd annual Clete Adelman Classic, held at MiraCosta College's Crosswoods Gymnasium.

Gatti took a feed from Carsten Denherde and his shot from the wing, then the Jets survived the Marauders' attempt to tie, but they missed a 3-ball in traffic as time expired.

Antelope Valley was down 69-62 with a little more than six minutes left, but went on a 14-3 run to a 76-72 lead when Jalen Riley sank a pair of foul shots with 2:15 left, But AVC wouldn't score again.

Just 11 seconds later, Gatti also sank two foul shots to halve the deficit. On the next possession, Miramar missed a potential go-ahead triple, but guard Damien Miller grabbed an offensive rebound, with the ball eventually reaching Jaylen Hilosn for a layin to knot the contest with 1:09 to go.

Antelope Valley then missed another 3-ball, but Gatti converted his to decision it.

For Miramar (11-5), Blake Seits led the scoers with 25 points, including 11-for-13 at the foul line. Gatti scored his 13 from off the bench, while Miller finished with 8 points and 8 assists,

Antelope Valley (6-10) received 14 bench points from Steve Johnson, while Riley topped the starters with 13. 

San Bernardino Valley 66, Grossmont 46:  The state-ranked Wolverines utilized a 55-31 rebounding advantage to out-muscle the Griffins in Wednesday's (Jan. 2) opening round of MiraCosta College's Clete Adelman Classic. Included were 23 offensive boards, then the G-House didn't help them by shooting 30.9 percent from the floor, their third-lowest of the season.

The Wolverines 9-5) raced to quick leads of 14-2 and 17-4, extending the margin to 35-20 by the intermission, clearing the bench early to prepare for a string of three games in as many days in anticipation of a title game appearance.

For SBVC, Roman Silva led the way with 15 points, while three other starters – K'Lon Williams, Brandon Thompson and Damani Washington – each added 10.

Grossmont (1-14) received 12 points from Marquell Cool, all on 3-balls, while Lamon Hudson added 11 points and 4 steals.
SBVC will tangle against Miramar in Thursday's semifinals. Grossmont meets Antelope Valley in a consolation contest in the state's final 8-team tournament of the season. The Griffins-Marauders game will be shown live on the AVC Channel on YouTube, starting at noon.
San Diego City 79, Barstow 36:  The Knights only led by 8 points at the intermission Wednesday (Jan. 2), but a 53-point outburst in the second half was enough to derail the Vikings in first-round play at the Adelman Classic at MiraCosta College.

Joseph Riley scored 16 of his game-high 19 points after the break for City (8-7), while Robby Robinson registered a double-double with 13 points and 12 rebounds.

For Barstow (1-14), three players – Jack McDonald, Carver Locke, and from off the bench Richard Leenaars – held team scoring laurels with Wolverines each.

L.A. Pierce 77, MiraCosta 71:  The visiting Brahmas of Woodland Hills mounted a 15-point lead, then held on to defeat the tournament hosts at the Clete Adelman Classic at Crosswoods Gymnasium.

The Spartans moved to with 69-66 with two minutes left, but small forward Mac Edwards hit a jumper, then Pierce went 6-for-6 at the foul line to close out the Spartans.

For the Brahmas (10-6), Edwards equaled a career-high with 29 points, which included 6 triples. Christian Guillory and Anthony McIntyre each added 11 points.
For MiraCosta (7-8), Dirk Helaire posted a double-double with 17 points and 12 rebounds, while Devyian Roberson and Xavier Allison each added 13 points.  In addition, Andrew Thomton recorded a game-best 13 boards.