What a finish! Jaguars get huge win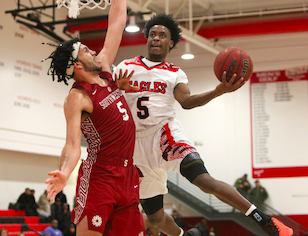 Five On Five: SOuthwestern's Jordan Cook tries to stop MJSC's Deshawn Millington on Saturday.
2019 COMMUNITY COLLEGE MEN'S BASKETBALL
SOUTHWESTERN 102, MT. SAN JACINTO 99
By Nick Pellegrino
East County Sports staff writer
SAN JACINTO (1-6-2019) – In a battle between two of Southern California's top-ranked ballclubs, Southwestern College barely survived a massive second-half effort by Mt. San Jacinto College, claiming one of the school's biggest victories ever in a 102-99 decision in Saturday's (Jan. 5) Pacific Coast Athletic Conference North-South Challenge.

The Jaguars, rated No. 7 in the Southland by Signal The Light Basketball (since the state CCCAA hasn't updated the preseason poll over the past two months), saw the No. 2 Eagles rally with 59 points in the second half, then had a chance to force overtime but missed a shot at the buzzer.

Freshman guard Marquavian Stephens registered 13 of his game-best 22 points in the first half, sending the Jags to what seemed to be a comfortable 53-40 lead. But MSJC nearly pulled off an improbable comeback.

Down the stretch, the Eagles dropped 19-of-30 shots (63.3 percent) from inside the arc, quickly trimming the deficit to single digits. Then needing the late 3-ball, C.J. Hyder hit a triple off an assist by David Thompson with 4 seconds remaining to move within three.

However, simply needing to run out the clock, Southwestern turned over the ball. Israel Farrington registered the steal, but he missed on a long buzzer-beater.

All five starters for Southwestern (11-4) scored in double figures – the others were D.J. Wilson (17), Quincy Ferebee (15), Nathaniel Pearson (15) and Jordan Cooke (11) – while Tyler Simmons added 14 from off the bench.

For Mt. San Jacinto (13-2), the backcourt tandem of David Thompson (22 points) and Deshawn Millington (21) were the top scorers, with neither converting a 3-point goal. From off the bench, Terrell Gray added 17 points on 8-for-12 shooting.

Despite the teams competing in the same conference, both divisions play non-interlocking, divisional schedules, so both could still qualify for postseason play with the loss not adversely hurting the Eagles.