Jaguars overcome Comets; City's Carter scores 19 in loss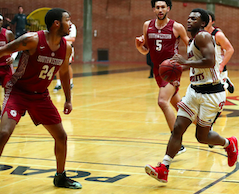 Palomar drives to the basketball against Southwestern on Wednesday. / photo by Hugh Cox
2019 COMMUNITY COLLEGE MEN'S BASKETBALL
By Nick Pellegrino
East County Sports staff writer
SAN MARCOS (1-10-2019) – A pair of ballgames which could help determine playoff races and Pacific Coast Athletic Conference titles highlighted action Wednesday (Jan. 9), as the standout squads from the South Division took the court.

No. 7 ranked Southwestern was befuddled by host Palomar and their slower, ball-control effort to tame the Jaguars. The strategy worked, but only for about 30 minutes before the Comets fell, 80-64, at Palomar Dome.

Meanwhile, defending South champion San Diego City and No. 4 Mt. San Jacinto were seeking to right ship in downtown San Diego's Harry West Gym. But the records show the host Knights have more steps to correct, especially after the Eagles rallied from an 11-point deficit over the final five minutes to shock SDCC, 91-87.

Mt. San Jacinto scored an amazing 22 points over the final five minutes — that's a rate of 88 points over a half — to pull out the improbable comeback triumph.
No. 7 Southwestern 80, Palomar 64: One reason the Jaguars are quickly rising in the state and regional ratings is an offense which is the sixth-best in the state at nearly 85 points per outing. But when the host Comets ran a deliberate offense to take some air out of the ball, Southwestern made more to worry about than reaching the 100-point plateau.

Palomar's strategy kept them in pay for more than 30 minutes, trailing only 62-58 with eight minutes remaining. However, the Jags are ranked for a reason, taking their game into another gear to take a double-digit win that was anything but easy until they closed the contest with an 18-6 run, ignited by a 9-0 run.

Jags center Jordan Cook started the game-clinching series with a free throw, then added a massive dunk on the following possession. Marq Stephens followed with consecutive 3-point bombs, leaving all of Palomar's hard work in ashes in a blink of an eye.

Stephens tallied 11 of his team-best 19 points in the second half, while Cook finished with 15 points (on 7-for-10 shooting) and 9 rebounds.

Other leaders for the Jaguars were: a near triple-double by Nathaniel Pearson (13 points, 9 boards,8 assists), and 10 points each from Quincy Ferebee and Tyler Simmons.

For Palomar (6-10), Marek Sullivan registered a game-high 21 points, while Jamario Harris had a double-double with 18 points and 11 boards.
However, as a team, the Comets recorded a mere five assists, maybe taking the slow-down approach too much to an extreme.

Southwestern (13-4) is now 6-0 in PCAC North-South Challenge contests.

Mt. San Jacinto 91, San Diego City 87: The up-and-down Knights had this ballgame circled on their calendar all season, but the visiting Eagles just recently placed this one under their microscope after losing to Southwestern in their last outing, snapping an 8-game winning streak and dropping in the state rankings from No. 3 to No.6, the great ballgame in the PCAC North-South Challenge was in the offering.

The Eagles "belonged to the City" for 35 minutes, as the hosts mounted an 80-69 cushion with 5:37 remaining. But the quality aspects of the Knights, which led to a state championship in 2017 and a deep playoff run last season, simple is not (yet) as developed, allowing the Eagles to rally and escape town with a victory after pouring in an outrageous 22 points in the final five minutes.

Terrell Gray and Deshawn Millington uncontrollable stretch with baskets inside the paint to start applying the pressure, as Mt. San Jacinto finally got even at 87-all on a 3-point goal by Lenzell Simmons (Millington assist) with 38 seconds left.

City then missed a short shot in the paint, allowing the Eagles to run. Simmons grabbed the rebound, with the break capped by a Millington jumper for the lead with 14 seconds left.

SDCC still had a chance to tie or take the lead, but an errant pass sailed out of bounds. Gray sank a pair of foul shots to close the comeback.

Gray led MSJC with 21 points from off the bench, but many of his teammates posted impressive second-half efforts, too.  David Thompson (19 points) and Millington (17) both tallied 17 points after the intermission.

In addition, Justin Holiday added 15 points and Luka Filipovic had 10.
For San Diego City (9-9), center Robby Robinson posted game-highs of 21 points and 13 rebounds.

Other Knights scoring in double figures were Nashom Carter (19 points), Kai Huntsberry (18) and Joseph Riley (15).

The Knights also just missed equally a school record by going 19-for-20 at the foul line (95 percent).