Walker, Childs lead Cougars to victory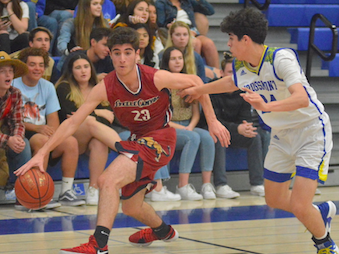 Steele Canyon's ROMAN MAMMO dribbles around Grossmont's MYKOL RODRIGUEZ on Friday.
STEELE CANYON 52, GROSSMONT 49
EastCountySports.com staff report
EL CAJON – Steele Canyon's Mr. Energy, ANTOINE WALKER, kept up a frenetic pace all game, and teammate GRANT CHILDS calmly knocked down a go-ahead field goal with just over 10 seconds remaining on Friday night, as the Cougars knocked off Grossmont, 52-49, to assume second place in the Grossmont Hills League.
Walker, a junior, is terrific as a football defensive back and brings a bump-and-run-type coverage to the basketball court.
Twice he converted a basket on offense, only to turn up his team's deep press and quickly steal the Foothillers' inbounds pass right underneath the basket to score consecutive field goals in the span of a few seconds.
The second time he did it came late in the fourth quarter after Steele Canyon had relinquished a well-earned lead against a Foothiller unit which was, frankly, shorter than their opponent.
The first half was all about Antoine, really.
He scored 15 of his 18 first-half points in the first quarter.
Grossmont's MYKOL RODRIGUEZ was a steady factor in the game. He was able to make several of his own field goals as the game remained close throughout.
Rodriguez's teammate, NOAH VELASCO, was effective for the most part at breaking the press to get down the floor to settle into the offense or take it to the goal himself.
Velasco had nine points before halftime.
Cougar senior ROMAN MAMMO had a three-pointer in the first half.
Grossmont's DAMARI CRAWFORD tied the game at 22-all in the first half with a drive to the basket.
Steele Canyon junior T-MAX NYUMAH had a pair of scores late in the first half, but Rodriguez tied the game at 31-all, then he got the Foothillers going in the second half with a drive to the goal for a score.
Childs had a basket late in the third quarter, but Rodriguez cut it to 41-39 late in the period.
The game was deadlocked late in the third quarter when LACHIN BEKIROV fought inside for a basket for Grossmont, firing up the crowd.
But Walker scored late in the fourth quarter with just over two minutes to play and Childs made his big shot for a 50-49 lead.
Steele Canyon moved to 3-1 in the GHL, trailing first-place Mount Miguel, which the Cougars will host on Tuesday, which all of a sudden is the biggest league game of the season to-date.