BOYS: League results have intrigue
Updated: January 23, 2019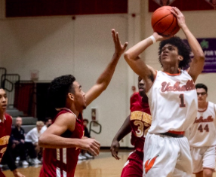 2019 EAST COUNTY PREP BOYS BASKETBALL
EastCountySports.com staff report
EL CAJON – The Helix Highlanders completed a two-game road sweep of perennial rival Grossmont, 53-37, in a Grossmont Hills League game on Tuesday evening.
The Highlanders improved to 3-1 in league play to move into a tie for second place with Steele Canyon, a half-game back of 3-0 Mount Miguel.
This one was typical of mid-season defensive performance by Helix.
After lead ing 11-9 after one period, the Highlanders led 26-19 at halftime.
Helix junior guard KAMRYN BROWN scored 11 points, including a couple of buckets in the first quarter.
Helix junior guard JADYN JAMES had a three-pointer in the first quarter.
Junior MAURICE HOLMES also had 11 points for the Highlanders.
Holmes and junior KEISHON TRICE knocked down three-pointers in the fourth period. Trice finished with nine points in the contest.
Sophomore KAI JESSIE had seven of his nine points in the first half for Helix (3-1, 13-9).
For Grossmont, MYKOL RODRIGUEZ continued his strong play of late, scoring a game-high 19 points.
The Foothillers' DAMARI CRAWFORD had a three-pointer in the first quarter and had seven points for the game.
VALHALLA 48, MONTE VISTA 41 – The Norsemen went on the road and found themselves in an old-fashioned league battle with the host Monarchs on Tuesday night.
Monte Vista jumped out to a strong lead early and continued to lead at halftime, only to see Valhalla come back in the second half to pick up a key Grossmont Valley League victory to improve to 4-1 on the season.
Monte Vista was up 12-3 after one quarter and 21-17 at halftime.
Valhalla outscores Monte Vista in the third, 18-11, to take a three-point lead.
Monte Vista re-gained the lead at 41-40 with two minutes left but Valhalla scored the last eight points of the game, including a pair of free throws and a three-pointer by senior guard DOMANIC SAFARTA.
"We had five possessions with the ball inside and came away empty," Monte Vista head coach MIKE TULLY said. 
"No fouls or baskets, that was the difference in a very good, hard-fought league game."
Safarta had 18 points, while senior teammates JORDAN GAINES added eight points and EVAN O'NEILL added seven points.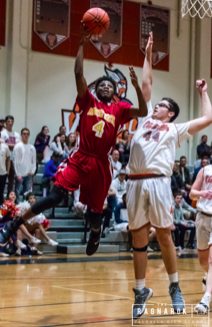 Senior DEMARCUS MCKAN had 14 points for Monte Vista, including four field goals in the fourth quarter.
Senior KENNY STEVENS added 10 points, including a pair of three-point field goals, for the Monarchs.
Monte Vista senior DERRICK WILEY had six points and eight rebounds.
First-place Valhalla improved to 4-1 in league play and 19-3 overall.
Monte Vista will travel to face El Capitan on Friday at 7.
The Norsemen will host El Cajon Valley on Friday at 7.
SANTANA 59, EL CAJON VALLEY 52 – The Sultans stayed one game back in the Grossmont Valley League title chase by out-scoring the Braves 18-11 in the fourth quarter.
The score was tied at 41-all after three periods.
El Cajon Valley led by eight after one quarter and maintained a six-point lead at halftime.
Matt Hitchcock scored 15 points for Santana (3-2, 9-14), while teammate Ethan Wolchko scored 15 points, as well.
Brandon Simmons added 14 points, eight rebounds and seven assists for the Sultans.
Daevion Rogers had 28 points for El Cajon Valley, while teammate Dashawn Henderson added 11 points.
FOOTHILLS CHRISTIAN 66, THE BISHOP'S 35: After participating in the Orange Lutheran Hoopfest in Orange County just 24 hours earlier, their was no lack of energy for the Knights, who quickly pounced on host The Bishop's School for an easy Coastal League triumph Tuesday (Jan. 22) at Fleet Center in La Jolla.

Foothills Christian mounted a 15-10 lead before clearing the bench over the final five minutes.

With the win, Foothills Christian (13-5 overall, 2-2 CL) sweeps the season series over THS (13-8, 1-4), winning the earlier meeting 0 at Cuyamaca College on Jan. 8.
LIBERTY CHARTER 52, HIGH TECH CHULA VISTA 50 – At Spring Valley Rec Center, the Lions rebounded from a mild MLK Showcase loss to Escondido Charter to secure their own mild upset by taking down the Bruins in Tuesday's (Jan. 22) game. The triumph moved the lions past the Bruins in the Summit League standings.

Sophomore forward Jonah Belprez tallied a pair of baskets in the opening two minutes, while senior guard Alex Ferrer, the Lions' captain, added 5 early points, as Liberty Charter jumped to a quick 11-0 cushion.

By the end of the first quarter, Ferrer hit another jumper to finish the period with 7 points, then sophomore guard Tyler Snell capped the stanza with a 3-point goal, giving the Lions an 18-7 lead.

The Bruins battled back to with 25-24 in the second period, yet never would gain the lead after Javien senior forward Javien Lankford ended the minor skid with a deep 2-point basket.

Liberty Charter is now 2-3 in league.
ST. AUGUSTINE 74, CHRISTIAN 55 – At St. Augustine, the top-ranked Saints got every bit of a fight from the Christian Patriots. But the 4-minute span of the second quarter proved to be the difference.

After Christian moved to within 18-17 on a 3-pointer by VINNY SIGNORELLI, the Saints went on a big run, which was the difference in this victory for the Western League leaders.

Christian had its moments, including KOBE SANDERS's scoring run that included a three-pointer.
Signorelli had a three-pointer later in the second quarter, as well, then canned two more in the fourth quarter.
DESEAN LYNCH made a pair of three for CHS, while MILES WILLIAMS also hit from downtown.
The Saints can score in so many different ways, as the Patriots found out for the second time this season.
Larsen and Williams both finished with 13 points.