Monarchs are title challenger to Sultans
Updated: January 30, 2019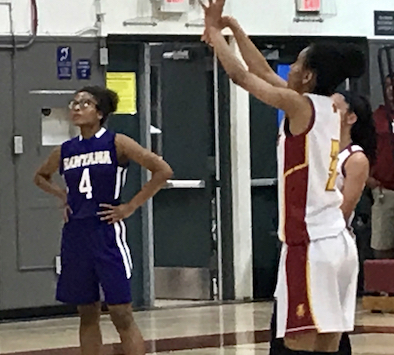 Monte Vista puts up a shot against Santana on Tuesday evening. / photo by Dave Dickens
2019 EAST COUNTY PREP GIRLS BASKETBALL
EastCountySports.com staff report
SPRING VALLEY – The Monte Vista Monarchs remained alive for the Grossmont Valley League championship by knocking off previously league unbeaten Santana on Tuesday.
The Monarchs ran up a 29-16 halftime lead but held on against a frenetic finish from the Sultans.
Monte Vista won its fourth-straight game and improved to 5-2 in the Grossmont Hills League to pull to within one game of first-place Santana (6-1).
Senior SARA TAHA had a length-of-the-court drive and basket for a layup late in the second quarter which gave Monte Vista a 27-16 lead with under a minute to go until halftime.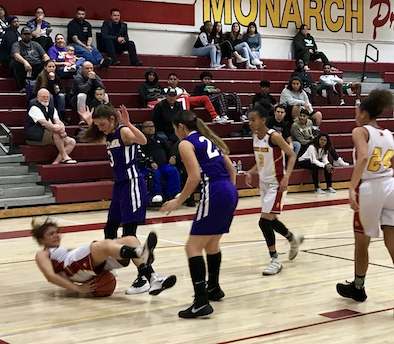 Taha scored 11 of her 20 points in the second quarter.
Senior ALYSSA MEDRANO had three three-pointers in the contest.
Although the Monarchs only scored four points in the fourth quarter, Medrano's trey proved to be key.
Junior LAKAILA AQUININGOC-DAVID scored 13 points and had two steals for Santana.
"The second quarter was rough, nothing we shot went in," Aquiningoc-Dvid said. "Everything they threw up went in which was frustrating and I think we let that get to us a little.
"In the second half, I think that's when we really started understanding that time was running out and we needed to put everything we had into the game.
"We just came up a bit short because we started too late. This loss was a rough one especially knowing what's on the line. But don't get me wrong, we'll be in the gym working for our next game versus Steele Canyon."
Senior AALIYAH STONE added eight points and 13 rebounds for the Sultans.
Junior BRIANNA JERIG had five points and four steals for Santana.
Junior ISIS TAYLOR had four points and 10 rebounds for the Sultans.
Freshman BELLA TERRY had six points and seven rebounds. She had a three-pointer in the fourth quarter.
Monte Vista will travel to face El Cajon Valley on Friday at 5:30. The Monarchs beat the Braves, 44-33, at home on Jan. 11
Santana will host Steele Canyon on Friday at 5:30