Patriots work late, beat No. 9 Dons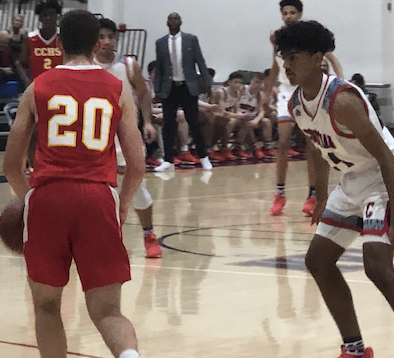 DASEAN LYNCH defends against Cathedral Catholic on Thursday.
2019 EAST COUNTY PREP BOYS BASKETBALL
By Ramon Scott
EastCountySports.com
EL CAJON – The Christian High Patriots were looking for a signature win with the postseason fast approaching.
Make that, the Christian High Patriots were in need of a signature win heading into the postseason.
Thursday night, the Patriots got what they earned, taking down ninth-ranked Cathedral Catholic, 72-66, late Thursday evening at Ryan Athletic Center.
The game ended several minutes after 10 p.m.
Despite a good start by the Dons, the Patriots put their parts on display to overtake the Dons, primarily in the fourth quarter.
"The team felt like we should have won the first time we played them," Christian High head coach DAVION FAMBER said. "We are just getting healthy after having guys out for an extended period of time. Guys are enjoying basketball, teammates, as well as, playing with passion."
Junior KOBE SANDERS scored 18 points, senior JACKSON LARSEN added 17 points and junior MILES WILLIAMS came home with 16 points as Christian High recovered nicely from a 16-8 after one period.
Freshman guard VINNY SIGNORELLI helped the Patriots quickly get back into the contest with a three-pointer to beat the buzzer, and then another pair of treys in the second quarter.
PREP BOYS BASKETBALL: Christian High freshman VINNY SIGNORELLI hits a three-pointer at the first quarter buzzer… the Patriots trailed Cathedral Catholic, 16-8, at the end of one period at Ryan Center on Thursday night… pic.twitter.com/xvBxnnlnW6

— Ramon Scott (@RamonScottPoker) February 1, 2019
Just two minutes into the second quarter, the score was tied at 19-all.
Sanders and Signorelli combined for 19 first-half points as Christian Led 32-28 at halftime.
Cathedral Catholic's sophomore tandem of Obinna Anyanwu and Thomas Notarainni were instrumental in the Dons' chances throughout.
Anyanwu scored a game-high 26 points and Notarainni added 22 points for the game.
The Dons quickly worked their way to tie the game early in the third quarter. The score remained tied, 50-all, after three periods after Larsen found the handle to put up a three-point shot just moments before the buzzer sounded and went in off the glass.
PREP BOYS BASKETBALL: Western League – Christian High senior JACKSON LARSEN makes a shot at the buzzer at the end of the third quarter on Thursday night against visiting Cathedral Catholic… The Patriots and Dons were tied 50-all at the end of three… pic.twitter.com/HqXMpM4sdn

— Ramon Scott (@RamonScottPoker) February 1, 2019
In the fourth, Sanders made a three-pointer for a 53-52 Christian lead, then after Anyanwu and Notarainni countered, Larsen made a three-pointer from the corner, then drove to the bucket for another deuce.
Williams extended a lead to 61-57 with another three with 3:40 left, forcing Cathedral into a timeout.
Williams practically put the game on ice with a steal and basket with 1:18 left in the fourth quarter to put Christian ahead 66-58.
The Dons added a couple of late threes to trail 69-66 with 19.5 seconds left and Williams finalized things with a pair of free throws with 8.2 seconds remaining.
"Miles plays so hard on both ends," Famber said. "Kid is really becoming a very solid point guard. It's a shame that some people exclude him from (player) rankings."
The Patriots were 17-for-26 from the free throw line.
"Good win for us tonight versus a well-coached, high-talent team like Cathedral," Famber said. "Hats off to them. They are good."
The win by Christian (5-4 Wester, 12-12 overall) handed the St. Augustine Saints (10-0 Western) the league title. Cathedral (7-3 Western) fell to 17-9 overall.