Monarchs, seniors reach title goal
Updated: February 9, 2019
2019 EAST COUNTY PREP GIRLS BASKETBALL
MONTE VISTA 51, STEELE CANYON 40
EastCountySports.com staff report
SPRING VALLEY – Despite coming off a six-win season last year, the Monte Vista Monarchs weren't necessarily an underdog in the Grossmont Valley League this season.
After all, the Monarchs won three league games last season and had four returning seniors, including arguably the top returning player in the league in SARA TAHA.
On Friday night, the veteran Monarchs defeated Steele Canyon, 51-40, to share the Grossmont Valley League championship.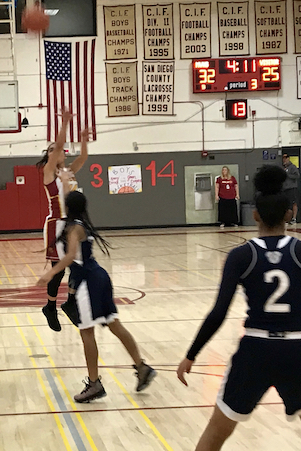 Monte Vista and Santana finished with the same 8-2 league record to become co-champions.
Monte Vista started the GVL campaign 1-2 before winning its final seven league contests in-a-row.
"We did start our league roughly," Taha said. "But we won every single game past those mistakes and that got us to where we are now as champs and it's an exciting feeling being able to say we won (the) league."
Taha, along with fellow seniors TORRI HONORE, MARIAH MOORE and ALYSSA MEDRANO, haven't played their final home game just yet.
The Monarchs (15-12) are likely to qualify for a home playoff game in the upcoming San Diego CIF Division IV postseason.
"As a senior it makes me feel very accomplished and I'm proud of us all for keeping composure and our energy up throughout the ending of our league," Taha said.
Adding to the uncertainty before the 2018-19 season was a coaching change, but the team seemed to thrive under the guidance of SABRINA JIMENEZ, a former star guard at Granite Hills, who was coaching basketball even while as a student and player for the Eagles.
"I am so proud of my girls," Jimenez said. "The girls were very coachable tonight and adjusted as the game went on. They were focused and executed the game plan."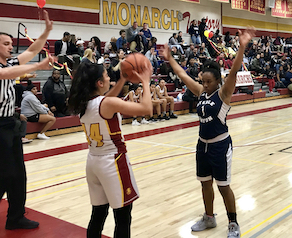 The Monarchs led 27-20 at halftime and 39-32 at the end of three periods.
"We started off slow offensively but the girls found a groove and found the soft spots in the defense," said the coach. "My seniors played their hearts out.
"Sara and Torri took charge and kept getting inside the key which allowed them to get to the free throw line.
"Alyssa and Mariah did their role and helped keep the game under control at a good tempo. These girls deserve tonight. These girls have trusted the process."
The process now is navigating the D4 playoff bracket, which certainly seems wide open.
For example, the Monarchs lost only 68-60 to the division's likely No. 2-seed, Foothills Christian, in the second game of the season.
The Cougars, meanwhile, are also headed to the postseason and will likely open on the road in a closely-matched seeding in Division III.
No individual scoring information on Friday night's game was reported.