Menlo can't, doesn't lose to Hawks
Updated: February 17, 2019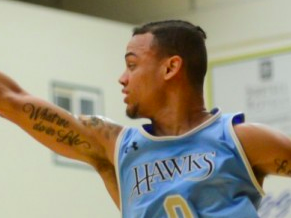 2019 SAN DIEGO CHRISTIAN HAWKS BASKETBALL
Courtesy, Menlo College media relations
EL CAJON  (2-17-2019) – Facing a can't-win situation, the Menlo Oaks took care of business early to down host San Diego Christian College, 94-72, in Saturday's (Feb. 16) Golden State Athletic Conference contest held at Grossmont College.

Overcoming a sluggish start, the Oaks finally took the lead for keeps seven minutes into the contest.

With the win, Menlo moved to 11-13 overall (7-8 GSAC). The Hawks slipped to 8-16 (4-11 GSAC).

Menlo's Ross Williams, a freshman point guard, had a career night. He shared Oaks scoring honors with a career-high 14 points, making 5-of-8 shots from the field, including a 4-4 effort from the 3-point line.

Williams was one of six Oaks to score in double figures. The others were Henry Cornelious (14), John Paine (14, plus 10 rebounds), N'Jai LeBlanc (12, and 9 assists), Charles Neal (10), and Corey Le'aupepe (10).

Menlo hit an incredible 55 percent from the field and an even better 60 percent from the arc. 

San Diego Christian received a game-high 19 points from Tristan Angelo, while guard Hayden Fredrick added 14, but the Hawks lost the battle on the boards, out-rebounded 42-26.

SDCC closes the home portion of its schedule on Thursday (Feb. 21), hosting Westmont College at Mesa College. The women's contest is slated for 6:15 p.m., followed by the men's game at 8:15 p.m.

Women

No. 22 Menlo 59, San Diego Christian 45:  The visiting Oaks shutout the Hawks for nearly the first five minutes of the second quarter, then allowed just two additional baskets before the half to mount a 28-17 lead at the intermission to capture Saturday's (Feb. 16) GSAC triumph at Grossmont College.
Guard Salome Cordinier and center Alexis Delovio both scored a team-best 16 points for the 22nd-ranked Oaks (18-8overall, 9-7 GSAC), which dominated the boards with a 49-34 rebounding advantage.

San Diego Christian (7-21, 1-15 GSAC) saw Shayleen Toehe come off the bench to register a team-best 16 points, as the starters combined for just 25 points. The Hawks shot just 20 percent (3-for-15) in the decisive second period.