LADY HILLERS LOSE MINUS CAPTAIN SOTELO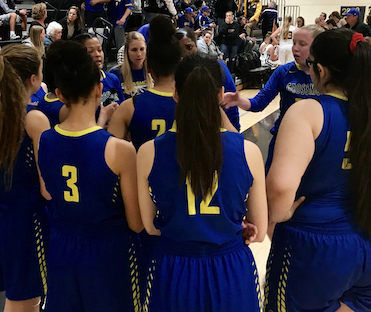 2019 EAST COUNTY PREP GIRLS BASKETBALL
By Dave Dickens
EastCountySports.com
EL CAJON (2-26-2019) – Out here in the East County, hosting a state regional playoff game is a big deal, especially to Grossmont head coach Grace Campbell, who has only been at the helm for four years.
However, Campbell has taken tremendously big strides and put her heart and soul into this program.
This is definitely an underrated girls basketball program that should be given the opportunity to possibly graduate up a division one of these days.
The Lady Hillers have had an injury bug that struck two of their star players, senior MARISSA GILES with the flu on and off, and then losing the court captian, ATHENA SOTELO, who spent the whole 2018 season on the bench and worked extremely hard to rehabilitate and come back, and immediately made an impact, simply with increased scoring at the rim, relieving Giles of being the main scoring threat.
Sotelo tore her meniscus and trashed the opposite knee that put her out for the rest of her high school career versus Lincoln.
As she stared into the eyes of her fellow teammates, she explained the big win over El Cap in dramatic fashion that she felt like she was on the court, although she sat in a black and yellow folding chair, she was happy for her team to win. She will have surgery next week, and with all the help she will receive from the community and coaches who will assist her in receiving the scholarship she deserves.
Athena deserves the best for her attitude, hard work in the classroom along with on the court
Meanwhile, as before mentioned, Giles has slowed during the last few weeks of the season due to a flu she just could not shake, limiting her playing time in each game.
Giles has been the leading scorer, thus many points not being scored.
In Marissa, a.k.a. Miss Feisty, Giles' last game of her high school career, despite losing in the CIF State Division 4 SoCal regional playoffs, she had herself a phenomenal game on her home court in front of her fans, friends and family.
Giles had 26 points, three steals, and five rebounds.
"Great way to end her high school career," Campbell said.
The Hillers lost 63-53.
"Despite not having our starting point guard during the postseason I was very impressed with how the team responded. " Campbell said. "The girls stepped up and the team played as one.
Unfortunately inexperience and not having our floor general hurt us."

"I had a great two years at Grossmont," Giles said. "I don't have specific great memories that stand out. Just this season in particular, winning the Crawford Tournament against Madison, going to the CIF Championship, hosting a home state playoff game. It was a great last season to have, especially having my final game a state CIF Regional at Grossmont.
"I also had fun playing for my mom, Tiffany Giles, and head coach Campbell.
When questioned about playing with Athena Sotelo?
"I definitely loved playing with all the girls but it was so much fun when Athena was playing on the court with me," said Giles.
The Lady Foothillers lose quite a few to graduation, but with coach Campbell at the helm, they will compete for sure.