ROUNDUP: Eagles, Knights win; Patriots edged
Updated: February 27, 2019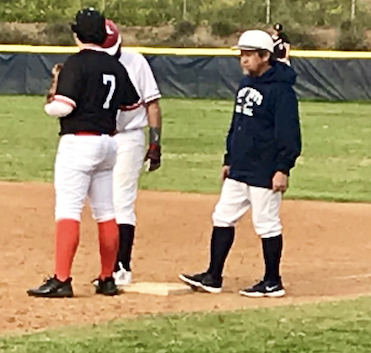 Christian and Escondido on Monday afternoon.
2019 EAST COUNTY PREP BASEBALL
EastCountySports.com staff report
SAN DIEGO – Like so many games between the county's top programs over the last two years, Granite Hills and Cathedral Catholic met in an extra-inning thriller on Tuesday.
Granite Hills defeated Cathedral Catholic, 4-3, in nine innings in a sure sign of things to come at the top of the county's charts this season.
Currently, both squads surprisingly are beginning the season outside of the top ten. It was the first win in three starts for the Eagles, while the Dons fell to 0-2.
The game was tied at 3-all in the top of the ninth when an error scored the go-ahead run for Granite Hills.
Cathedral Catholic scored three runs in the bottom of the sixth inning.
In the first inning, Granite Hills' BRIAN SMITH drove in a run with a single.
CLAY FORDHAM allowed no runs on two hits over 3 2/3 innings, striking out two and walking one.
"Today was really good for us," Fordham said. "It was tough the first two games when the whole team seems to find a way to slump at the same time, but we knew the baseball we were capable of playing.
"We knew Cathedral is a really good team so we came out today with a lot more fire and motivation to work ourselves back into the win column. This win speaks for what kind of team we are and it'll show as we continue the season. We're a better team this year all around and we're excited for what's ahead."
NOA PONCIANO started the game for Granite Hills, allowing three hits and three runs over 5 1/3 innings, striking out five.
TK PARKER went 2-for-4 at the plate for the Eagles.
ESCONDIDO 3, CHRISTIAN 1 – Christian's Alex Markowicz went the distance, allowing three runs on four hits and walking one, but the Cougars downed the Patriots.
Markowicz also drove in the team's only run with a double in the fourth inning.
Escondido took the lead on a groundout in the first inning.
"We need to do all the little things to be successful," Christian High head coach Mike Mitchell said. Today we made more mistakes than they did, thus the 'L.'
"Young kids think that they can just 'turn it on' at the end and win when we need to be that intense the entire game. Today was a good learning experience."
Mike Pohle, Carson Stroman, and Clay Wehsener each had a hit for Christian.
"We played a great game and just had an unlucky outcome," Markowicz said. "We're learning to play as a team and work together.
"As the main starter, I'm going to give everything I got to this team so we can succeed this year and next."
FOOTHILLS CHRISTIAN 12, LINCOLN 0 (5) – The Foothills Christian Knights defeated Lincoln on Tuesday as two Knights pitchers combined to throw a five-inning shutout.
Jelani Brown drove in three runs, stole three bases and scored three times. He had a two-run inside-the-park homer in the fourth inning to cap the scoring.
"I was very comfortable at the plate," Brown said. "Two of their pitchers were throwing the ball I would say around 65 (mph) so I was able to see the ball and take big hacks at it.
"One of the pitchers was throwing high 70s maybe touching an 80 but I stayed back and let my hands fly to get an RBI.
"I changed how I loaded and adjusted to the pitcher.
Seth Gilbody pitched four innings, allowing five hits, while striking out four.
"Seth is a great pitcher," Foothills Christian catcher KIP FAMOLARO said. "He throws with an awesome deceptive angle on the ball. He may be young but that doesn't stop him from owning a team. He's got the nastiest pick off move I've ever seen. I never have to worry about batters getting on second. He's definitely going to help us a lot this season."
Brendan Campbell struck out two hitters in one inning of work to close it out.
SANTANA 7, RANCHO BUENA VISTA 2 – Ben Hart struck out 11 batters over five innings, allowing two hits and two runs to get the win for the Sultans.
Riley Hamilton recorded the last six outs.
Brandon Glowacki drove in a pair of runs and scored twice for Santana. His single in the fourth drove in the two runs, making it 3-0.
Tyler Glowacki (RBI) and Davin Burroughs also each had two hits for the Sultans.
LA JOLLA 8, MOUNT MIGUEL 1 – Carlos Sanchez, Austin Ortiz (run), and Cameron Beauzec each had two hits for the Matadors.
The Matadors' Nico Camacho retired the order on strikeouts in one inning of work on the mound.
La Jolla scored four in the first and led 8-0 after 4 1/2.
"Can't get out of the first inning clean," Mount Miguel manager Frank Coit said. "Every game so far we get down by four or five before the second inning, it seems, and then have to battle to stay in it.
"Kids are playing hard so can't complain, just can't seem to get good results yet on the scoreboard from that effort.
We hit a bunch of balls very hard today, but mostly right to a glove.
"Seemed like everything (La Jolla) put in play found open space.
"Our pitchers competed well, they deserved better, but that's baseball.
"Walks at the wrong time though continue to hurt us, they seem to score every time.
"Bottom half of our lineup 6-through-9 is hitless in four games, I believe. Tough with no production from half of the lineup."
STEELE CANYON 5, EL CAMINO 0 – The Cougars managed just two hits and committed five errors in a rugged loss to the Wildcats.
Richie Pedrin and Cam Ewert had singles for Steele Canyon.
CLASSICAL ACADEMY 6, MONTE VISTA 2 – Abraham Sanchez and Jacob Savoy drove in runs for the Monarchs but a four-run first was all Classical would need.
Savoy had a two-out single in the first to drive in Ernie Arambula for a 1-0 lead.
Senior Carlos Esparza had a nice relief outing for MV, going three innings, allowing no runs.
LA COSTA CANYON 13, EL CAPITAN 3 – The Mavs scored 11 runs in the third inning.
The Vaqueros got a 1-0 lead when sophomore Jake Bergherm singled to drive in senior Charles Rodriguez (double).
Rodriguez later drove in a run in the fifth, then Austin Bell added an RBI for the Vaqueros.
Junior Jacob Mackin settled things down for El Cap with 3 1/3 innings of relief, allowing one earned run while striking out two with no walks.
LIBERTY CHARTER 5, KEARNY 5 – The Lions are 1-2-1 after finishing with a tie against the Komets in a Sweetwater Invitational game.
Junior Elijah Duran had two hits and drove in one run for the Lions.
Lion senior Manuel Lopez scored twice.
Freshman pitcher Isaiah Hilke went six innings, striking out 10, while allowing one earned run.