Matadors season ends in state playoffs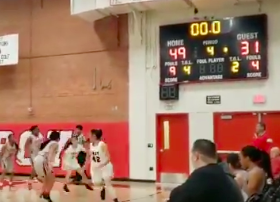 Troy and Mount Miguel at the end of the game on Thursday.
2019 EAST COUNTY PREP GIRLS BASKETBALL
EastCountySports.com staff report
FULLERTON – The Mount Miguel Matadors were the last East County girls team to complete their basketball season on Thursday and that's still a good thing.
The Matadors were eliminated from the CIF State Division I playoffs in a 49-31 defeat in a SoCal regional second round game against the Troy Warriors.
The Matadors were off to a promising start, holding a 10-6 lead after one period.
Troy had a strong second quarter but only managed a 22-18 advantage at intermission.
Both teams were cold from three-point range.
But Gaby Tan and Troy controlled the third quarter. She finished with 18 points.
Troy outscored the Matadors, 18-4, in the third.
Troy will face Rosary Academy next in a game at Servite High.
Mount Miguel finished 24-7