Salgado, Warren top All-PCAC list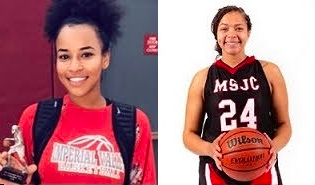 Destiny Salgado, of ICV, and Alyssa Walton, of MSJC
2019 COMMUNITY COLLEGE WOMEN'S BASKETBALL
East County Sports staff report
CHULA VISTA (3-3-2019) – Imperial Valley College sophomore forward Destiny Salgado and Mt. San Jacinto sophomore forward Alyssa Walton have been named the Pacific Coast Athletic Conference players of the year in women's basketball, based on voting by conference coaches.

Salgado (Centro Union HS, El Centro), the player of the year in the South Division, led the Lady Arabs to a share of the division title and a berth to the CCCAA state championships.

Salgado led IVC in both scoring (19.0 per game to rank 14th in California) and a state-leading 15.5 rebounding average. Salgado is being courted by several NCAA mid-major colleges. She scored a season-best 38 points against Southwestern, the school which shared the division title with Imperial Valley.

Walton, who hails from Victorville (Victor Valley HS), led the Eagles to their second straight PCAC North crown and their fifth conference championship over the past seven seasons.

Walton averaged 10.6 points and 7.1 rebounds per contest as the defending CCCAA state champions finished with a 23-6 regular-season record and unbeaten in PCAC North play.
First Team
Salgado was joined on the all-PCAC South First Team by: Keren Hogue, Imperial Valley; Satera Bates, Maya Robinson and Danielle Simmons, Southwestern; Yusra Gharram and Lavinia Moa, San Diego Mesa; Chiara Mattern and Mendoza, Grossmont; and Elliott Nixon, San Diego City.

The all-PCAC North was dominated by Mt. San Jacinto, with Walton joined by teammates Sharonda Edwards, Haylei Janssens and Britney Neely.
The remainder of the team included four players from Palomar — Clarissa Taite, Julie Saelee, Taylor Williams and Imari Cooley — along with three members from MiraCosta — Chynna Cochran, Julia Iman and Britney Jarvis.

Bates is the former East County player of the year out of Mount Miguel High in the 2016-17 season.

In addition, Imperial Valley's Viridiana Salas and Mt. San Jacinto's Chris Mozga were tabbed the coach of the year from their respective divisions. 

A complete list of all-PCAC selections may be found, here:http://paccoastconf.com/sports/wbkb/2018-19/releases/20190225lmog9h