Eagles, Scotties, Pats, Cougars get wins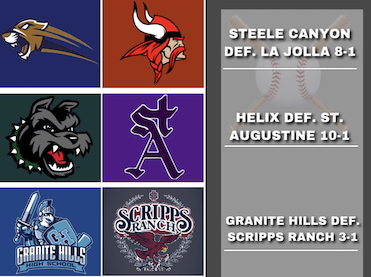 2019 EAST COUNTY PREP BASEBALL
EastCountySports.com staff report
SCRIPPS RANCH – The 13th-ranked Granite Hills Eagles won their fourth-straight game on Tuesday after starting the season 0-2.
The Eagles scored twice in the fifth inning to snap a 1-all tie and got a complete-game pitching performance from NOA PONICIANO in a 3-1 road victory over eighth-ranked Scripps Ranch in the GMC Tournament.
Junior CAYDEN CLINGER drove in a run for the Eagles in the fifth.
Ponciano struck out five Falcon hitters to earn the win. He allowed just five hits.
In the top of the third inning, TK PARKER had an RBI double to tie the score.
"It's great to be able to rely on your teammates to get your back," Parker said.
AUSTIN SMITH went 2-for-3 for the Eagles.
"My swing is feeling smooth," Smith said. "I have been seeing the ball really good at the plate and finally my hits started landing. It feels good and now I have the ball against Madison tomorrow."
JAMES DAVIS' club plays one of the county's toughest schedules.
"TK made some big time plays today at shortstop," Davis said. "We are still trying to figure ourselves out. Still a work in progress."
HELIX 10, ST. AUGUSTINE 1 – Helix poor start hasn't been ignored by pollsters.
In fact, the Highlanders could actually still getting their just due, falling to just 15th in the latest county poll despite their irregular record so far.
Helix displayed its expected form on Tuesday, defeating new top-ten entry St. Augustine, 10-1, on the road for its second win of the season
Junior THOMAS CANEDAY allowed just one hit and two walks over six innings for the win.
"The coaches have been working hard to increase our intensity on the field, Caneday said. "Both on the mound and at the plate. I think today was a good indication of what we're capable of. We're going to keep this level of intensity up from here on out."
Senior CARLOS OQUITA had two hits, including a home run. He had an RBI single in the first.
"The home run I hit was on a fastball down in the zone," Oquita said. "All I was trying to do was drive something in the gap to score the guy from second but it turned out a little better as I was able to put it over the fence."
Helix has losses against Open Division contenders Eastlake and Madison, but it was a loss to Vista last Friday that bothered the Highlanders more.
"I think what was different from today's game and the Vista game was the energy we brought to the field from the first pitch to the last," Oquita said. "Both our pitching and hitting showed up today ready to compete and it showed on the scoreboard."
In the third inning, ADAM MARTINEZ, AARON PULIDO and DEVIN BAKER all drove in a run for Helix, which banged out 12 hits.
Helix senior ERIC SMELKO had two hits, two RBI and two runs scored.
"The loss on Friday was a tough one," Smelko said. "Coach (Cole) Holland really cares about us and loves us as if we are his own kids.
"We had a great team win and got some key hits, which we lacked in the Vista game. We wanted to compete pitch-for-pitch and we did that."
Despite the downgrade by the experts, it should be noted that the Highlanders are now just 2-3 overall.
"We played better as a team today," Holland said. Still a work in progress but took a big step forward today."
Smelko, ALONZO RICHARDSON and JORDON THOMPSON went a composite 5-for-12 plus a walk, scoring each time they reached base.

NOAH LANE and DEVIN BAKER also contributed two base hits each.

For St. Augustine (5-2), sophomore Jakob Christian snapped the Helix shutout bid with an RBI double in the 7th.
STEELE CANYON 8, LA JOLLA 1 – JACK SCHLOTMAN (1-1) picked up the win with six innings of work as the Cougars officially entered the East County home run derby with round-trippers from BILLY TELLOUS and JONATHAN RAMIREZ and snapped a three-game losing skid.
"Going from three-straight losses to not hanging our heads," Tellous said. "Our team was struggling at the plate and I wanted to be the guy that just says, screw the stats and just swing the bat and let's make something happen.
Tellous connected on a 2-2 pitch to drill it over the fence.
"I was just trying to stay back and put the ball in play," Tellous said. "I got a good piece of it and hit it over.
"After all the rains we are starting to get back into the groove and hit. I think the dynamic this year is gonna be fun because my class of seniors doesn't really care as long as we win and that's really been our mentality is to almost create a winning environment which hopefully will make us win games.
Ramirez's shot was his first varsity hit. He drove in a pair of runs.
SEBASTIAN GRANADOS went 2-for-4, including a double, and an RBI for Steele Canyon.
CARLOS CAMACHO had two hits for Steele Canyon.
JAKE ENTREKIN had two hits, inlcuding an RBI, for the Cougars.
"My hitting always depends on my timing and my timing feels great right now," Entrekin said. "It was nice today to have a breakout game hitting-wise for the team to get over the hump. I think we're gonna surprise some people this year."
Schlotman struck out four.
"Coach (JESSE EVANS) wanted to take me out at 80 pitches and that's where I ended up after the sixth," Schlotman said. "I wanted to keep going for that complete game but I knew it was a smart call early in the season."
RICHIE PEDRIN pitched the seventh for Steele.
"I was glad we got Richard in to end it," Schlotman said. "I have a lot of trust in him, as does our whole staff. Overall, great game by everyone and hoping to string together some more wins."
Steele Canyon scored in the second inning on a single by CADE STEIN, who notched his first hit and picked up an RBI
"It felt really good to get that first hit out of the way but it felt even better to drive in that run to give us the lead and shift the momentum to our side," Stein said. "And we collectively did a great job of maintaining that momentum."
CHRISTIAN 4, OTAY RANCH 3 – The Patriots snapped a three-game losing streak with a win in the Grossmont-Metro-City tourney by scoring four in the top of the seventh to take a 4-1 lead.
Alex Markowicz went 6 2/3 innings for the win.
Caleb Leonard recorded the final out for the save.
"It's nice to bounce back with a solid team win," Markowicz said. "Especially in the fashion that we did today. Sometimes it just takes patience and execution to win games, and that was demonstrated.
"I can't do what I do without the defense behind me making plays. We have a young and exciting team on the come up so you can expect us to make some noise in the near future. We can't be satisfied with just one win so, we will be working hard every day to improve."
Carson Stroman went 2-for-3 for Christian.
Christian scored four runs in the seventh on an RBI hit from Markowicz on a liner up the middle for a 2-1 lead.
Michael Pohle then got a bunt base hit to put runners first and third for the Patriots.
Drew Young then blooped a single to right.
Christian then executed a double steal with Young stealing second and Pohle stealing home.
"We executed the little things today which we had not been doing earlier this year," Christian head coach MIKE MITCHELL said. "We had not successfully gotten a sacrifice bunt down prior to today."
EASTLAKE 4, SANTANA 3 – Third-ranked Eastlake scored three times in the final inning to post the victory over 16th-ranked Santana.
DAVIN BURROUGHS, AIDEN DONOVAN and TYLER FITZGERALD each had a hit and an RBI for Santana.
SEAN IVERSON, of Santana, had two hits – his first of the year – and scored a run.
"I feel I've seen the ball fairly well this season but I've had nothing to show for it until today," Iverson said. "I just planned on going up there and being aggressive so I could finally get going.
"After falling behind 0-2 my first at-bat, the pitcher threw me a changeup a little up that I was able to drive into left. After flying out to right in my second at-bat, I was able to get enough of a 1-0 curveball to single up the middle.
Donovan and Fitzgerald drove in their runs in the second.
"After getting an early 2-0 lead we were able to play loose without trying to let our foot off the gas," Iverson said.
"We got absolutely tremendous start from Riley Hamilton but unfortunately it just wasn't in the cards."
After a 2-0 start, the Sultans dropped their third-straight.
"we've battled in each and every one of our games this season so it's a bummer to see our record at 2-3 because we believe we could easily be and should be 5-0," Iverson said. "We look forward to continue to battle this year as we feel we have a good shot to make some noise this season."
CORONADO 4, EL CAPITAN 0 – Traveling from their "sandlot" ballpark along the Silver Strand to Hostetler Field in Lakeside, a pair of pitchers from the defending CIFSDS Division III champion Islanders combined on a 1-hit shutout of the Vaqueros.

The contest was the opening pool-play game in the GMC Tournament.

Jake Pfitzner registered the lone base hit for El Capitan (0-5), while leadoff batter Charles Rodriguez, Kevin Allison and Taylor Mackin reached on walks. Allison and Baker each stole a base.

The 10th-ranked Islanders remain unbeaten at 7-0-1 with three shutouts, allowing just 10 runs all season.
Connor Crist went the distance for El Capitan, striking out five.