31 runs, 5 innings, 2.5 hours, one Griffin PCAC win
2019 COMMUNITY COLLEGE SOFTBALL
East County Sports staff report
IMPERIAL (3-9-2019) – In a 5-inning marathon take took more than 2.5 hours to complete, Grossmont College jolted host Imperial Valley College, 20-11, in the highest-scoring Griffins softball game this century.
The combined run total of 31 on Thursday (Mar. 8) eclipsed the previous mark of 28, Grossmont outlasted San Diego City, 16-10, in 2013. Both were Pacific Coast Athletic Conference ballgames. Records from the 20th Century were no immediately available.
The Griffins and Lady Arabs were actually scoreless after the first inning, before both pitching staffs were completely exposed.
Gross scored 2, 6, 9 and 3 runs over the ensuing four trips to the plate, but trailed after two innings when IVC tallied 5 times, then 3, 1 and 2 runs. Despite the wealth of offense, no home runs were hit.
For the Griffins (2-7 overall, 1-3 PCAC), catcher Jordan Everette batted 3-for-4, scoring following each hit.
Meanwhile, four of her teammates – center fielder Alizah Jameson, freshman Lexi Schmehr, first baseman Veronica Quirino, and right fielder Sierra Marty – each added two hits as part of a 15-hit attack.

Driving in a majority of the runs were third baseman Yvette Andrade with 4 RBI.
For Imperial Valley (3-6, 0-03 PCAC), No. 2 hitter Nickole Rodriguez, the center fielder, batted 4-for-4 with 4 RBI and a run scored.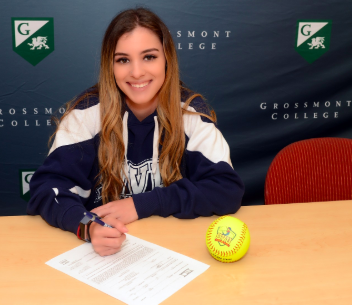 GRIFFIN GRAFFITI – Jamison, a sophomore signed with Ohio Valley University, a private Christian college and is located in Vienna, West Virginia. She will be attending the university in the of fall 2019 to continue playing softball.
The Fighting Scots compete in the Great Midwest Athletic Conference within the NCAA Division II. The school is the smallest member in NCAA Division II.
Jamison began playing softball at Grossmont College in 2017.
During the 2017-18 season, Jamison played 38 games, scored 25 runs and had 39 hits, and five RBI.
So Far in the 2018-19 season, through seven games played, Jamison has scored 10 runs, had five hits and three stolen bases.