ROUNDUP: RedHawks, Cougars win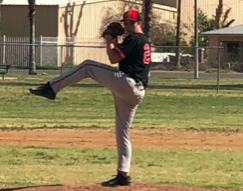 EastCountySports.com
CALEXICO – When the Mountain Empire RedHawks actually get to play a baseball game, they can look pretty good.
Mountain Empire High starting pitcher Trevor Elliott approached a school record by registering 15 strikeouts over six innings in Wednesday's (Mar. 20) 5-1 non-league triumph over the Vincent Memorial Scots.

Elliott allowed just two hits in his dominating performance, along with driving in the game-winning run.
"The rain has been very disappointing," Elliott said. "We get more rain than most schools because of our location. It is not only cost us games but valuable practice time we're basically using our games as practice.
Elliott has struck out 52 batters in 22 innings so far this season.
"Hopefully the rains over and we can get down to practicing and playing on a more consistent basis," Elliott said. "I'm off to a better start than last year but we won't have as many games because of the rain so I don't know if my total will be as high as last year when its all done.

Jacobe Noland then closed the contest with two addition K's, as 17 of the 21 outs came on strikes. Noland did walk a batter, but RedHawks catcher caught the runner in an attempt to steal third base.

The visiting RedHawks broke loose from a 1-1 ballgame with four runs in the 6th inning.

Sam Jones registered the game-winning run. He accepted a one-out walk, stole second base, then scored on Elliott's base hit to right field.

Angel Jiminez followed an RBI ground single to right, with the other runs aided by a dropped third strike, a wild pitch and a passed ball for the RedHawks (3-3).
"For us to get wins right now I have to keep my era as low as possible," Elloitt said. "I think we're only averaging three runs a game so I'm concentrating on keeping runners off the bases as much as I can.
So far, Elliott has a 0.33 ERA with four hits allowed, along with six walks and just one earned run. At the plate, he's hitting. 455 with six steals.
"Our offense has been struggling all year," Elliott said. "Once on base, I've been able to get closer to scoring by stealing. I've been batting 3rd in the lineup and my coach is thinking of moving me to the No. 1 spot to provide a spark to help get our offense going."
Two teams have already canceled games with the RedHawks so far this season.
"We have a lot of new players and we are improving everyday but we have a long ways to go," Elloitt said. "There's nothing we can do about the teams not showing up. It's disappointing as well

Following a pair of rainouts, the contest was the season opener for Vincent Memorial (0-1).
STEELE CANYON 18, EL CAJON VALLEY 0: At ECVHS, a trio of Cougars pitchers — Jack Schlotman, J.J. Burns and Jacob Armenta –combined on a 1-hit shutout, while Carlos Camacho drilled a 2-run homer as part of a 5-run outburst in the 1st inning to stop the host Braves in Wednesday's (Mar. 20) Grossmont Valley League opener for both ballclubs.
"It felt amazing hitting that high inside fastball out of the field," Camacho said. "It always feels great to win."

Schlotman struck out 7 batters over 3 innings, yet was awarded the win via the CIF "Winning With Integrity" guideline after leaving with an 11-0 lead in a game shortened to six frames.

Steele Canyon (6-5, 1-0 GVL) received doubles from Sebastian Granados, Richard Pedrin, Jonathan Ramirez and Gabe Vidana. Meanwhile, Cade Stein batted 3-for-4 with 3 RBI.
"I felt like I was seeing the ball well today," Stein said. "I just tried to put the bat on the ball and the ball found it's way on to the outfield grass. It felt great to hit well as a team today as well, and we hope it continues."
Aaron Rodriguez registered the lone hit for the Braves (1-4-1, 0-1 GVL) with a leadoff double in the 5th.

GROSSMONT at HELIX: At La Mesa, the Grossmont Hills League opener for both clubs was rescheduled due to anticipated rain in the first of four regular-season meetings between the these historical rivals.