Highlanders put Eagles a lap down
Helix between innings on Thursday. / photo by Dave Dickens
2019 EAST COUNTY PREP BASEBALL
HELIX 5, GRANITE HILLS 2
East County Sports staff report
EL CAJON (3-29-2019) – The Grossmont Hills "Super League" was about to live up its moniker and become a four-horse race between all of its entries. But it all flipped over a span of just three batters.

Moments after Helix relief pitcher Chris Paruleski escaped a bases-loaded jam in the 5th inning, the Highlanders responded with a 4-run rally to overcome a 2-run deficit to stop host Granite Hills, 5-2, Thursday (Mar. 28).

The decision, coupled by Grossmont's 3-0 blanking of front-running Santana, leaves all three schools in a deadlock for first place. Meanwhile,
Granite Hills remains winless in three starts since officials revamped the baseball leagues.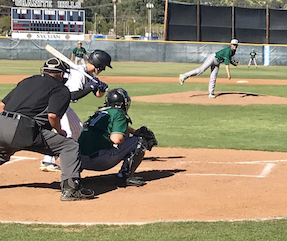 One might wonder how ready Paruleski was coming out of the bullpen. The starter, Thomas Caneday, had only tossed less than 60 pitches but severs and eight hits allowed ended his day early.
"Thomas Caneday pitched really well in the first four innings and kept us in the game," Helix centerfielder Eric Smelko said.

Granite Hills tried to take advantage with a pair of base hits, then a hit batsman loaded the bases. However, Paruleski reached his peak with a ground out to halt the budding rally. He then fired two additional innings of no-hit ball to close out the Eagles.

Helix responded immediately with the emotional lift, registering our runs in the 6th. And it took just two batters to tie the score.

Smelko rocketed a leadoff triple to right field, promptly knotting the contest on a base hit to left field by Jordan Thompson, who advanced to third base on an error.
"Austin Smith did a great job in changing speeds and hitting his spots," Smelko said. "I was fortunate enough to hit a few of his mistakes.
"Justin Cervantes had another big game for us today as he threw two guys out at home. Those two throws (from right field) changed the momentum of the game."

Two pitches later, cleanup hitter Richardson also produced an RBI single with the go-ahead run.

"Our outfield defense let us down again today," Granite Hills head coach James Davis said. "Frustrating. Smith pitched very well. I even made some bad base coaching decisions."

A hit-by-pitch to Carlos Oquita then set-up a ground RBI single by Adam Martinez for a 4-2 advantage.

Granite Hills finally recorded outs on a strikeout and a fielder's choice to the plate, but yet another error brought in the final run.

"We definitely came out the door swinging today and our pitching was dominant but our defensive errors hurt us the most," said Eagle Brian Smith. "We put too many runs in scoring positions due to our defense behind the pitcher."

Paruleski then retired six if the final seven batters, overcoming a walk in the 7th to gain the victory. Meanwhile, a trio of Eagles pitchers yielded just eight hits, but half of them came in the decisive inning.
"Thomas Caneday went a strong four innings for us which kept us in the game and in the hunt for the victory," Paruleski said. "Our team had some timely hits with Eric Smelko and Jordan Thompson collecting multiple hits and some timely plays by Alonzo Richardson which made it easier on me to help our team with our victory. I was really on with my fastball and was able to locate it well."

For Helix (7-6 overall, 2-1 GHL), Smelko, Thompson, and Richardson.
"Jordan has been on fire not only offensively but also defensively," Smelko said. "He's been making great plays in the field that has saved runs. Granite Hills is a very good team. We have been really fortunate against them the past two games. Hopefully, our magic won't run out tomorrow."
The Highlanders 2-3-4 hitters– each registered a pair of base hits.
"We are just trying to win the little battles and take it one game at a time," Helix head coach Cole Holland said. "(We are) not looking past are next game."

Granite Hills (6-7, 0-3 GHL), received an RBI ground ball by Clay Fordham and a run-scoring single from Jacob Hennessey (2-for-3) in the 4th to overcome an early 1-0 deficit. Left fielder Max Bodtke, the cleanup hitter, also supplied two hits.