Lions: Scotties reach final, East fizzles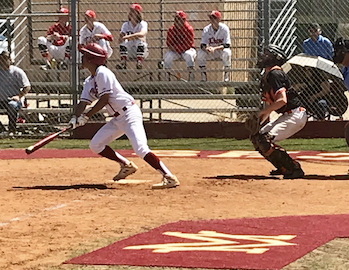 Monte Vista at the plate on Thursday. / photo by Dave Dickens
2019 EAST COUNTY PREP BASEBALL
69TH LIONS TOURNAMENT
East County Sports staff report
EL CAJON (4-19-2019) – Desert Oasis High of Las Vegas, the top-ranked ballclub in Nevada, made short order of five California schools this week here in San Diego.
Capped by victories over Newbury Park and Helix on Thursday (Apr. 18), the Diamondbacks (21-6) captured the Open Division championship in the 69th edition of the Lions Tournament.
Desert Oasis took a 7-2 decision over Newbury Park in the semifinal held at Granite Hills. Meanwhile, Helix was able to host Poway instead of playing at a neutral site in its semifinal, taking a 3-2 verdict.
However, the Lions finale at Granite Hills was all D-Backs. with an overwhelming 13-run explosion in the third inning to overcome a quick 1-0 lead for the Scotties.
The Scotties (15-9) needed just two batters to score. Alonzo Richardson drilled the first pitch he saw for a double to center field, coming home when Eric Smelko lined a base hit to left.
Conversely, Desert Oasis needed more than 40 minutes before not scoring in its massive eruption. The first four batters registered hits, the next four walked, then the ninth batter was hit by a pitch.
The second time through the batting order started with another bases-loaded walk, then it was single double walk before Helix registered an out on a ground ball on Batter No. 14, yet a run even scored on that play to make it 12-1.
Adding insult to injury, a final run came home on a passed ball– obviously, playing five ballgames over four days, the Highlanders ran out of pitching, which has always been a problem for clubs participating in tournaments such as the Lions.
"We came into the championship ready and excited," Smelko said. "We started off strong, but they fought back and took the lead."
Among the few highlanders for Helix was a 3-run homer by third baseman Jordon Thompson in the 5th.
Desert Oasis saw shortstop Colby Smith drive in three runs, while first baseman Aaron Roberts registered a pair of doubles.
HELIX 4, POWAY 3: At La Mesa, expect the No. 9 Highlanders to move up in the county rankings after downing the No. 3 Titans to become the highest-placing ballclub from San Diego County in the 69th annual Lions Tournament.
The Scotties scored twice in the first, maintaining the lead throughout their semifinal-round triumph.
A run-scoring single by Carlos Oquita brought home Eric Smelko (safe on error), then Noah Lane placed a successful squeeze bunt, plating Jordan Thompson (double).
That was enough for Helix pitcher Christopher Paruleski, who tossed five solid innings.
"It was a great team effort today," Paruleski said. "Everyone did their part. It was a great victory with some timely hits, including a big one by Carlos Oquita and some great plays at the end of the game by Eric Smello and Carlos helped solidify the win.
Paruleski scattered four hits and recorded nine strikeouts.
"I was able to locate my curveball and keep them off balance," Paruleski said "But when you win a game 3-2 it takes a great team effort and that's what we had today."
Lane garnered the save with a pair of shutout frames, yielding just one base hit.
After Poway (16-5) scored in the 3rd, Helix pinch-hitter Justin Cervantes singled home a run in the 4th.
"Poway is a fantastic team," Smelko said. "We competed in this tournament. We played against good teams in La Costa Canyon, Cathedral, and Elk Grove and learned a lot about ourselves and we continue to improve. We have a few days off before our game against Coronado and after that, we wrap up league play against Grossmont and Santana."
Elsewhere
THOUSAND OAKS 4, STEELE CANYON 2: At Santa Fe Christian in Encinitas, the state-ranked Lancers jumped on the Cougars for three runs in their initial at-bat, then made it stand up in a Premier Division semifinal victory in Lions Tournament action. The decision gives the visitors their second 9-game winning streak of the season.
Winning pitcher Scott Ellis threw a complete-game 5-hitter with five strikeouts. His lone major mistakes transformed into a solo home run by the Cougars' Jonathan Ramirez in the 3rd inning, which ended Ellis' no-hit bid.
The only other Steele Canyon run came in the 6th.
Following a lead walk to Aaron Taylor, Ellis pitched around Billy Tellous for another walk, but Carlos Camacho gained a two-out infield single off Ellis to push Taylor home.
Steele Canyon (24-7) saw Eli Page bat 2-for-4 but had it 4-game win streak snapped.
Thousand Oaks (21-4), which saw cleanup batter Ryan Turner stroked a 2-run double to open the scoring, just rejoined the CalHiSports Top 35 rankings on Monday.
ESCONDIDO 4, MONTE VISTA 3 (9 inn.): At eastern Spring Valley, the Cougars' Charlie Perkins-Turner went station-to-station yet registered the game-winning run in downing the host Monarchs in Thursday's (Apr. 18) 3A Division semifinals of the Lions Tournament.
Both ballclubs tallied three runs in the 3rd, then the pitching took over. So it would need to be something small to decide this game.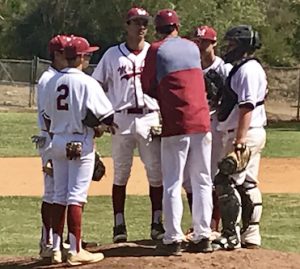 Perkins-Turner opened the 9th with a walk, moving to second on a wild pitch, then third on a sacrifice bunt by Justin Fox.  Matt Malone, who already struck out twice, finally made contact, sending a roller through the left side of the infield for an RBI single.
The win made a winner of Cougars pitcher David Rodriguez, who allowed six hits over his eight innings, with all three runs coming on errors. Meanwhile, closer Justin Murray retired the Monarchs order in the 9th for the save.
Monte Vista starter Andy Canedo also pitching shutout ball in seven of his eight innings. He struck out six Cougars, walking just one.
"We did all we could as a team and we just came up short with the loss," Canedo said. "We still played our brand of baseball and that is never going to change. We have more baseball ahead of us and we are looking forward to it."
When both sides posted 3-run rallies in the 3rd, Escondido received a 2-run single from David Rodriguez, while the Monarchs' Andrew Savoy gained the lone RBI.
Monte Vista (14-10)  shortstop Ernie Arambula batted 2-for-3 with a walk among the team's five hits.
For Escondido (7-15), cleanup hitter Juan Cervantes smacked a triple and a double.
SOUTHWEST (San Diego) 10, MOUNT MIGUEL 1: At western Spring Valley, one reason Lions Tournament officials eliminated consolation games in the smaller-school division is the lack of pitching on the smaller rosters. The situation hit the Matadors in falling the 3A Division semifinals to the Raiders.
Still, the tournament run for the Matadors has their blood pumping for the postseason.
"We put up 28 runs and 37 hits in four games there's no way I can be displeased with that," Mount Miguel head coach Frank Coit said. "The kids played really hard we gave it the better team today everything we had. Just Southwest San Diego was the better team today.
However, Southwest still owned an arm, as starter Adrian Sanchez tossed five innings of 1-hit ball, joining with reliever Eddie Ambris in yielding just two hits to Mount Miguel. Both were collected by Trevor Darby, including a double, yet did not figure in the scoring.
"We hit the ball really hard seven or eight times but they made all the plays on them," Coit said. "They didn't have any errors. I think we only had one or two but our kids tried hard. We didn't have any luck today, either."
Sanchez also led the Raiders offense by batting 4-for-4 with a pair doubles, driving in three runs to decide this game early. Included was an RBI double to open the scoring in the first, then Sanchez opened the third with a run-scoring single, bringing home second baseman Aldo Cañedo (lead triple) to start a 4-run rally for a 6-0 cushion.
Mount Miguel (7-14) got on the scoreboard in the 6th. Cameron Beauzec was hit by a pitch to lead off, eventually scoring on a sacrifice fly by Thomas Ringer.
"We were beaten by a better team," Mount Miguel head coach Frank Coit said. "We didn't actually lose the game, they beat us and I'm happy with that. I'm not happy that we lost, of course, but if we're going to lose a game, I'd rather someone beats us then we give it away."
Southwest (17-7) received two hits each from Carlos Gonzalez, Arian Tirado and Cañedo.
The Raiders went on to win the division championship in a similar fashion over Tri-City Christian, in the game held at Mount Miguel later in the afternoon.
"(Southwest) is a very well-seasoned team," Coit said. "They played good fundamental baseball and they're not going to give you anything, you have to earn it and today they just outplayed us.
"They were definitely the best team in the bracket but we came in third out of 16 teams. I'm happy as can be with that."
MCCLATCHY (Sacramento) 9, FOOTHILLS CHRISTIAN 0: At Monte Vista, the McClatchy Lions, leader of the Metropolitan Conference in the CIF Sac-Joaquin Section, whipped the Knights in the 3A Division semifinals of the Lions Tournament.
McClatchy (16-4) tallied fours runs in the first then three more in the third to advance to the title game of the division.
Lions pitcher Ben Silva first a 3-hit shutout, striking out six batters.
The Knights (7-16).received hits from 2-3-4 hitters Cade Cabral, Corbin Harris and Kip Famolaro.
"It hurt a little bit but after the week we had beating some really good teams, " Harris said. "It's like a confidence booster for us just to know that we can battle against better teams."