VALLEY: Monarchs stun nemesis Cougs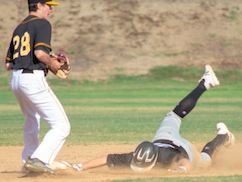 West Hills' runner dives into second base against El Capitan on Wednesday. / Melissa Honick Photography.com
2019 EAST COUNTY PREP BASEBALL
East CountySports staff report
RANCHO SAN DIEGO (5-2-2019) – The Steele Canyon Cougars, who finally gained a share of the Grossmont Valley League lead with Valhalla when a make-up game was played Monday, might have been looking ahead to next week's season-ending, home-and-home series with the Norsemen.

On Wednesday (May 1), the Cougars promptly fumbled away their leadership in the GVL after getting upended by visiting Monte Vista, 5-4.

Tied at 4-all in the 6th inning, Monte Vista's Jacob Savoy, on the first offering by a new pitcher, bunted the ball, but the ball was fielded and thrown to third base in order to cut down the lead runner. However, the throw went array, as Andy Canedo scored what proved to be the game-winning run.

It may not be an exciting, dramatic way to win, but if you're Monte Vista, you'll take it, especially considering the history between the schools.

Including a 24-game non-winning streak (0-23-1) from 2004-15, Monarch success against the Cougars is non-existent. Except for winning the first five meetings when Steele Canyon commenced varsity play in the 2002-03 school year, it's been all Cougars (26-2-1 over the ensuing 15 seasons).

The decision also means Steele Canyon must sweep Valhalla or else the Norsemen will take the pennant.

Monte Vista took leads of 2-0 and 4-2, but Steele Canyon rallied to tie each time.

In the second, both teams tallied twice.

Savoy opened the scoring with an RBI line single to score Abraham Sanchez. Savoy later scored on an Aaron Zuniga sacrifice fly.

The Cougars immediately countered. Jake Entrekin leadoff with a single, Carlos Camacho drilled a one-out double, then Eli Page singled home Entrekin, Page then tried a double-steal, allowing himself to get caught in a rundown to allow Camacho to tie the ballgame.

In the fourth, a two-out rally saw an error, single and walk to load the bases. Savoy scored on a wild pitch for the lead, then David Vega singled home Derrick Wiley for a 4-2 advantage.

The Cougars got even in the fifth with their own two-out rally. Richard Pedrin blooped a ball to right field for a single, then Billy Tellous send a bomb to right for a 2-run homer.
It was the 10th homer of the season for the senior first baseman, which is tops in the section.
"Abraham threw great but hung a slider and was able to get a good piece," Tellous said.
Tellous came to bat again in the seventh with Gabe Vidana on second base and drew a walk.
Vidana led off with a pinch-hit single and then came a sacrifice bunt by Aaron Taylor.
Monte Vista pitcher Sanchez capped his complete game with a fly out to Wiley in left field.
"It is definitely up there with one of the best games I've pitched," Sanchez said. "But this game was even more exciting to win on the fact that Steele Canyon is a great team and a very strong offense. It was a good challenge for me to see what type of player I am.
"I think I did a good job of keeping my team in the game. When it could've got ugly, I bared down and made my pitches."

For Monte Vista (15-12 overall, 4-5 GVL), Sanchez struck out seven and walked just one other batter.

Steele Canyon (16-8, 7-2 GVL) pitcher Jack Schlotman allowed just four hits, but three of the five runs were unearned, as the Cougars' string of 12 wins in 13 games against local teams ended.
EL CAPITAN 4, WEST HILLS 2: At Hostetler Field in Lakeside, one poor inning by the Wolf Pack allowed the Vaqueros to halt an eight-game losing streak.

After watching a pair of runners made outs on the bases in the top of the 4th inning, a pair of miscues on defense set-up a four-rally rally in the home-half of the frame, when El Capitan tallied all four of its runs.

The mistakes came on a pair of popups, of which neither were caught, setting the table for three consecutive hits by the Vaqueros to overcome a 2-0 deficit.

Included was an RBI double by Brandon Williams, followed by a go-ahead, 2-run double by Charles Rodriguez. A fourth run came home on a sacrifice fly from Jake Bergherm.

But the talk following the Grossmont Valley League contest was the misses on both popups.

Miscommunication between defenders allowed a ball to drop for a single. The other saw Wolf Pack catcher Andrew Ritayik react quickly to a ball by the dugout, rushing into possession for a difficult yet makeable catch. Except it ran into members of the West Hills coaching staff — yes, his own team — who couldn't move out of the way.

"I've never seen a play like that in all my years in baseball," said Wolf Pack manager Mickey Deutschman. "The other team taking their time moving, sure, but not your own team."

The West Hills runs came in the second, set up on a leadoff walk to Parker Craft and a one-out base hit by Tommy McCormick.

With two outs, Joe Thrailkill singled in a run, then a second run came home on a wild pitch.

However, the Pack would finish with 10 stranded baserunners, including seven in scoring position.

"Except for Joe (Thrailkill), we couldn't find a two-out hit," added Deutschman."

One close call came early on when Devin Bevilacqua doubled following a two-out single by Ritayik in the first. However, El Cap registered the out at the plate on an inning-ending relay from Williams in right field to catcher Austin Bell.

El Capitan (7-17 overall, 4-5 GVL) received two hits each from Rodriguez and Connor Crist, who also garnered the win with 3.2 innings of 2-hit shutout relief.

West Hills (10-14, 7-4 GVL) saw Bevilacqua and Thrailkill collect two hits each. Meanwhile, the bullpen of Gavin Kondyra and Christian Schmid combined for 2.2 innings of shutout relief.

VALHALLA def. EL CAJON VALLEY, forfeit: Wednesday's (May 1) May Day game slated for Valhalla was canceled and will not be rescheduled, moving the Norsemen into sole possession of first place following Monte Vista's upset of Steele Canyon.