VALLEY: Cougars remain alive for title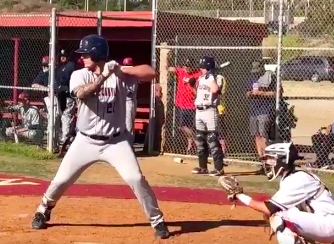 BILL TELLOUS at the plate against Monte Vista.
2019 EAST COUNTY PREP BASEBALL
East County Sports staff report

SPRING VALLEY (5-4-2019) – Steele Canyon was in desperate need of a big outing of someone – anyone – in order to stay in the Grossmont Valley League pennant race.
That effort was found in pitcher Brad Barkley, who moved to within four outs of a no-hitter. But even Barkley needed a boost after allowing a game-tying solo home run to Monte Vista's Abraham Sanchez.

And the Cougars delivered.

In the 7th, Steele Canyon parlayed a walk, a single, then two additional walks into the go-ahead run, allowing Barkley to close-out his complete-game effort in a 2-1 verdict over the host Monarchs on Friday (May 3).
"Today was a tough loss but it was a great game," Sanchez said. "As for the home run, it felt great to hit it to the game and to be my first high school home run."

Barkley, who maintained command with his slider, finished with a 1-hitter on eight strikeouts and two walks.
"To be honest, they were going at us with everything they got," Barkley said. "You could tell from both games they wanted to beat us. But those are the games you have to try to remain focused."
Leadoff batter Aaron Taylor garnered the RBI on the go-ahead run as Monte Vista utilized three pitchers in the seventh in an attempt to somehow maintain the deadlock.

With the victory, Steele Canyon barely maintained its hopes for a Grossmont Valley League crown. They must sweep first-place Valhalla next week in a home-and-home series which starts Wednesday at Valhalla.

The only other run for Steele Canyon (17-8 overall, 8-2 GVL) came on a two-out rally in the second. Sebastian Granados doubled to center field, scoring when Gabe Vidana lined a single to center.

Monte Vista (15-13, 4-6 GVL) gained momentum leading to the home run after turning a double play in the top of the sixth. Shortstop Ernie Arambula turned the ball over to second baseman David Vegas, who made the pivot and throw to Sanchez at first base.
"As a team, we just fell short but that doesn't stop us from our goal in making playoffs," Monte Vista starting pitcher Andy Canedo said. "We will always battle every pitch, every at-bat, every out."
Canedo went 6 2/3 innings, striking out nine.
"Andy pitched his heart out and kept us in the game the whole time, but unluckily we couldn't pull out the win," Sanchez said.
WEST HILLS 15, EL CAPITAN 1: At western Santee, Senior Day for the Wolf Pack turned into a historic occasion after posting their biggest victory over the Vaqueros this century.

The 14-run margin topped the previous best in an 8-1 win on Apr. 24, 2009. Conversely, El Cap's largest pasting of the Pack was a 24-6 win on May 20, 2003, the year of the only West Hills league championship when they tied for the title with Grossmont at 8-4. El Cap and Santana finished at 7-5 in the closest pennant race in Grossmont Conference history.

Senior pitcher Peyton Honick allowed just five hits over his five innings to collect the victory. Kyle Dobyns followed with a pair of shutout frames of relief, yielding just one hit in helping West Hills avenge a 4-2 loss to El Capitan earlier in the week.

The Pack produced five runs in the fourth to mount a 6-0 cushion, then capped a 12-hit attack with seven runs in the sixth.

Kole Klingerman and Kai Dennis drove in three runs each, while Andrew Ritayik knocked in a pair among eight West Hills players with an RBI in the one-sided contest.
Among the hit leaders. Klingerman and Josh Gaylord each had two. Meanwhile, senior Ryder Diebold, best known for keeping the pitching chart on the bench, gained a rare start yet delivered a single to right field in the third.

Dennis, Diebold's courtesy runner, would score on a Ritayik base hit to open the scoring.

West Hills (11-14 overall, 8-4 GVL) has the bye next week. Should first-place Valhalla sweep second-place Steele Canyon next week, the Wolf Pack would finish in a tie for second place.

El Capitan (7-18, 4-6 GVL) gained its lone run in the 5th on an RBI double by senior Austin Bell to bring in Jake Bergherm. On the play, the Vaqueros tried to score a second runner, but a relay from senior center fielder Cody Pedrero to Dennis at shortstop to Ritayik the catcher recorded the out at the plate.
VALHALLA 22, EL CAJON VALLEY 0: At Rancho San Diego, senior Anthony Young and junior Aaron Lopez both drove in three runs.
Young pitched four innings, allowing a pair of hits, while striking out eight to earn the win after coming into the game in the second inning. Young owns the best record among all East County schools at 5-0, while lowering his ERA to 2.62.
Senior Aaron Lane had three hits and two RBI for Valhalla (19-6, 9-1 GVL), which faces Steele Canyon in the big showdown games next week for the league championship.