Sultans, Eagles, Cougs, Vaqueros, Scots win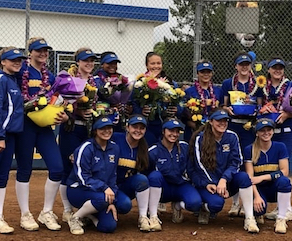 Grossmont on Senior Night.
2019 EAST COUNTY PREP SOFTBALL
East County Sports staff report

SANTEE (5-9-2019) – While Granite Hills dominated to easily claim the Grossmont Hills League championship, Santana proved to be the best of the rest by claiming second place with a 1-0 verdict over visiting West Hills in GHL action on Wednesday (May 8).

Sultans pitcher Madison Mendez matched Kimie Brouard of the Wolf Pack by spinning a 3-hitters. The difference came in the 3rd inning when shortstop Brianna Jerig tagged a two-out solo home run to left field.

For Jerig, it was her first homer of the season, extending her hitting streak to five games.

The blast was that was needed by Mendez (9-4), who fired her third shutout of the season. The senior is also batting .409.

The other hits for Santana (13-9 overall, 7-2 GHL) were singles by right fielder Natalie Simms and catcher Lakaila Aquiningoc-David, the Sultans hitting leader at .431.

West Hills (6-17, 1-8 GHL) collected hits from Star Gaylord (double), Alyssa Borbolla and Shannon Kim.

GRANITE HILLS 8, GROSSMONT 0: At Grossmont, Eagles pitcher Staci Chambers fired a 3-hitter for her seventh shutout of the season, as Granite Hills wrapped up the Grossmont Hills League title by whipping the Foothillers on Wednesday (May 8).

Chambers struck out four batters, registering the vast majority of her outs on ground balls.

Senior first baseman Sydney Huse was the focal point around the offense, driving in a pair of runs and scoring twice.

In the fourth, following a run of a fielder's choice grounder to open the scoring, Huse belted a 2-run base hit on a hard grounder to center field for a 3-0 lead. The Eagles would score five times in the rally, then add three additional markers in the sixth.

Granite Hills (20-8 overall, 9-0 GHL) has reached the 20-win plateau for the fourth time in five seasons, garnering 11 victories during the span.

The league title was the fifth straight for the Eagles. However, they have not gone undefeated during the run, but could if they win Friday against second-place Santana.

Grossmont (17-12, 5-4 GHL) saw designated player Rainee "Raindog" Foster collect two of the team's three hits. The Hillers are assured of at least a third-place finish.

STEELE CANYON 11, VALHALLA 6: At Leto Field, the Cougars belted five home runs, including two each by shortstop Jessica "J.J." Venzor and third baseman Bianca Morlaes in Wednesday's (May 8) beat-down of the host Norsemen in GHL action.

The other home was by Audrey Bagge, as the 3-4-5 hitters for Steele Canyon combined to bat 8-for-12 with eight RBI and scoring seven times. Included were back-to-back-to-back home runs — each to left field toward the Great Wall of Jamul — by the trio in the third inning to mount an 8-1 advantage.

Venzor was the most productive but not by much, going 3-for-4 with three runs. Morales "only" had two RBI on a pair of solo shots, while Bagge was 2-for-4 with three RBI,  including her 9th homer of the season to move within one of the school record.

Valhalla also did some damage with the bats, featuring a homer by Maryn Jordan — a 3-run shot in the sixth — while Kelly Olson (3-for-4) stroked a pair of doubles.

For Steele Canyon (13-14 overall, 4-5 GHL), the parade f long-balls also included sacrifice flies for runs by Maggie Carpenter and Tayler Thomas.
Valhalla (6-17, 1-8 GHL) received three hits from Olson, plus two hits from Bailey Munch, Samantha Green and Delaney Stettler.
EL CAPITAN 12, MONTE VISTA 2: At Lakeside, Vaqueros pitchers Kylie Mead and freshman Brooke Horn dished-out a 1-hitter, then the hosts scored three times in the 5th inning to walk-off the Monarchs in Grossmont Valley League action Wednesday (May 8).

Meade struck out two batters, then Horn, who was recalled from the junior varsity, registered six strikeouts over her three innings in a strong debut in the circle for the Vaqueros.

The offense saw Madison Rosalis drill a pair of doubles, good for three RBI.

Mead opened the scoring with a sacrifice bunt but when the ball was thrown away, Brandy Taylor scored the first of her two runs. Rosalis followed with a run-scoring double to right for a 2-0 lead.

El Capitan (19-6 overall, 7-0 GVL) can cap an unbeaten league season on Friday at Helix. But first, the Vaqs play a non-league game at Our Ladt if Peace on Thursday.

Monte Vista (14-10, 3-4 GVL) got its lone hit from Meeah Matanane, but the runs came on four walks and an error.
HELIX 11, EL CAJON VALLEY 0: at ECVHS, Highlanders pitcher Casey Castro fired a 5-inning no-hitter at the host Braves.
Castro struck out 12 hitters. She also had two hits, drove in a run and scored a run at the plate.
Camryn Jonilonis homered in the first inning for a 1-0 lead, as Helix went on to score all 11 runs in the first frame.
Jonilonis drove in three runs and scored twice in the first inning.
Avery Perez had two hits, driving in two runs and scoring once.
MIRA MESA 11, CHRISTIAN 0: At Mira Mira High, Marauders sophomore pitcher Amae Moots spun a 1-hit shutout to down the Patriots in Wednesday's (May 8) Western League game.

Moots struck out four Pats in her 5-inning complete game.

Mira Mesa (11-15 overall, 5-2 league) saw cleanup hitter Alyssa LaValle enjoy her Senior Day game with three hits, good for three RBI. The hosts scored nine times in the third to mount a 10-run cushion.
Christian (6-22, 0-9 league) received its lone hit from third baseman Cali Rookey with a leadoff single in the fifth to end Moots' no-hit bid.
"Hopefully we can finish strong tomorrow," said Christian junior Audrey Shebloski, who missed the game with a back injury. "I've been playing through (the injury) and today it was at worse to the point where I couldn't bend over to field or turn to hit."