ROUNDUP: Vaqueros win, play for GVL title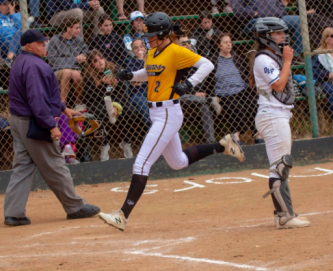 El Capitan scores on Thursday against Our Lady of Peace. / elc softball pics
2019 EAST COUNTY PREP SOFTBALL
East County Sports staff report
SERRA MESA (5-10-2019) – The El Capitan Vaqueros prepared for their showdown for the Grossmont Valley League title against Helix with Thursday's (May 9) 11-1 pasting of Our Lady of Peace in a non-league contest held at Serra Mesa Recreation Center.

The Vaqueros raced to an early 8-0 cushion, then tallied three additional runs in the 5th inning to garner the run-rule decision.

El Capitan leadoff hitter Hailey Mulligan scored three times after collecting a base hit and walking twice to fuel the offense.

Brandy Taylor also added three hits, including a double, to the 15-hit attack, while Katy Hicks and Olivia Martinez each collected two RBI.

In the circle, Brooke Horn tossed a 4-hitter, striking out five Pilots.

El Capitan (20-6 overall) reached the 20-win plateau for the second straight year. On Friday, they travel to Helix to decide the GVL title. An El Cap win gives them the crown with an unbeaten league record; a win by Helix (6-1 GVL) means a co-championship.

(5-18) received its lone run from Solana Martinez, who doubled, then scored on an RBI ground ball by Isabella Riggs in the fourth when the Vaq-Pack defense just missed turning an inning-ending double play.

Noteworthy: Next week is the 25th anniversary of Rebecca Aase, the former El Capitan head coach prior to present coach Joe Cota, pitched for Florida State at the Women's College World Series. Aase, an extremely rare 4-time member of the All-East County team, was a standout for Santana from 187-90. then with the Lady Seminoles from 1991-94.

CLASSICAL ACADEMY 20, FOOTHILLS CHRISTIAN 5: At Town Center Community Park in Santee, the Knights lost their bid for the Pacific League title after falling to the visiting Caimans — it's a type of semiaquatic reptile similar to the alligator.

Classical junior pitcher Sydney Noll came within a strike of tossing a 5-inning no-hitter. However, following a walk and an error, the Lady Knights' Carissa Wolford bombed a 2-run triple, as Foothills Christian would score five times to avoid the run rule and extend the contest.

The Caimans would answer with eight runs in the sixth to re-invoke the run rule, placing a dent in the plans of the Knights to win the league title.

With the loss, Pacific co-leader Maranatha Christian and Tri-City Christian both won to leave them in a first-place deadlock at 9-3. FCHS is only 7-3, so even with a win over Orange Glen, they would fall a half-game short as the regular season must end Friday since the CIF playoff seeds and pairings will be declared on Saturday.

Classical (6-14 overall, 2-9 league) was highly motivated coming off an ugly loss to last-place Guajome Park. The Caimans bounced back behind leadoff hitter Madison Isham, who batted 4-for-6 with five RBI and scored four times.

Foothills Christian (12-5) saw Wolford collect half of the team's four hits. In the fifth, Carly Robbins added a 2-run double, but the ballclub was doomed with 12 errors.

Elsewhere
In other action, Christian was stopped by host Mission Bay, 15-0, in Pacific Beach.

SD-High Tech clinched the Summit League by downing host Liberty Charter, 10-4, in Lemon Grove.

The Calipatria Hornets of the Imperial Valley handed Mountain Empire a rare setback by a 17-4 count in Campo.