ROUNDUP: Hillers, Cougs, Monarchs win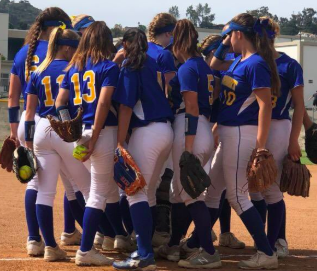 Grossmont on Friday in the San Diego CIF Division I playoffs. / Dan Barnes photos
2019 EAST COUNTY PREP SOFTBALL
East County Sports staff report

LA MESA (5-19-2019) – The softball player making the biggest impact over the second half of the season could easily be Grossmont High's Kati Contreras.

Contreras, a junior third baseman, continued her hitting tear with a 2-run homer in the first inning Saturday (May 18), enough to power the Foothillers past Grossmont Hills League rival Steele Canyon, 3-0, in a CIF Division I elimination contest.

For Contreras, who is batting close to .570 since April 1, it was her eighth home run of the season, moving her to within one of club leader Samaria Roope.

The Hillers (20-12 overall). which reached the 20-win plateau for the fourth time in five seasons (83-52), advance to the challenger bracket quarterfinals, gaining a rematch with Cathedral Catholic, which lost 4-3 to second-seeded San Marcos.

Grossmont didn't wait long to open the scoring. After pitcher Samaria Roope retired Steele Canyon in order to start her 3-hit shutout, Aly Allmann belted a lead double to left field.

Roope followed with a sacrifice bunt, but the small-ball strategy went out the window when Contreras went out to left field on her homer.

Grossmont had a chance to tack on in the third on a Contreras walk and a double by Kimmy Bond, but both were left stranded. However, an inning later, the bottom of the Hillers batting order collected the insurance run.

With one out,  Brianne Blue busted a line double to left field, followed by a base hit by No. 9 hitter Natalie Emery. Allmann followed with a third straight hit with a ground single through the left side to plate Blue for the RBI.

In the seventh, Roope escaped a bases-loaded situation that started with a double by the Cougars' Tayler Thomas, coaxing a fielder's choice grounder to Allmann at third base to garner the victory.
 
Roope finished with five strikeouts, while Allmann finished batting 2-for-3 with a walk.

Meanwhile, the season is over for Steele Canyon (14-17), as East County homer leader Audrey Bagge ends her career with 11 on the season. Thomas finished with two hits for the Cougars, while Marley Rimoldi had the other hit off Roope.

DIVISION II

PATRICK HENRY 2, EL CAPITAN 1: At West Hills High in Santee, with the bases loaded in the bottom of the 7th inning, an error allowed Kaiah Altmeyer to score the game-tying run, then Dezi Patmon delivered the walk-off winner with a base hit, as the top-seeded Patriots shocked the upset-minded Vaqueros in the knockout game in the CIF Division II playoffs held Saturday (May 18).

Patrick Henry (17-7 overall) gains a rematch with La Costa Canyon in Tuesday's challenger bracket game. El Capitan (21-8), the fourth-seed after claiming the Grossmont Valley League title, go home following a disappointing 1-2 postseason run.

The Vaqueros were two outs away from a win when the wheels fell off.

Altmeyer accepted a walk, Jessica DeWitt and Lauren Nett both singled to load the bases, with an error on Nett's hit sending Altmeyer home.

Olivia Giganti was hit by a pitch to load the bases, but El Capitan then registered a force at the plate for the second out. However, Patmon lined the ball to left for the game-winning single.

El Cap's run came in the when Patrick Henry was late with a throw to the plate.

With one out, Katy Hicks walked, Olivia Martinez singled, with both advancing on a wild pitch. Madison Rosalis followed with a grounder to third base, but the speedy Hicks beat the throw.

The run was the only one allowed by Patriots starting pitcher Hailey "H" Jenks, who yielded just two hits in her five innings. The victory went to reliever Laila Spracklen, who tossed two shutout innings. The hard-luck loser was Alexa Williams.

Among the four total hits by the Vaqueros, two were registered by left fielder Allyson VonYokes.
.
OPEN DIVISION

RANCHO BERNARDO 3, GRANITE HILLS 2 (11 inn.): At Rancho Bernardo, since the pitching circle was pushed back by three feet a few years ago, marathon ballgames are no longer the norm.

However, both of these ballclubs battled for nearly three hours before the Broncos' Heather Menzer singled with two outs and runners on the corners in the 11th inning to eliminate the Eagles from the CIF Open Division playoffs on Saturday (May 18).

The lengthy contest was the longest for the Eagles since losing in a 2016 CIF game to Escondido, 1-0 in 14 innings in another knockout contest.

Granite Hills' failure came on defense, as five errors led to three unearned runs. Starting pitcher Catie Dibbs survived two of the gift runs with 12 strikeouts over her eight innings, but Staci Chambers' three whiffs in her 2.2 frames of relief were not enough.

The second unearned run off Dobbs came in the bottom of the seventh on an RBI single by Mia Rushton.

Both teams exchanged runs in the first, the Granite Hills took the lead in the third.

Bailey Wallace, who batted 2-for-5, started the contest with a single, eventually scoring on a double by Amaya Esparza.

Two innings later, Brooke Bertussi led off and reached on an error. Haley Johnson doubled, then Chambers singled home Bertussi for a 2-1 advantage.

However, Broncos pitcher Allison Boaz closed with 8.2 innings of shutout ball to collect the victory.

DIVISION IV
MONTE VISTA 7, MORSE 1: At eastern Spring Valley, the Monarchs, which swept three games from the Tigers by a composite count of 36-11 during the regular season, made it a clean sweep to advance to the second week of the CIF Division IV tournament.

Monte Vista (17-11) gains a rematch with Canyon Crest on Tuesday.
Moments after Morse ended the shutout bid by Abigail Johnston with an unearned run in the sixth, the Monarchs immediately answered with five runs to seize control, with all of the runs crossing the plate after there were two outs.

Johnston finished with a 4-hitter, striking out seven Tigers batters.

With the bases loaded, the second out came off the bat of Ionna Upham, who lifted a sacrifice fly to left to score Mia Owens (lead HBP).

Meeah Matanane followed with an RBI single, with a second run scoring on an error. Johnston then walked, following by a booming, 2-run double by cleanup hitter Dessire Corona to left field.

Along with the pitching win, Johnston (2-for-3) was the only player on either side with more than one hit.
DIVISION V
BAYFRONT CHARTER 13, BORREGO SPRINGS 6: At Mueller Charter High in Chula Vista, a successful campaign by the Rams officially ended with Saturday's (May 18) CIF Division V tournament setback to the host Sharks.

Alina Vargas batted 3-for-4 with a triple and a walk, driving in four tuns for Bayfront )22-24), while Sara Lim 3-for-3 with a pair of walks and two RBI.

In addition, leadoff batter Analia Perez scored four times in support of Lim, the Sharks pitcher, who allowed just one run over her five innings in the circle.

For the Rams (9-8), sophomore Isabel Arteaga led the offense with three hits, while sophomore second baseman Marla Manzano stole a pair of bases.

In addition, junior first baseman Delaney Barclay batted 2-for-4 with two RBI and a pair of runs scored, and freshman pitcher Brianna Del Bono recorded four strikeouts.

SAN YSIDRO 18, MOUNTAIN EMPIRE 11: At Campo, Sarah Ulloa drove in seven runs with five hits for San Ysidro.
The RedHawks trailed just 2-1 after one inning, but San Ysidro scored five times in the second.
The RedHawks rallied to close again 13-11 but were knocked from the winner's bracket into a rematch with Kearny, which top-seeded Empire defeated in an opening-round contest, 7-5.
Rose Buel, a senior, had four hits, including a home run and two doubles, driving in four runs for Mountain Empire (13-4).
Freshman Abby Curran had two hits and drove in a pair of runs for MEHS.
DIVISION I
UNIVERSITY CITY 7, SANTANA 6:
At Santee, moments after the Sultans overcame a 5-1 by tallying five runs in the 6th inning, the Centurions quickly answered with a pair of runs in the seventh to a dramatic CIF Division I elimination game held Saturday (May 18).Kiana Pangelinan registered her second RBI of the contest with a game-tying single. Moments later, Audrey Continelli lifted a sacrifice fly to right field to plate Alexi Wyckoff for the go-ahead run.
Wyckoff barely scored despite a solid throw from the outfield by Santana's Natalie Simms.
On the play, Sultans catcher MacKenzie Sims was able to end the inning with an unconventional "two-out play" (technically, not a double play) by nailing a Centurions runner headed for third base, as Lakaila Aquiningoc-David maintained her position and applied the tag.
The defensive play carried into the bottom of the seventh after the Sultans received consecutive base hits by MacKenzie Sims and Emmalee Leggett to place the potential tying and winning runs on base with one out.
However, University City relief pitcher Kate Wiggins escaped with a strikeout and a fly ball to Wyckoff in right field. Wiggins tossed the final two innings to collect the victory.
In the sixth, Santana took the lead after the first five batters each base.
Designated player Joey Barkhimer singles, pinch-hitter Isabella Cyman walked, then  Sims singled, with an error allowing courtesy runner Marilyn Downing to score. Leggett followed with a line single to trim the deficit to 5-3.
An out later, Madison Mendez was walked to load the bases, but the strategy back-fired with a pair of clutch hits by the Sultans.
Aquiningoc-David delivered a line single to center, scoring a pair of runs to tie the contest. Moments later, cleanup hitter Shelby Holmquist capped a 3-for-4 outing with a run-scoring base hit, giving her two RBI on the afternoon.
For Santana (14-12 overall), Leggett, the left fielder, and Sims also batted 3-for-4.
University City (14-15) saw Pangelinan collect three hits and a pair of RBI, while cleanup hitter Jayla Briggs added two base hits.