Stars in zone for possible return to Series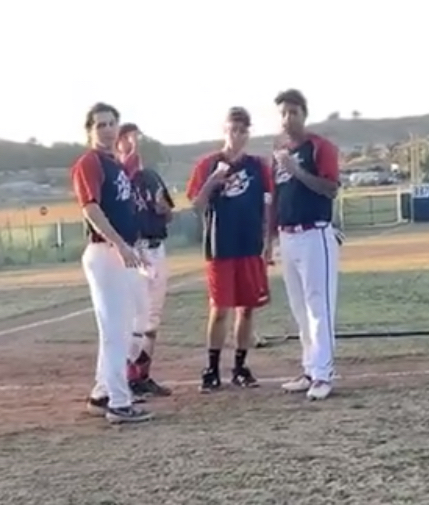 Members of the Stars following the game.
2019 SAN DIEGO STARS BASEBALL
By Nick Pellegrino
East County Sports staff writer


BARONA INDIAN RESERVATION (7-6-2019) – Following a span of 16 days when the San Diego Stars only played a single contest, it took a few innings to knock the rust off the bats — but this is ridiculous.


The Stars overcame a 6-4 deficit by posting a season-high 10 runs in the sixth inning, going on to down the Fresno A's, 14-9, in Saturday's (June 5) second pool-play round of the Western Regional qualifying tournament to the National Baseball Congress World Series.


The Stars (14-1 overall) are now 2-0 in pool action, all-but-mathematically clinching a berth in Sunday's semifinals. The title game is Sunday at 4 p.m., also at Stars Field at Barona.


San Diego (14-1) overall sent 14 batters to the plate in the decisive inning.

"When the Fresno A's last played in the tournament in 2017 — which they won — their coaches really knew how to call pitches," said Stars interim manager Sam Hughes."But when they put this new kid on the mound in the sixth, he just couldn't find the strike zone."


The first three Stars — Tristan Salinas (walk), Kyle Pineda (hit by pitch) and Reece Hernandez (line single) — all reached base to load the bases and ignite the onslaught.


Dallas Seidel followed with a 2-run, game-tying single to make it 6-all. Joey Krug followed with a deep RBI double to left field for a 7-6 advantage.


Luke Arias walked to re-load the bases, then a walk to Brady Joslyn forced in a run.


And when Alex Golembiewski followed with an RBI single, that made it eight straight batters to reach base before Fresno registered an out.


The second time through the batting order, Salinas gained an RBI on a walk. Pineda (single) and Hernandez (double) then followed with hits good for 2-RBI each.


While the Stars' offense shined, the defense fell short with five errors, as five of the A's final six-run were unearned.


Still, that's all the San Diego bullpen would allow, as reliever Ryan Skillman went 3.1 innings to garner the victory.


Clayton Lewis yielded three unearned runs over two frames, yet still gained a hold, as did the final reliever, Tyler Luban, who fired a 1-2-3 in the ninth.


For the contest, Pineda went 3-for-4 with four RBI and three runs scored.


In addition, Hernandez went 3-for-3 with two doubles, a pair of walks and three RBI, while Seidel batted 2-for-5 with two RBI.


The Stars complete pool-play at 4 p.m. Saturday, hosting the Poway Crush. Unless some sort of extreme tie-breaker takes place, San Diego will host one semifinal at noon Sunday, with the other Final Four contest slated for 11 a.m. at West Hills High.
---
POOLS/SCHEDULE
Western Baseball Association
2019 Western Regional Pool Play:
Group A
Fresno A's
Kearny Mesa Mustangs
Poway Crush
San Diego Stars
Group B
San Diego Waves
Temecula Gamecocks
West Coast Clippers
Group C
San Diego Mavericks
San Diego Reign
TB SoCal
Barona Games
7/4
12pm Fresno vs Crush
4pm Stars vs Mustangs
7/5
12pm Mustangs vs Crush
4pm Stars vs Fresno
7/6
12pm Fresno vs Mustangs
4pm Stars vs Crush
Escondido Games
7/4
12pm Clippers vs Gamecocks
4pm Waves vs Gamecocks
7/5
12pm TB SoCal vs Clippers
4pm Waves vs Clippers
West Hills Games
7/4
12pm Mavericks vs TB SoCal
4pm Reign vs Mavericks
7/5
12pm Gamecocks vs Reign
7/6
12pm Reign vs TB SoCal
4pm Waves vs Mavericks
7/7
Semifinals
at West Hills 11 am
at Barona 12 pm
Final
at Barona 4 pm
---