Henry outscores Matadors; Vaqueros drop opener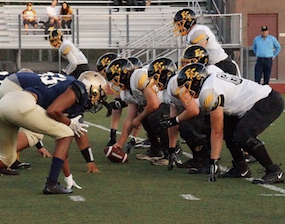 El Capitan lines up against Mater Dei Catholic on Friday night.
2019 EAST COUNTY PREP FOOTBALL
HENRY 40, MOUNT MIGUEL 34
EastCountySports.com staff report
SPRING VALLEY – The Mount Miguel Matadors rallied from an 18-0 halftime deficit to take a 20-18 third-quarter lead over visiting Patrick Henry Friday night, but the Patriots came right back to go back ahead by 20 points before a Matador rally fell short in a 40-34 opening night nonleague decision.
Mount Miguel junior quarterback J.D. LAVERDIERE passed for four touchdowns and ran for another.
After trailing 18-0 at halftime, the Matadors got on the board in the third on a 34-yard pass from Laverdiere to junior KOJO MILLER.
On Mount Miguel's next possession, Laverdiere threw a 14-yard touchdown pass to JOJO CASTILLO Joseph Castillo to close to within five points.
The Matadors took the lead when Laverdiere connecting with familiar target JAHIEM ALLEN-POMPEY for a 15-yard score that gave Mount Miguel a two-point edge.
But the Patriots could counter with a pair of touchdowns of their own to close out the fourth quarter and reassume the lead.
In a late fourth-quarter effort, Miller had an interception and 50-yard return. Moments later, he reeled in his second touchdown reception of the game from Laverdiere.
Laverdiere had the game's final touchdown on a 3-yard run.
Senior Kadeem Bakare had two of quarterback Michael Castillo's four TD passes for the Patriots, including an 11-yard score to make it 40-20.
Mount Miguel had three interceptions off the Henry QB.
Former Helix basketball player Kai Jessie caught the game's first touchdown, putting Henry on the board early in the first quarter.
---
2019 EAST COUNTY PREP FOOTBALL
MATER DEI CATHOLIC 32, EL CAPITAN 6
EastCountySports.com staff report
CHULA VISTA — The El Capitan Vaqueros' defense pitched a shutout in the first half against the host Mater Dei Catholic Crusaders in the season opener on Friday night.
But Mater Dei scored 26 points in the third quarter to soundly defeat the visitors from Lakeside, 34-6.
The Crusaders led just 13-0 when the Vaqueros got on the board on a 2-yard pass from WICK HAUSER to DICKSON.
Mater Dei Catholic junior quarterback Trevor Appelman had four touchdown passes in the third period to help MDC take a 26-6 lead.
Senior Aiden Calvert rushed for two touchdowns for Mater Dei, as well.
El Capitan (0-1) had a first-and-goal opportunity in the first half but couldn't get on the scoreboard.
El Cap quarterback Wick Hauser had one touchdown and 150 total yards but should have had close to double that if not for dropped passes and penalties.
Senior DONNY GREEN rushed for 100 yards on 13 carries for the Vaqueros.
Hauser had 163 yards of total offense, including 48 yards on the ground.
Dickson had five catches for 58 yards.
KALEN LAVALLAIS, a junior, had a pair of receptions good for 54 yards.
El Capitan will host Hilltop next Friday.
Mater Dei Catholic will face the Grossmont Foothillers next Friday.
---
2019 EAST COUNTY PREP FOOTBALL
FOOTHILLS CHRISTIAN 36, DEMOCRACY PREP 14
From reports
LA MESA – The Foothills Christian Knights won their season-opener against the visiting Democracy Prep Blue Knights, of Las Vegas, 36-14, on Friday night at Junior Seau Field.
No other information was reported.