Hiller playmakers make Odom's life easy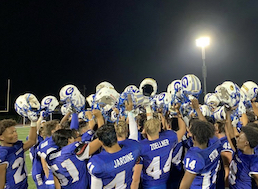 Foothillers following the win over Mira Mesa / GHSASB IG
2019 EAST COUNTY PREP FOOTBALL
GROSSMONT 43, MIRA MESA 14 
EastCountySports.com staff report
LA MESA – Grossmont senior quarterback JAIME ODOM got the ball to his playmakers, and in turn, SHAWN WILLIAMS, BRODY SCHICKER, and ROBERT TUCKER made sure the Foothillers would have a stellar opening night against last year's Division II runner-up.
The Hillers pulled away in a 43-14 win over the Marauders as the school
"It was great getting out there for the first time this season," said Odom, who passed for 287 yards and threw four touchdown passes. "The offensive line did an amazing job blocking, allowing me to sit back in the pocket and make plays.
"Offensively, the biggest playmakers were definitely Shawn Williams and Robert Tucker. Both had great nights and made big plays for us throughout the game. It was just a great team win."
Despite a 14-all game at halftime, Grossmont outscored Mira Mesa, 29-0, in the second half.
On the first play of the game, Odom and Williams connected for a 75-yard score. Williams later had a 76-yard reception.
In the second quarter, Odom hit Tucker over the middle for a 51-yard touchdown.
Odom completed second-half touchdowns to CHRIS CHRZAN, which gave the Hillers a 20-14 lead with 8:40 left in the third, and Schicker.
AXEL GONZALEZ booted a 38-yard field goal with 1:12 left in the third quarter for Grossmont.
Grossmont's defense stiffened in the second half, as JALEN JONES forced and recovered a fumble for an instant red zone possession.
Tucker rushed in from 21 yards out for his second score of the game late in the third quarter
The Foothillers' MATT DIAZ recorded an interception.
Senior CHRIS ALBA had nine tackles for the Foothillers, while senior AUSTIN WITTMAYER had eight tackles and a pass breakup.
Senior JAHMAL NEVALS added a touchdown run from 5 yards out with 3:13 left to make it 43-14.
Tucker finished with 77 yards rushing and 75 receiving. Odom, meanwhile, rushed for 87 yards on 12 carries.
Grossmont will remain at home and face Mater Dei Catholic, 32-6 winners at home versus El Capitan last Friday.