2019 EAST COUNTY FEARLESS FORECASTER – Week 2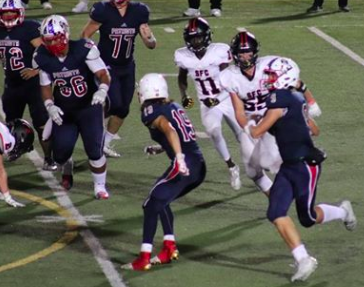 Christian High junior Gabe Krug throws against Santa Fe Christian last Friday. / photo by Andy Fierro
2019 EAST COUNTY PREP FOOTBALL
EAST COUNTY FEARLESS FORECASTER – WEEK 2
By Ramon Scott
EastCountySports.com 
EL CAJON – Valhalla head coach Mike Kastan said he has never seen a guy run as hard as Norsemen senior Kegan Baker.
Baker rushed for 265 yards and five touchdowns, including a 71-yard score, last Friday as Valhalla snapped an 18-game losing streak when they upset visiting University City, 34-20.
The feeling was one of not only victory but confidence, the way Valhalla controlled the game against the Centurions. Even when UC got the first lead, there was no panic in Valhalla's game plan.
At the conclusion of the contest, the Norse players celebrated with a water bucket dump over the head of second-year coach Mike Kastan.
Baker runs with shifty speed and can engage would-be tacklers with power. Although vastly unheralded heading into the 2019 season, his notoriety will continue to rise as the number of big yardage games pile up.
Running behind an offensive line consisting of four juniors and one senior, Valhalla's ground game is a problem for all comparable opponents.
On Friday night, the West Hills Wolf Pack – 34-7 winners over the Southwest Eagles in their season opener – will get a chance to line up and try to stop the star running back in a Grossmont Conference non-league game in Santee at 7.
All of this week's games on Friday are at 7 p.m. unless noted.
The Wolf Pack made quick work of the visitors from El Centro, then gave the starters the rest of the night off, as West Hills shut out the Eagles until midway through the fourth quarter. Afterwards, everyone made it over in plenty of time to a pizza restaurant for a live television segment.
Senior Jake Maheu rushed for a pair of touchdowns and fellow senior Kole Klingerman hauled in five passes, including a touchdown, and kicked 4-of-5 extra points.
Wolf Pack senior Steven Cristinihad 142 all-purpose yards, including a 46-yard run, a 37-yard kickoff return, a 26-yard punt return, and an 18-yard reception.
West Hills senior quarterback Gerardo Hernandez was 4-for-4 passing for 118 yards.
Despite the recent dry spell by the Norsemen, this Valhalla team is dramatically improved, and while the Wolf Pack maintain many of the key elements that have kept the team formidable for many years now, the dynamics of this matchup point to an extremely close game that could be simply decided by just a home-field advantage.
West Hills won at Valhalla last year, 24-7 and the Wolf Pack lead the series 14-11-1… WEST HILLS, 22-21.
No. 7 STEELE CANYON (1-0) at No. 9 MADISON (1-0) (6:30) – Defense and special teams is surely the Cougars' mantra for now after defeating visiting Eastlake, 17-6, despite gaining just 99 yards of total offense in a season-opening win over the Titans.
Steele Canyon senior Viliamu-Ah-You "Rugby" Morse had three sacks and forced a fumble in the win, while senior Junior Akintunde recovered two fumbles.
Antoine Walker had several pass breakups, plus a touchdown reception, and Chance Johnson had an interception and a pass breakup for SC.
Meanwhile, Chris Carter had an 80-yard kickoff return which set up a 12-yard touchdown run by Wesley Neely in the first quarter for a 7-6 edge.
Quarterback Jeremy Mendez-Gal engineered a scoring drive in the second quarter which resulted in his touchdown pass to Walker, which gave the Cougars a 14-6 lead.
The Warhawks are coming off a 34-23 win at Rancho Bernardo.
Ke'onte Springs is one of the county's top running backs and he displayed his breakaway speed in the win over the Broncos with TD runs of 88 and 80 yards. He had 360 total yards in the game, including seven receptions.
Steele Canyon is ranked higher but Springs and the home field are the equalizers that make this game a sure toss-up. Madison has won the only two meetings, which came in 2016-17, by an 89-17 margin against good Cougar teams… MADISON, 20-19.
HERRIMAN (Utah) at No. 3 HELIX – The Highlanders were tested at home by the Cajon Cowboys, of San Bernardino, but senior Elelyon Now scored three touchdowns, including the go-ahead score in the fourth quarter in Helix's 28-22 win over the visitors from the Southern Section.
Senior linebacker Jeremiah Fletcher had an interception with 45 seconds left in the game. He also recovered a fumble with 3:47 to go in the contest. Fletcher and Tyler Tucker combined for a sack in the fourth quarter. Fletcher finished with 15 tackles.
Senior quarterback Delshawn Traylor rushed for a touchdown in which he was flipped in the air by a hit at the goal by a defender.
Meanwhile, senior quarterback Kamryn Brown completed a pass to Noa, which resulted in a 64-yard score that closed Cajon's lead to 16-13 in the second quarter.
Noa's second touchdown, which came in the third quarter, gave the Scotties a 20-16 lead.
"Just another game, onto the next," said the soft-spoken senior super back. He suffered cramps late in the third quarter so Helix may look to control his workload a bit.
Noa is reportedly set to break Helix's school rushing record, currently held by Reggie Bush (4,925), with just 13 yards.
This game could be prime pickin' for the Helix secondary.
Herriman (1-1) is among the top 20 teams in Utah this season but are two-touchdown underdogs here… HELIX 31-21.
MT. CARMEL at No. 12 GRANITE HILLS – Junior quarterback Justus McComb pushed all the right button in a 28-24 win over host Poway.
It was the second straight year the Eagles beat the Titans in the season opener, but if that is any gauge, consider this year was on the road. Both games ended in a Poway hail mary attempt.
McComb passed for 252 yards and rushed five yards for the game-deciding touchdown with 1:53 to play
The Eagles led 21-10 after three quarters, but the Titans took the lead with a pair of touchdowns.
Juni Harris scored a pair of touchdowns for Granite Hills, while senior receiver James Johnson had nine receptions for 130 yards and  a score from McComb.
McComb and Jacob Setterberg hooked up on a 73-yard play in the second quarter.
Matt Keely had an interception with just over a minute remaining for Granite Hills.
The Sundevils edged visiting Valley Center, 22-21, in their opener.
Mt. Carmel star Ty Virgin blocked a punt and ran it in for a score in the first quarter, while quarterback Carson Taumoepeau rushed for a score and passed for another.
The Eagles won 35-17 last year and no reason why this won't be similar… GRANITE HILLS, 35-20.
MATER DEI CATHOLIC at No. 17 GROSSMONT – The Foothillers and senior quarterback Jaime Odom looked terrific on opening night, defeating a Mira Mesa team that played for the Division II championship last season.
A 14-all game at halftime, the Hiller pulled away for a 43-14 win.
Odom and receiver Shawn Williams hooked up on the first play of the game for a 75-yard touchdown.
Running back Robert Tucker had a 51-yard catch-and-run in the first half and scored a rushing touchdown in the second half.
Odom passed for 287 yards and threw four touchdown passes. He completed second-half touchdowns to Chris Chrzan, which gave Grossmont a 20-14 lead with 8:40 left in the third.
"The offensive line did an amazing job blocking, allowing me to sit back in the pocket and make plays," Odom said. "(Tucker and Williams) had great nights and made big plays for us throughout the game. It was just a great team win."
Jalen Jones forced and recovered a fumble for an instant red-zone possession for the Foothills, while Matt Diaz recorded an interception.
Mater Dei Catholic broke open a scoreless game against visiting El Capitan at halftime by scoring 26 points behind four touchdown passes in the third quarter by Trevor Appleman in a 34-6 win.
Crusaders star running back Aiden Calvert also rushed for two scores.
Expectations are rising fast and the Hillers are sure favorites here but Mater Dei's explosive offense is sure to keep the Grossmont defense focused… GROSSMONT, 35-17.
HOOVER at EL CAJON VALLEY – The Braves defeated Francis Parker – on the road, no less – to win for the first time on the field in 18 games as El Cajon Valley's home run threats went deep against the Lancers in a 13-7 victory.
Damarius Hyde had an 80-yard touchdown late in the third quarter and Clarence Johnson had a 70-yard score in the second quarter as the Braves celebrated an emotional victory huddle with head coach Nick Osborn.
The duo combined for 245 yards as the Braves offensive line – Wendall Walcott, Ke'von White, Salvador Morales, Israel Torres, and Isaac Ochoa – was terrific.
El Cajon Valley made a defensive stand late in the game to secure the win. El Cajon senior Mario Jacobs had 13 tackles.
Hoover comes to Priest Field off a 33-0 loss at home against Montgomery and the Braves' prospects for victory could be as high as their rising confidence… EL CAJON VALLEY, 27-22.
SANTANA at SERRA (6:30) – Santana quarterback Nathan Temple suffered a broken collarbone in a Week 2 matchup against the Conquistadors last season.
No matter, Temple finished the game and led the Sultans to a 24-22 win not realizing the severity of his injury until after the game.
The injury, diagnosed by a Serra trainer immediately following the game, would sideline the passer for seven weeks.
Serra led but Santana 16-0 in the second quarter but in the third, the Sultans got a 73-yard catch-and-run score by Randy Smith from Temple, who finished with 15-of-22 for 224 yards and two touchdowns.
Temple threw three TD passes as Santana scored five touchdowns on its first 11 plays in a 48-12 win over Mountain Empire last Friday. Smith caught two TD passes from Temple and Jared Forster scored twice.
Serra failed to score in an 18-0 loss to Scripps Ranch, as the Falcons kept quarterback Timmy Zebroski on the run and off the scoreboard, even scoring a pair of safeties against the Q-Dawgs.
Serra's Dustan Ellison had over 100 yards of total offense in the loss to the Falcons.
Zebroski passed for over 2,000 yards last season so this matchup of playoff contenders in Division IV could have some points with these two quarterbacks.
Serra, the City Central League champions last season (4-0), can keep this one close with the home-field edge and expected new addition to the lineup, however, the momentum seems to be with the Sultans… SANTANA, 32-31.
CHRISTIAN at DE ANZA – The Patriots suffered a 28-20 season-opening set back to section rival Santa Fe Christian last Friday at Valley Stadium
The Patriots' Christian Salacup returned a kickoff 99 yards for a touchdown with one minute left in the game after the Eagles had just taken a 28-14 lead.
Quarterback Gabe Krug and running back Nate Stine had touchdowns for Christian.
Christian's defense allowed SFC to rush for 333 yards on 55 carries.
Despite the loss, CHS is expected to be a slight favorite against the Dons in El Sobrante.
De Anza won its opener, 45-17, which was a bit of a stunner in terms of margin of victory, but the ratings suggest a slight class difference in favor of the Pats… CHRISTIAN, 26-22.
MONTE VISTA at RANCHO BUENA VISTA – The Monarchs ran into a buzz-saw last Friday in a 42-7 home loss to state division finalist Lincoln.
Although the Hornets finally snapped a scoreless game to take a 12-0 lead on a pair of touchdowns, the Monarchs pulled to within five points in the second quarter when senior running back Isiah Gardner scored on a short touchdown run.
Monte Vista went into the locker room with some confidence, trailing just 12-7. However, Lincoln scored four unanswered touchdowns in the second half and the Hornets finished with 361 yards passing.
The Longhorns were blanked, 21-0, in their home opener against Westview and are decisive underdogs to the Monarchs, although Monte Vista has struggled in similar North County road games over the years… MONTE VISTA, 25-17.
HILLTOP at EL CAPITAN – The Vaqueros defense pitched a shutout in the first half against the host Mater Dei Catholic Crusaders in the season opener.
But Mater Dei scored on four touchdown passes i in the third quarter to soundly defeat the visitors from Lakeside, 34-6.
The Crusaders led just 13-0 when the Vaqueros got on the board on a 2-yard pass from Wick Hauser to senior tight end Sean Dickson.
Hauser had 163 yards of total offense, including 48 yards on the ground, but El Cap suffered from some dropped passes and penalties.
Senior Donny Green rushed for 100 yards on 13 carries for the Vaqueros.
Kalen Lavallais, a junior, had a pair of receptions for 54 yards for El Cap. Dickson had five catches for 58 yards.
The Lancers outlasted in the Cougars, 45-42, in the most exciting game in the county last week. Jeremiah Serrano had a 50-yard touchdown run and the decisive TD in the fourth quarter.
This one features a matchup of El Capitan head coach Ron Burner going up against his son, Ron, who is Hilltop's defensive coordinator.
This game rates closely but a second straight bus ride may prove tough for the Lancers… EL CAPITAN, 28-27.
MOUNT MIGUEL at CHULA VISTA – The Matadors fall into a familiar pattern of wild point swings, however, their potent comeback attempts are falling short.
Mount Miguel rebounded from an 18-0 halftime deficit to take a 20-18 third-quarter lead over visiting Patrick Henry, but the Patriots came right back to go back ahead by 20 points before a Matador rally fell short in a 40-34 opening night decision.
Mount Miguel junior quarterback J.D. Laverdiere passed for four touchdowns and ran for another.
After trailing 18-0 at halftime, the Matadors got on the board in the third on a 34-yard pass from Laverdiere to junior Kojo Miller.
On Mount Miguel's next possession, Laverdiere threw a 14-yard touchdown pass to Jojo Castillo to close to within five points.
The Matadors took the lead when Laverdiere connecting with Jahiem Allen-Pompey for a 15-yard score that gave Mount Miguel a two-point edge.
But the Patriots countered with a pair of touchdowns of their own to close out the third quarter and reassume the lead.
In a late fourth-quarter effort, Miller had an interception and 50-yard return. Moments later, he reeled in his second touchdown reception in the game from Laverdiere.
Laverdiere had the game's final touchdown on a 3-yard run.
Mount Miguel had three interceptions against the Henry QB.
Chula Vista lost its opener at La Jolla Country Day, 40-20, although junior quarterback Martin Perez threw for 311 yards at two scores.
These teams will meet for the fifth straight year, each winning a pair of games. The Spartans won in Spring Valley last year, 20-7, but this one looks to be more of a wild shootout with lead changes… CHULA VISTA, 32-29.
CASTLE PARK at MOUNTAIN EMPIRE – The Trojans won their opener over O'Farrell, 38-8, on the road.
Castle Park rushed for nearly 200 yards and threw just six passes.
The RedHawks were easy prey at home against Santana.
Mountain Empire will use the home field to its advantage… MOUNTAIN EMPIRE, 20-18.
NEW DESIGNS UNIVERSITY PARK at FOOTHILLS CHRISTIAN (at Seau Field) – The defending section champion Knights won their 8-man opener over a team from Las Vegas, 36-14, while the Cardinals, who went 5-5 last season out of the L.A. City Section 8-man City League (2-1 in league), are playing their first game of the season.